Faculty and Staff

Hospitality Management Faculty
Melanie Adams, Assistant Professor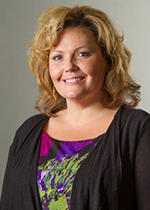 Ms. Melanie Adams is an Assistant Professor of 13+ years, specializing in the Hotel, Destination and Event Management program at the Hospitality Management Center of Excellence at Public Square. Her career began 20 plus years ago.  Ms. Adams knew she wanted to be involved in hospitality management at the age of 16 when she was a housekeeping supervisor for the Sheraton. She received a full four-year scholarship to, and graduated from Johnson and Wales University in Providence, Rhode Island. She continued her education with an MBA in Hospitality and Tourism Business Management from Columbia Southern University. She currently holds the status of Certified Hospitality Educator and is in the process of achieving her Certification as CMP, (Certified Meeting Professional).
Ms. Adams has worked in many executive positions as General Manager, Director of Guest Services, Operations Manager, Residential General Manager, Director of Sales, and Executive Director of Event Planning. These positions were working with major hospitality companies and resorts such as Marriott, Ritz Carlton, Accor, Studio Plus, Wyndham International, Lakeside Resort, and the Ocean Reef Club in Key Largo, Florida. She resides on the west side of Cleveland with her two sons.
Chef Thomas Capretta, Assistant Professor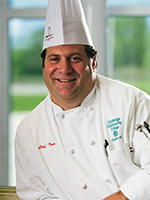 Tom Capretta, Certified Executive Chef and Certified Culinary Educator, has been an instructor in the Hospitality Management program at Tri-C® for the past 17 years.

He helped organize the opening of the Eastern Campus Hospitality department in fall 2009. In academic year 2014-2015, Capretta was granted a year of professional improvement leave to study issues surrounding sustainability in the hospitality industry and find ways to incorporate these topics into courses and practice at Tri-C. Developing new instructors and sharing his enthusiasm for the culinary industry with students are his passions.

Capretta won the American Culinary Federation (ACF) President's Award in 2005 and 2008 and was named ACF's Educator of the Year in 2003 and 2014. In 2002, he received the August LoPresti Fellowship Award. In addition to his teaching assignments, Capretta has served as president of the ACF Cleveland Chapter and currently serves on advisory committees for the culinary arts programs at Beachwood High School, Normandy High School and Polaris Career Center. He is also a board member for the ACFEF Accrediting Commission.

Capretta was employed as a chef at Canterbury Golf Club in Shaker Heights, where he supervised food preparation for the 1996 U.S. Senior Open as well as for other exciting events. Past experiences also include Stouffer's Restaurant Group, Cleveland Racquet Club and Mitchell's Fish Market.

He holds associate degrees in restaurant management and culinary arts in addition to bachelor's and master's degrees in technical education, all from the University of Akron.
Chef Michele Gaw, Assistant Professor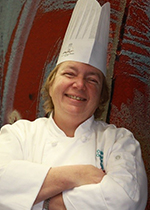 Born and raised in Akron, Chef Michele Gaw is a Northeast Ohio native whose passion for food and the hospitality industry pole vaulted her career. "My passion for food started at home, my mother is a tremendous cook, always making something different as I was growing up and spending time with my grandmother who cooked the old fashioned way. It was with my grandmother that I learned to can foods and still do so today." Her love of the culinary arts drove her to become an executive chef, including winning numerous awards (Cleveland National Chicken Cookout, Taste of Cleveland and Ohio Pork Competition), as well as a consultant and business owner. She is a past president of the American Culinary Federation-Cleveland Chapter, and a founding member of Cleveland Les Dames Escoffier (LDEI).
Chef Gaw received her Associate Degree in Restaurant Management from Cuyahoga Community College, and her BA in Business from Tiffin University. Her career includes stints at Li'l Joe's Pub in Akron, the Holiday Inn in Strongsville, and the Cleveland Airport Marriott. She spent 18 years as the Executive Chef for Cleveland's Watermark Restaurant, known for outstanding seafood, a beautiful view and an award-winning wine list. It was this passion for the culinary arts and hospitality field that drew her to share her talents at Cuyahoga Community College, first as a part-time instructor for 20 years, and now as a full-time instructor and supervisor of Café 4250.
As Chef Gaw says, "I love teaching the restaurant class for Café 4250, as I can challenge the students to prepare new foods in a restaurant setting. It is a little like being back in the restaurant business. I am so happy to be teaching full time as I get to share my past experiences with the students and see them grow. The greatest reward is when the students are successful. Sometimes it is many years later and I will see a student who is so proud of what they have accomplished. It makes me beam with pride for them and our college."
Paul Glatt, Assistant Professor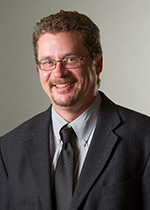 Paul Glatt has been an assistant professor in the Hospitality Management program at Tri-C® since 2002.

Born in the Cleveland area, he worked his way across the country in a wide variety of hospitality positions including dishwasher, chef, nightclub manager, hotel manager and bartender. He holds a bachelor's degree in English from the University of Arizona and a Master of Management in hospitality from Cornell University.

In 1999, Glatt returned to his Northeast Ohio roots to work with Restaurant Associates as beverage manager at the new Cleveland Browns Stadium and the newly renovated Severance Hall. Before joining Tri-C, he owned and operated JoJo's Colony Tavern in downtown Cleveland, recipient of the Free Times Best New Restaurant award in 2001.

As a faculty member, Glatt strives to contribute to the community and campus, most notably working with such charities as the Cleveland Food Bank and the Cleveland Animal Protective League. He is married and has two great dogs, Harvey and Jupiter.
Chef Maureen Leonard, Assistant Professor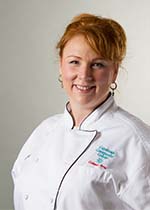 Chef Maureen Leonard is a tenured faculty member focused solely on Pastry Arts. A graduate of the French Pastry School in Chicago, she has spent years in the industry as an executive pastry chef.

Leonard began at Tri-C as an adjunct instructor before achieving tenure-track status. During her time at the College, the number of students achieving baking certificates has increased significantly. In addition, three new courses have been proposed: Chocolate and Confections, European and American Cakes and Production of Breads. 

She teaches Introduction to Baking and Pastry and Advanced Pastry while spearheading numerous events that showcase students' pastry production for the College in addition to special events with industry and community partners.

Leonard has taken continuing education courses at Harvard University's T.H. Chan School of Public Health and The Culinary Institute of America. She has also participated in the International Conference on Food Chemistry and Technology, hosted by United Scientific Group.

Leonard's years of experience, combined with her passion for sharing the craft and science in the art of pastry, promote student retention and dedication to the trade. Diligently networking within the hospitality industry, she has presented opportunities that have earned her students positions at three-star Michelin restaurants and other prestigious venues.

Her classes provide an environment of excitement ― tempered with discipline, integrity and respect for the art ― where her enthusiasm is contagious.
Deanna Manners-Ford, Assistant Professor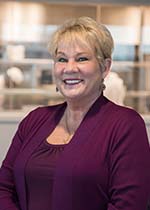 Assistant professor Deanna Manners-Ford is a Tri-C class of 2012 alumna. She has more than 35 years of experience in the hospitality industry, ranging from dishwasher to chef manager for a corporate dining service to general manager of a Cleveland bakery.

Manners-Ford has been with the Tri-C hospitality department since 2009. In 2016, she was hired as a tenure-track assistant professor. She considers teaching an honor and enjoys bringing her real-life experience into the classroom and sharing her stories with students.

"There's nothing like seeing students light up when they finally realize why we do what we do; when they start finding gratification in their major and start to experience what they have learned in the classroom in the real world," she said.

What Manners-Ford loves most about Tri-C is how the College continues to help students after graduation ― helping them find jobs, providing mentoring, assisting with business plans and more.
Nicole Meadows, Assistant Professor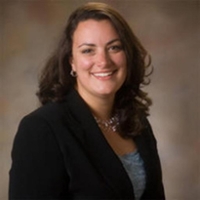 Mrs. Nicole Meadows teaches classes within the Hotel, Destination and Event Management degree track.  She has been in the hospitality industry for over 15 years and in management/catering sales for over 10 years.  Nicole has worked in resorts, country clubs, special event venues, non-profits and at the corporate level across many cities including right here in Cleveland, OH, as well as Pittsburgh, PA, Dallas, TX, Pinehurst, NC and Hershey, PA.
She has worked in the front office at resorts, front of the house in food and beverage but the majority of her experience is in event management and sales. Further, Nicole has a bachelor degree in Hotel Restaurant and Institutional Management from Penn State University and has a Master's of Business Administration from West Virginia University.
Nicole enjoys sharing her knowledge of the industry with the next generation of hospitality professionals.  She has a passion for planning events with students to reinforce all of the details that are required to execute a seamless event and teach skills such as problem solving, being creative, client relations and how to perform meaningful customer service.
Kimberley Susbauer, Assistant Professor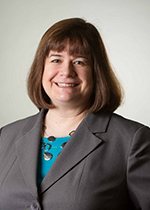 Kimberley Susbauer focuses on courses for the Hotel, Destination and Event Management concentration in the Hospitality Management program at Tri-C. Prior to joining the College, she was a manager with the Renaissance Cleveland Hotel. She studied commercial recreation administration at Bowling Green State University and holds a master's degree in adult learning and development from Cleveland State University.

Susbauer is a member of the Ohio Hotel and Lodging Association and the International Council on Hotel, Restaurant and Institutional Education, and she serves as a commissioner for the Accreditation Commission for Programs in Hospitality Administration  (ACPHA). Her academic and industry passions are customer service and food safety. In her free time, she likes to talk to strangers and make people laugh, and she is active in animal rescue.
Chef Ky-Wai Wong, Assistant Professor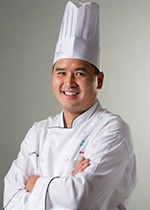 Chef Ky-Wai Wong, known as Chef KY, is an assistant professor in the Hospitality Management program at Tri-C®. He holds a bachelor's degree in chemistry from UCLA and master's degree in hospitality management from Auburn University.

Wong has a strong background in fine dining. His first restaurant job was at Giovanni's in Beachwood. From there, he went to culinary school in London, England. In addition to earning a certificate in cuisine and baking/pastry from Le Cordon Bleu in London, he completed an apprenticeship at Michelin 2-star restaurant Le Gavroche.

He returned to Cleveland and continued to work in fine dining at places such as Blake's Seafood Grille, the Century Restaurant and Bar at the Ritz-Carlton, fire food and drink and Seballos Pastries. With much experience under his belt, Wong worked his way up to top positions at some of the area's premier fine dining establishments, including sous chef at AAA Five Diamond restaurant Classics at the Intercontinental Hotel; executive chef at LockKeepers and Park City Diner; chef de cuisine at DANTE in Valley View; and chef de cuisine at Lucky's Cafe.

Wong loves sharing his passion and knowledge about food with his students. In his free time, he enjoys spending time with his family and doing fundraisers that help the community.
Administration and Support
Sarah Baldwin, Recruitment Specialist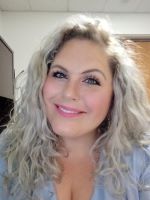 Hometown: Dover, Ohio
Proud graduate of: Kent State University 
What I love most about Tri-C: The vast array of resources available to students
Fun fact: I love all things glamour-related, basset hounds and salted caramel.
Advice for prospective students: Strive to be proactive, rather than reactive, in your lives. It will make all the the difference. 
Wendy Cox, Coordinator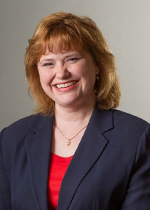 Wendy Cox has almost 20 years of experience in the administrative professional field. If you call the main Hospitality Management phone number, you may get Cox on the other end — the friendly voice who can answer your questions or connect you to the person who can. She currently serves as administrative coordinator for the Hospitality Management Center on Public Square, where she supports the Hospitality Management program's associate dean and general manager/dean, focuses on faculty workload and budget and assists students and prospective students with questions, tours and whatever else they might need.

Cox has served in various administrative capacities at Tri-C® since 2002. Most recently, she was the coordinator-scheduler for the Unified Technologies Center at the Metropolitan Campus, scheduling meeting spaces and classrooms and coordinating hospitality and meeting services. Previous positions also include office assistant and program coordinator for the Organizational Excellence Institute at Corporate College® and administrative assistant to the president of Corporate College.

Before joining Tri-C, Cox worked as a senior administrative assistant at Lamson & Sessions. During her four-and-a half-years in the Carlon business unit, she supported the vice president and manager and, later, the national sales manager.

Cox holds an Associate of Applied Science degree in office service administration with a concentration in legal secretary skills in addition to a Bachelor of Science degree in office administration, both from Youngstown State University. She is an active member of the International Association of Administrative Professionals (IAAP), for which she has served twice as publications chair. She also served in multiple roles on the Forest City IAAP chapter's executive board.

Cox received her Certified Professional Secretary (CPS) rating in November 2000 and was recertified in 2005. She received her Certified Administrative Professional (CAP) rating in November 2007 and recertified her Organizational Management (CAP-OM) rating in 2012.
Michael Huff, General Manager/Dean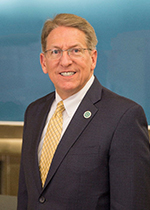 Michael Huff brings a broad spectrum of industry background and education to the Hospitality Management Center of Excellence, at Tri-C. 
His career began in culinary, working in the kitchens of the eclectic restaurant scenes of Sedona and Phoenix Arizona. He crossed over to the front of the house managing in both american specialty and fine dining continental restaurants. As the Maitre d'hotel in the formal room at Marriott's five star resort the Camelback Inn, his passion for hotel management ignited.  The career that followed was that of a Hotel Food and Beverage Director in operations with increasing volume and complexity.  Scottsdale, Portland, Seattle, Breckenridge, Indianapolis, Boston and Cleveland provided experience in corporate, resort, and convention hotels. Michael managed in multiple brands including franchise and corporate hotels for Hilton, Starwood, and Marriott. 

His move to Cleveland was by design, and he moved from hotels to what would have been a capstone position as the General Manager for Special Events and Fined dining at the Cleveland Museum of Art. However, the opportunity to provide leadership as the Dean of the Hospitality Management Program in the city that he loves, trumped all else.

He has a BS in Marketing and an MBA from Arizona State University. Additional studies include the Culinary Institute of America at Greystone, Fetzer Oaks Food and Wine Center and the Hudson House St. Helena. His personal passions are for travel, family and time in the outdoors.
Chef Karen L. Monath, Associate Dean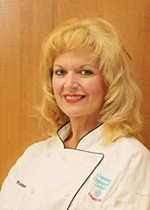 As a young girl, Karen Monath tended the garden, peeled a lot of apples and helped with the canning and preserving of the bountiful harvest from her family's quarter-acre garden. At the young age of ten, she knew she wanted to be a chef.

After graduating from the Culinary Institute of America, Monath rose to become executive chef at a very successful restaurant by the age of 20. She has spent the better part of her life refining her craft through a diverse range of experiences. She has served royals and billionaires, catered meals for two and for a thousand, peeled grapes tableside and planned and executed weddings for 600.

Monath holds a master's degree in hospitality management from Florida International University. She has taught at the Pennsylvania State University and is an assistant professor at Tri-C®, teaching culinary arts as well as hospitality management.

Monath draws from her years of experience as a chef and as the owner of a large banquet and catering facility to bring real-life knowledge and skill to the academic program. Her passion is helping students be successful in life and in business.
Barbara Pitrone, Program Director of Hospitality Management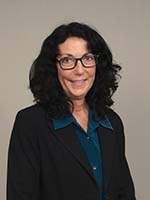 Barbara Pitrone joined Cuyahoga Community College in March 2003 as supervisor of the Eastern Campus Adjunct Services office, where she and her team provided administrative support part-time faculty and their students. She became program director of Hospitality Management in September 2018, bringing her extensive people skills and organizational skills to the role.

She also teaches College Composition and First Year Experience courses at Tri-C. 

Regardless of her location or position, Pitrone's primary focus has always been customer service.  "Making sure that those around me — be they faculty, staff or students — have what they need to succeed makes me and the institution succeed as well. It's a win-win situation!"

Prior to coming to Tri-C, Pitrone worked for more than 20 years in a variety of administrative roles at the Cleveland Museum of Art. She holds a master's degree in English from Cleveland State University and a bachelor's degree in humanities from John Carroll University.

Pitrone's interests include cooking, gardening, traveling, exercising and spending quality time with family and friends, including her two rambunctious grandsons.
William Scully, Lab Assistant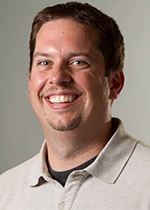 Don't let his job title fool you. William Scully (Bill) is responsible for procuring ingredients and equipment for the Hospitality Management program, along with any other last-minute needs. His behind-the-scenes knowledge of suppliers, food markets and more keeps the program and daily classes on track.

"I have been in the food industry for over 30 years," Scully said. "You need to keep up with everything happening around you. Non-industry people don't understand the constant deadlines that need to be met and the sense of urgency that is needed. Most importantly, the planning needed to have the right food, at the right time, in the right amounts."

Growing up, Scully would garden with his grandfather and cook with his grandmother. This created a foundation of growing food and cooking for guests, making sure everyone was happy and fed. He got his first real job at age 15, cleaning up after pastry chefs in a bakery after school. Since then, he's worked at a grocery store, a catering company, a private yacht club and corporate restaurants in addition to working in sales, health care and now, education.

Scully holds a bachelor's degree in restaurant and institutional foodservice management from Bowling Green State University. When he's not working, he enjoys spending time with his wife and their two children.
Traci Turner, Unit Operations Specialist II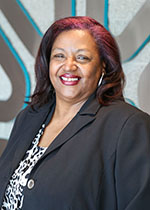 Traci Turner began her hospitality career in 1980 at the Beachwood Marriott. Her passion for helping people allowed her to flourish in the industry. She joined Tri-C in 2004 as a student and work-study office assistant, later becoming a student ambassador and, eventually, a Health Careers enrollment specialist. From there, she became the program assistant for the College's EMT program. In fall 2016, her career came full circle as she rejoined the Hospitality Management program.

At the Hospitality Management Center of Excellence at Public Square, Turner focuses on assisting students as they enter various hospitality programs, ultimately helping them become successful graduates. She earned an Associate of Applied Business degree from Tri-C and is currently pursuing a bachelor's degree in business from Tiffin University.

Turner is a native Clevelander and a die-hard sports fan. She loves her city and all of the sports teams; Cleveland Browns, Cleveland Indians, Cleveland Cavaliers and even the Lake Erie Monsters.