Give to Tri-C
Your support for scholarships through the Tri-C Foundation changes lives and helps to transform the region — one student at a time.
Give to Tri-C
Medical Mutual honored for expanded Western Campus food pantry
Food insecurity is among Tri-C students' leading concerns. Hungry students have a new resource at Tri-C Western Campus, thanks to continued support from Medical Mutual. A ribbon-cutting ceremony on April 29 marked the expansion of The Pantry: A Tri-C Connect Initiative located on the lower level of the Student Services Building on the Parma campus. It will provide eligible students with food, toiletries and other basic necessities. Medical Mutual pledged a $1 million gift to the Tri-C Foundation in May 2021. The funding also will establish the Medical Mutual Workforce Training Endowed Scholarship and the Medical Mutual Student Response Endowment Fund.
The dedication ceremony featured remarks from (from left) College President Alex Johnson, Campus President Lisa Williams, Medical Mutual vice president and Tri-C Foundation Board member Andrea Hogben, Vice President, Western Campus Student Government Laryssa Maruski, Medical Mutual Chairman and Tri-C Foundation Director Emeritus Rick Chiricosta, and Tri-C Foundation President Megan O'Bryan. Learn more here.
You can help students in need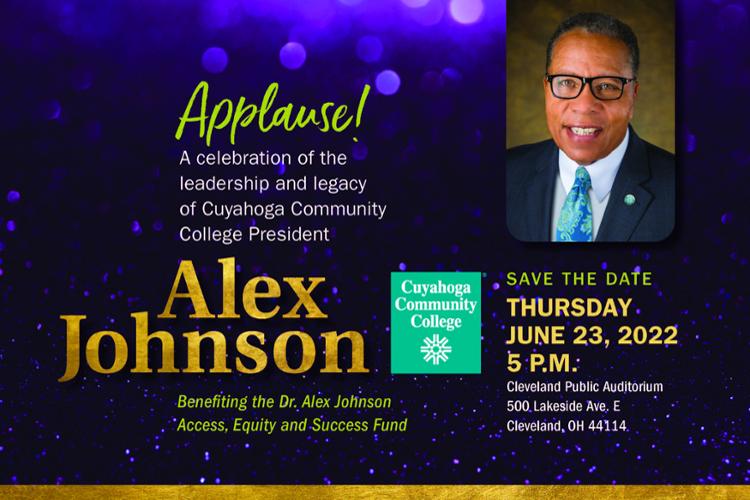 Celebrate the leadership and legacy of Cuyahoga Community College President Alex Johnson
Please join us on Thursday, June 23, 2022 at Cleveland Public Auditorium to celebrate the legacy of retiring Tri-C President Alex Johnson. A special concert featuring a Grammy-nominated artist will conclude the celebration and kick off the 43rd Annual Tri-C JazzFest Cleveland. 

Proceeds benefit the Dr. Alex Johnson Access, Equity and Success Fund, which supports Tri-C students with  critical needs that may otherwise restrict their access to education. Sponsorship and dinner packages will include premier concert seating, fabulous food, cocktails and complimentary valet.
Reserve your seat today!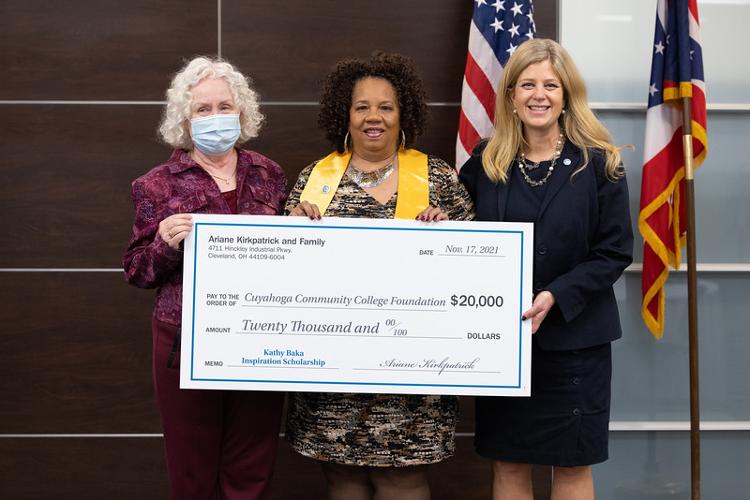 Scholarship Spotlight
Distinguished alumna honors faculty with scholarship
Ariane Kirkpatrick established the Kathy Baka Inspiration Scholarship in a campus event on Nov. 17, 2021 among family, friends and College representatives. The scholarship honors history professor Kathy Baka, whose passion for education has supported countless students. Kirkpatrick created the scholarship to recognize Baka's impact on her life. "This is a professor who took a chance and an extra care with me," Kirkpatrick said. "She showed me just how important it is to make sure I was getting out what I was trying to put in."
During the campus event, Kirkpatrick also was honored with the Tri-C Distinguished Alumni Award. She presented her contribution to create a scholarship that would continue to impact the lives of Tri-C students. Kirkpatrick is a 1990 graduate, a Goldman Sachs 10,000 Small Businesses graduate, and owner/president of the AKA Team. The successful entrepreneur serves on the College's WCED Board of Visitors.
You can support student scholarships, too!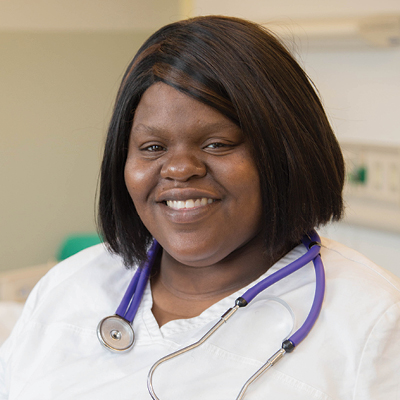 Your Impact
Tri-C is a driving force for the economic prosperity and future of our region. Your support for student success through the Tri-C Foundation is an investment toward a thriving Northeast Ohio now and for years to come.
Did you know.... 49% of Tri-C's student population is eligible for the Pell Grant, indicating high economic need. Even through Cuyahoga Community College is the most affordable institution in the state of Ohio, without scholarship support, many students would not be able to afford the cost of tuition. 

Students earning degrees and credentials from Tri-C can move themselves and their families from poverty to prosperity.
See how your gift makes an impact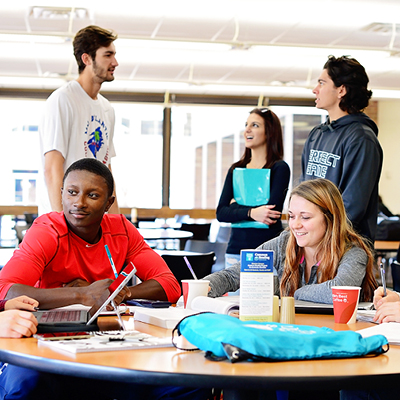 Office of Resource Development and Tri-C Foundation
Cuyahoga Community College Foundation is a separate 501c(3) organization established in 1973. The mission of the Tri-C Foundation is to provide resources for advancing student success at Cuyahoga Community College and to transform the lives of those Tri-C serves. The vision is to ensure Tri-C has the resources needed to help every student learn, thrive and succeed and to create a prosperous community for all.
View our Staff and Board of Directors