Carolina Mustard Barbeque Sauce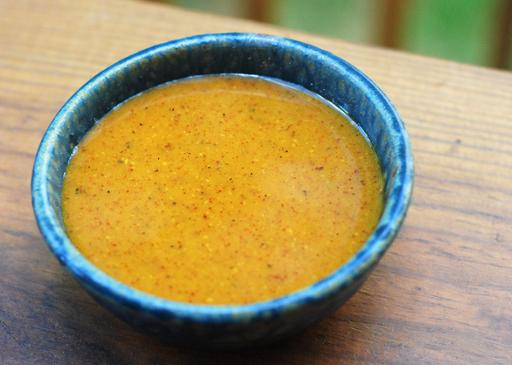 Ingredients
2 tablespoons vegetable oil
1/2 cup onions, finely minced
3 tablespoons sweet red pepper, finely minced
2 cloves of garlic, crushed
1 teaspoon ground celery seed (not celery salt)
1 teaspoon finely ground black pepper
1 teaspoon hot pepper flakes for mild sauce
1 teaspoon dried thyme leaves
1/2 teaspoon whole dried rosemary leaves crushed in a mortar and pestle
1 cup prepared Dijon-style mustard
1/4 cup lemon juice
1/4 cup cider vinegar
1 cups dark brown sugar, firmly packed
2 teaspoons tomato paste
1 teaspoon powdered mustard
2 teaspoons Worcestershire sauce
1 teaspoon of chicken bouillon granules or 1 cube dissolved in 1 ounce of water
Directions
Put the oil into a quart sauce pan, and warm it on medium-low heat. Add the onion and sweet red peppers and sweat them until the onions are limp. Add the garlic and cook it for about a minute.
Add the dry ingredients except the sugar. Cook, stirring, for about 3 minutes in order to develop and extract their flavors.
Add the remaining ingredients and mix thoroughly. Bring to a low boil for 3 minutes, stirring frequently to keep the sugar from burning or sticking to the bottom. Simmer on low for another 15 minutes. Then enjoy on your favorite meats, veggies or tofu!