Peach and Beet Salad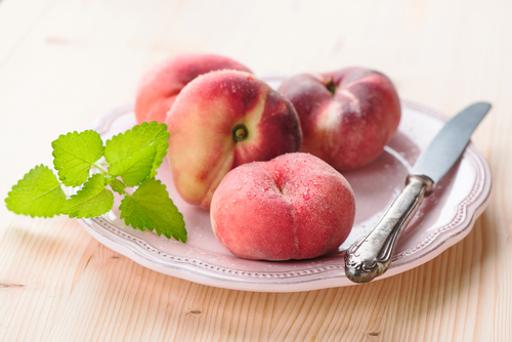 Ingredients:
2 medium-size golden beets
2 medium-size ripe tomatoes
3/4 teaspoon kosher salt, divided into
1/4 teaspoon and
1/2 teaspoon
1/2 teaspoon freshly ground black pepper
3 tablespoons extra-virgin olive oil
2 tablespoons fresh lemon juice, divided
1 tablespoon honey
1 medium shallot, thinly sliced
3 medium peeled peaches
3 tablespoons small fresh mint leaves
2 teaspoons fresh thyme leaves
2 ounces goat cheese, crumbled (about 1/2 cup)
Directions:
Preheat oven to 425°.
Scrub beets and trim tops to 1 inch. Place beets in a glass or ceramic baking dish. Fill dish one-third full with water. Cover with foil and bake at 425° for 1 hour or until beets are tender. Cool.
Peel beets, and cut into 1/4-inch-thick slices. Core tomatoes and cut into 1/4-inch-thick slices. Arrange the beet and tomato slices on a platter. Sprinkle with 1/2 teaspoon salt and pepper.
Slice peaches and toss slices with 1 tablespoon lemon juice.
Combine remaining 1/4 teaspoon salt, oil, remaining tablespoon lemon juice, honey, and shallot in a medium bowl. Add peach mixture to honey mixture and toss. Mound peach mixture on top of beet and tomato slices; sprinkle salad with the mint, thyme, and goat cheese. Enjoy!