No-Bake Double Chocolate Cream Pie
Yield: 9" pie, 8 to 10 servings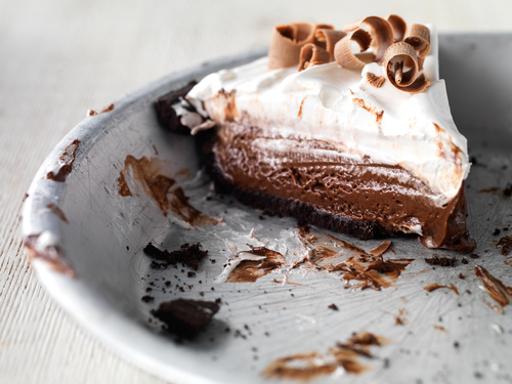 Ingredients:
Crust
25 chocolate sandwich cookies, processed in fine crumbs in food processor
5 tablespoons unsalted butter, melted
Filling
1/3 cup hot water or coffee
2 tablespoons double-Dutch cocoa*
1 tablespoon vanilla extract
8 ounces bittersweet chocolate, broken into small chunks
1 1/2 cups heavy whipping cream
2 tablespoons sugar
1/8 teaspoon salt
Directions:
Preheat the oven to 350°F and grease a 9" pie pan.
Mix cookie crumbs with butter, then press into the bottom and up the sides of the pan. If you don't have a food processor, you can use a rolling pin to pulverize the cookies, but note that the finer the crumb the better the crust mixture sticks together. Bake for 8 minutes. This will keep the crust crunchy after it is filled. Cool completely before filling.
Place a mixing bowl into the fridge to chill. Combine the hot water or coffee (the coffee flavor will be subtle and amp up the chocolate flavor), cocoa and vanilla in a small bowl and set aside.
Microwave the chocolate chunks on high for 30 seconds and stir. Microwave another 30 seconds, stir until completely melted. Set aside and let cool. Alternatively, you can melt the chocolate in a double boiler on the stove.
Using the chilled bowl, combine the cream, sugar and salt. Whip with a mixer until soft peaks form.
Slowly add the cocoa mixture into the melted chocolate, stirring.
Using a whisk, gently fold the chocolate mixture into the whipped cream until just combined.
Add the filling into the crust, spreading evenly.
Refrigerate for at least 1 hour.
Top with sweetened whipped cream, crushed Oreo cookies, roasted salted pecans, fresh strawberries, hot fudge or any of your favorite toppings!
*Looking for double-Dutch cocoa? It is a darker, delicious cocoa perfect for this recipe and can be found at specialty shops like Penzeys, kingarthurflour.com and others. Can't find it? You can also sub in Hershey's Special Dark Cocoa, found in most grocery stores.