Brown Butter and Sea Salt Chocolate Chip Cookies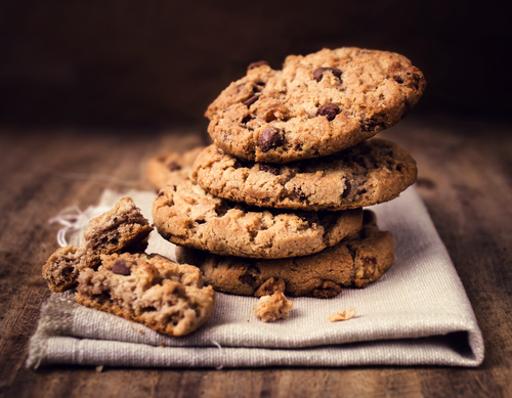 Ingredients:
1 cup (16 tablespoons) unsalted butter, softened to room temperature, separated into ½ cups
1 cup light brown sugar, packed
2 teaspoons vanilla extract
1 teaspoon molasses
1/2 cup granulated sugar
1 large egg
1 large egg yolk
2 1/4 cups unbleached all-purpose flour
1 teaspoon salt
1 teaspoon baking soda
1.5 cup bittersweet chocolate chips
coarse sea salt, to sprinkle on top
Directions:
Melt ½ cup butter in a saucepan over medium heat. Continue to cook about 6 minutes, stirring often, until it becomes brown in color. It will foam and crackle as it cooks, reduce, then foam again but the crackling will stop. Keep a close eye and stir continuously at this point, as it can burn quickly. You will notice the fragrance has changed to a nutty one and small browned bits have formed. Pour into a glass bowl or dish to cool about 20 minutes.
Beat the remaining 1/2 cup butter with brown sugar until very smooth, approx. 3-5 minutes. Add in vanilla and molasses and mix.
Add cooled brown butter and granulated sugar. Beat until lighter in color and fluffy, approx. 2 minutes. Add the egg and egg yolk, and beat for another minute.
Mix remaining dry ingredients in a separate bowl, then add to mixture, beating on low speed until just mixed. Gently fold in the chocolate chips.
Flatten dough into a circle and refrigerate for at least 30 minutes. About 15 minutes before you're ready to begin baking, preheat your oven to 350°F and line two cookie pans with parchment paper or lightly grease.
Scoop the dough in 2 tablespoon-sized balls onto the prepared baking sheets. Leave about 2 inches between the cookies. Sprinkle the cookies with sea salt to taste.
Bake for 12 to 15 minutes, until golden brown. Cool on the baking sheet for at least 5 minutes before moving to cooling rack. Serve and enjoy!
Yield: about 24 large (3") cookies.
*Adapted from Joy the Baker's Browned Butter Chocolate Chip Cookies with Pecans