Beer-Battered Fish Fry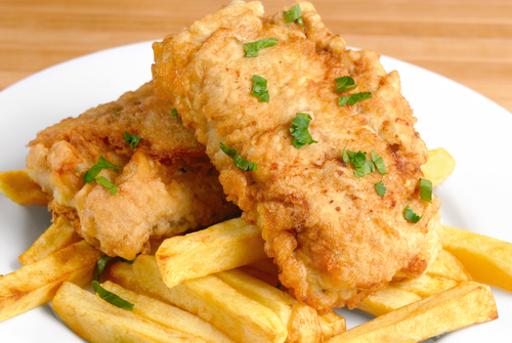 Ingredients:
½ teaspoon salt
¼ teaspoon black pepper
1 cup all-purpose flour
1/2 cup cake flour
1 tablespoon baking powder
¼ teaspoon paprika
12 ounces beer
1.5 lbs. fresh cod fillets, patted dry
½ cup flour, for dredging, mixed with salt and pepper to taste
6 cups canola or vegetable oil, for frying
Directions:
Whisk the flours, baking powder, salt, pepper and paprika in a large bowl. Add the beer slowly, whisking gently. You may not need all the beer, so check consistency as you go. Once you have a thick, smooth batter, let rest 10 minutes while oil heats.
Heat oil in a Dutch oven to 375 degrees (pot should be filled about halfway). You can use a candy thermometer to measure this.
Once oil is hot, first dredge fish in flour. Then dip fish in the batter and let excess drip off. Gently place into oil using tongs, being careful not to overcrowd the pot or splash oil, only cooking about two to three pieces at a time. Fry the fish for about 5 minutes, or until golden brown. Transfer to a wire rack or tray lined with paper towels while cooking remaining fish.
Serve while hot with French fries, lemon wedges, malt vinegar, tartar sauce or other garnishes.