Chicken Enchilada Soup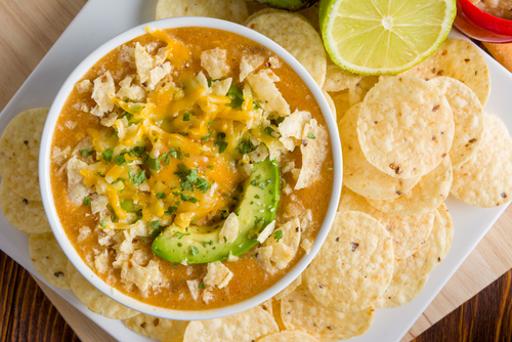 Ingredients:
2 tbs. olive oil
1 small Spanish onion, chopped
1 medium green pepper, chopped
2 cloves garlic, minced
½ c. chopped green chiles (fresh or canned)
4 cups chicken stock
1 14 oz. can low-sodium black beans, rinsed and drained
1 14 oz. can fire-roasted diced tomatoes
1 can red enchilada sauce
½-1 tsp. cumin (adjust to your taste)
1 tsp. onion powder
½ tsp. garlic powder
1 c. crushed tortilla chips
1 lb. chicken breast, cubed
1 c. shredded cheddar
Salt and pepper to taste
Directions:
1. Heat olive oil in a Dutch oven or large pot. Add onion and garlic and sauté over medium heat until the onion is translucent.
2. Add all other ingredients except cheese and cook approx. 20 minutes or until chicken is cooked through. Add cheese and stir until melted and combined. Adjust seasoning to taste.
3. Serve with lime wedges, cheese, tortilla chips, jalapenos, sour cream, guacamole or your favorite toppings.