Grilled Pork With Red Peppers
Service for 4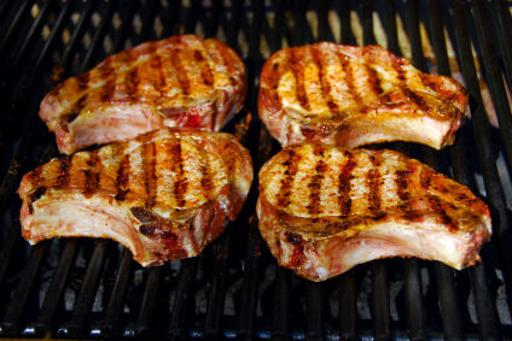 Ingredients:     
Pork Loin Chops, about 1 inch thick 4 each    
Marinate      
Olive Oil  2 oz.    
Lemon Juice , fresh 1 oz.    
Orange Juice, fresh  2 oz.    
Seasoned Rice Vinegar 2 oz.    
Lime Juice, fresh    1 oz    
Garlic, minced   ½ tsp.    
Ginger, minced  ½ tsp    
Green Onion, minced  2 each    
Zest of the fruits  2 tsp.    
Red Bell Peppers, cleaned and Julienne 2 each    
Chicken Stock or Beef Stock  1 cup  
Directions:
Place the pork in a glass or stainless steel pan, season with salt and black pepper
In a small mixing bowl combined the ingredients for the Marinate, pour over the pork, wrap and place in cooler for 24 hours, turn once during the marinating.
To Cook, the meat
Preheat grill to medium heat
Remove the pork from marinate and blot dry, discard the remaining marinate
Spray the chops with a touch of spray oil and cook to desire degree of doneness
To Cook, the pepper
Sauté the peppers in a small about of olive or grape seed oil, season with salt and pepper.
When peppers are just tender add the stock and allow to simmer until the stock as almost evaporated, adjust seasoning
To Serve
Make a "nest" with a serving of the cooked pepper, place the chop on top.