Double Chocolate Chip Waffles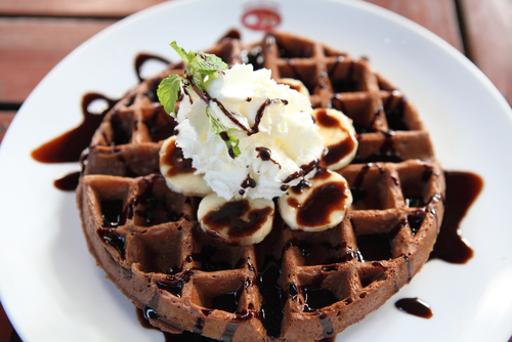 Ingredients:
2 eggs
1/4 cup vegetable oil
1 tsp vanilla
1 cup buttermilk
1 cup unbleached all-purpose flour
3/4 cup sugar
1/2 cup unsweetened cocoa powder
1/2 tsp baking powder
1/2 tsp baking soda
1/4 tsp salt
1 cup chocolate chips or mini-chips (you can use a mix of dark, white, milk or semi-sweet chips; or use 1/2 cup chips and 1/2 cup of your favorite chopped nuts if you prefer)
Directions:
1. Mix eggs, oil and vanilla and beat about two minutes until light and fluffy. Blend in buttermilk, then flour, sugar, cocoa, baking powder, baking soda and salt. Gently fold chocolate chips or other add-ins.
2. Bake waffles in a preheated greased waffle iron according to its directions, until done. Serve with chocolate sauce, hot fudge, ice cream, chopped nuts, sprinkles, whipped cream, strawberries or any combination of your favorite toppings! You can also freeze leftovers.
*Adapted from http://www.kingarthurflour.com/recipes/fudge-waffles-with-ice-cream-and-chocolate-sauce-recipe