Mac and Cheese Cakes
Ingredients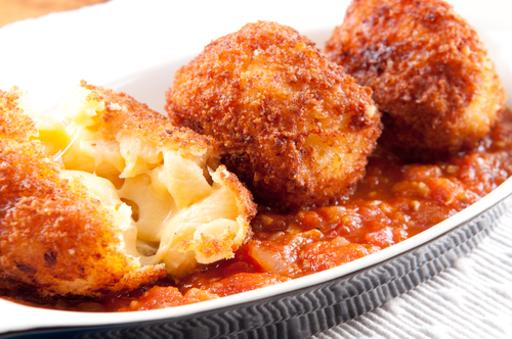 ½ cup butter
½ tsp. dry mustard
1 qt. warm milk
1/2 tsp. salt
1lb. 8 oz. (approx. 6 cups) extra sharp Cheddar cheese, shredded
4 oz. Chopped Low Fat/Sodium Ham
4 Tbsp. Tabasco
1 tsp Worcestershire sauce
1 lb. cooked elbow macaroni
2 whole eggs
1 cup fresh bread crumbs
Clarified butter or vegetable oil
Directions
Place butter, salt, mustard and milk in a heavy-bottomed pot. Cook for two minutes, stirring constantly.
Add cheese, bring to a simmer, stirring with a whisk until thickened.
Add ham, tabasco and Worcestershire, stir.
Add macaroni and mix thoroughly. Cool.
Add eggs and bread crumbs, mix. Chill in a shallow pan for at least one hour in the refrigerator.
Using 1/4 cup measure, scoop out and form into patties. Coat patties with the breadcrumbs.
Saute in clarified butter until golden brown.