Alumni

Serena Pudelski grew up caring for animals, so it was no surprise when she decided to pursue a career as a veterinary technician. Now, she brings routine pet care — such as nail trims and ear cleanings — to homes throughout Northeast Ohio.
After completing the Veterinary Technology program at Cuyahoga Community College's Western Campus in 2009, Pudelski trained in lab animal medicine as an intern at Case Western Reserve University. She worked in research for a bit before joining a private practice and eventually starting The Traveling Technician LLC in May 2016. 
Pudelski also offers an online course for veterinary technicians who wish to create their own house call businesses. The Vet Tech Society Program empowers participants and provides them an alternative to traditional clinic positions.
"I'm creating a movement for pet care by teaching RVTs [registered veterinary technicians] how they can build a successful house call business of their own — making their own schedule, spending more time doing what they love, unleashing their income potential and becoming invaluable to the pets they serve."
Pudelski recently spoke at an American Veterinary Medical Association meeting about her experience at Tri-C and owning her own business. She was thrilled to share her story, visit her professors and walk through the kennel area and labs at her alma mater. She was invited back to speak to Tri-C students about her training and experience.
Reflecting on her professional journey, Pudelski says she is exactly where she wants to be in her life and career: "I'm a wife, mom, business owner and vet tech trailblazer."
Alumni Mission Statement
To cultivate lifelong meaningful connections between Cuyahoga Community College and its alumni by connecting alumni with each other, with their alma mater and with current students to foster Tri-C pride.
Together we can make a difference!
Spring Commencement Celebrates Academic Success of Nearly 2,900 Graduates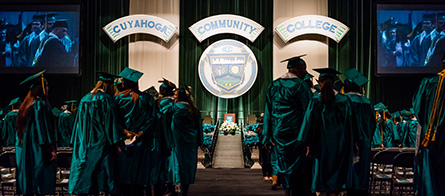 Events
Tri-C's Men's Basketball 2019-20 Home Opener & Special Tribute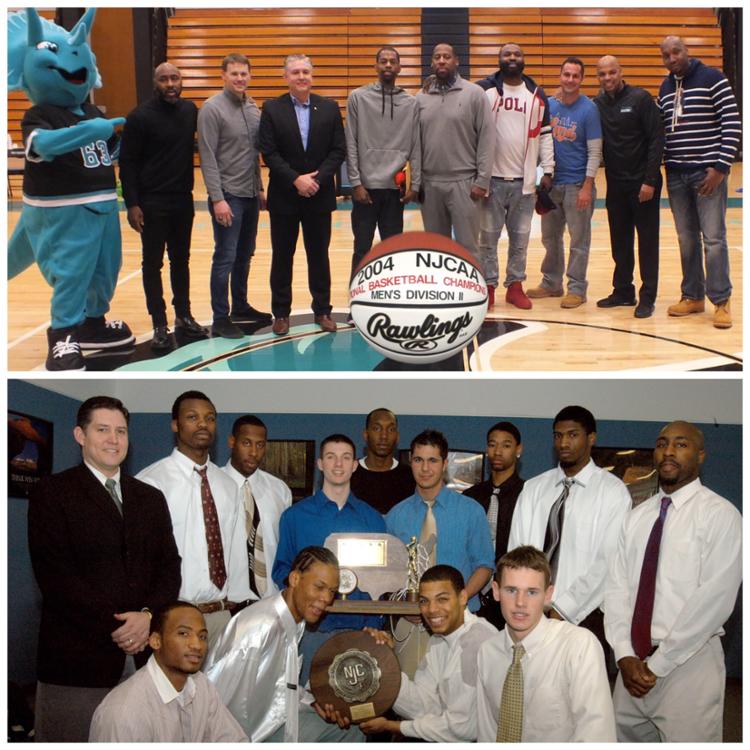 On Saturday, Nov. 16, the Tri-C Men's Basketball team held its first home game of the 2019-20 season in the newly renovated Metropolitan gymnasium.  To celebrate this special occasion, eight members of Tri-C's 2004 NJCAA Division ll Champoinship Team and Coach Mark Anderson returned home.  They received a standing ovation at halftime, with Stomp leading them to center court. Current coach, Mike Duncan, was a member of that team.
The Triceratops' opponent for Saturday's game was Lansing Community College, with the final score: Tri-C 58, Lansing 53. Following the win, a post-game celebration was held with alumni and current students. Thanks to Coach Duncan and the Athletic department for including Alumni Relations in this fun reunion!    
Tri-C Through the Years