Professional Judgments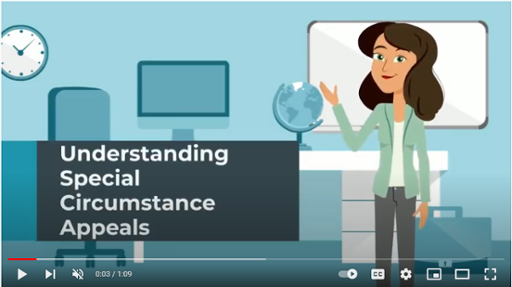 Special Circumstance Appeal
The Special Circumstance Appeal provides students' an opportunity to appeal their financial information submitted on the Free Application for Federal Student Aid (FAFSA) due to a change since filing the FAFSA. Before completing the form, it is important to consult with a financial aid advisor to determine whether a financial adjustment will change your financial aid eligibility.
Cost of Attendance Appeal
The Cost of Attendance Appeal provides students' an opportunity to request an increase in allowances for educational expenses, which are used to determine a student's eligibility for financial aid. Requests in cost of attendance are typically for expenses related to excessive travel due to school-related experiences, child care expenses, computer expenses and other educational expenses. An increase in students' cost of attendance typically result in an increase in student loans, if applicable.
Please contact the Student Financial Aid & Scholarships Office for more information regarding the cost of attendance appeal process for special circumstances. 
Dependency Override
Federal Regulations stipulate that you are offered an opportunity to petition for a Dependency Override appeal if you have "unusual circumstances." Your petition will be reviewed by a Financial Aid Administrator and you may be granted a Dependency Override appeal based on your circumstances. Be aware that Dependency Overrides are approved on a case-by-case basis. It is important that you document your "unusual circumstances" and provide documentation each award year.
The U.S. Department of Education recognizes examples of "unusual circumstances" to be, but are not limited to, an abusive family environment, death of a custodial parent, or abandonment/neglect by parents.

A Dependency Override cannot be granted solely based on any of the reasons below:
• You do not live in your parent's home
• You support yourself without assistance from your parents
• Your parents do not claim you on their federal taxes
• Your parents cannot afford or refuse to help with college or living expenses