Transfer Resources
The Ohio Department of Higher Education's (ODHE)response to COVID-19:
FY20 Spring AP exam scores will be accepted for college credit, using the same guarantees that exist in current policy. 
Virtual laboratory experiences (courses) will meet the natural science Ohio Transfer Module (OTM) and Transfer Assurance Guide (TAG) lab requirement for Spring 2020 through Spring 2021 terms.
Students who receive a Pass (or credit) for an OTM or TAG course taken during the Spring FY20 and Summer FY21 terms will be guaranteed to receive transfer credit and have that credit applied as if it were a letter grade according to current Ohio Articulation and Transfer Network (OATN) policy.
Grades for Career-Technical Assurance Guide (CTAG) courses can be used in lieu of the traditional end-of-course WebXam assessments for junior and senior students during the 2020-2021 school year.
Visit the ODHE website to see details about the above COVID-19 accommodations.
Please see specific school responses to COVID-19 by visiting the school's "Transfer Partnership" web page.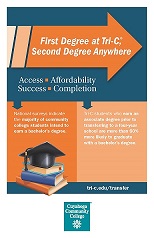 Video