Nursing Program






Overview
The nursing curriculum is presented as a career ladder concept-based curriculum designed to improve nursing career mobility. It provides seamless progression from nurse aide certification to practical nurse certification to the associate degree in applied science in nursing. The program is highly individualized and blends classroom instruction that offers students excellent hands-on experience in real world health care settings. As a profession, nurses have an important, influential role in health care delivery. As a nurse, you will derive satisfaction from knowing that you are able to support patients and their loved one through their lifespan.
Campus Locations
The Division of Nursing Program at Cuyahoga Community College is one program offered at three different locations: the Eastern, Metropolitan and Westshore campuses.
Important Program Changes
The Accelerated Track and Practical Nurse Program discontinued admission of students as of the Fall 2019 term.
Fall 2020 Program Changes
Starting Fall 2020 the Division of Nursing will be transitioning to a one-plus-one curriculum. Effective Fall 2020, all Nursing students will need to apply to the applied science degree program in Nursing. Students who successfully complete the two prerequisite nursing courses are eligible to sit for the ODH STNA (Ohio Department of Health State Tested Nurse Aide) examination and progress to the nursing program after meeting all admission requirements.
Students who successfully complete the first year of the program will be awarded a certificate of proficiency in practical nursing and are eligible to sit for the NCLEX-PN.
Students who complete the second year of the nursing program will be awarded an associate degree in applied science and are eligible to sit for the NCLEX-RN. All students are admitted using a common admission criteria.
Nursing Program Tracks
The Associate of Applied Science Degree in Nursing (ADN) Program
The ADN program is a two-year nursing program that admits students twice a year. Students can opt to take classes in a day program or modified evening/weekend program. In consideration of the various stages of students' education levels and experiences, there are two entry tracks into the ADN program. Information about admission into each track can be found by clicking a track below.
Nursing Continuum
The RN-to-BSN nursing continuum is a program designed to provide a smooth transition from Tri-C's associate's degree program to earning a bachelor's degree at CSU. The nursing continuum will enable Tri-C graduates with a license as a registered nurse (RN) to complete their bachelor of science in nursing (BSN) via CSU's online program while working.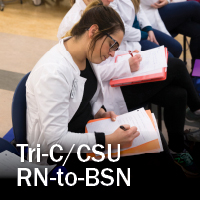 Videos