Nursing Program





Overview
Nurses have an important, influential role in health care delivery. As a nurse, you provide services that support patients and their loved ones throughout their lifespan.
Tri-C's nursing curriculum offers a pathway to a rewarding career, providing a seamless progression from nurse aide certification, to practical nurse certification, to an Associate of Applied Science degree in nursing.
Individualized and blending classroom instruction with experience in real-world settings, Tri-C's nursing program allows you to develop the skills needed to excel in this fast-paced, growing field.
Campus Locations
Nursing courses are offered at the Eastern, Metropolitan, Western and Westshore campuses. 
Program Information
Students in the nursing program progress through a curriculum based on nursing concepts and skills that enable the nurse to adapt in a changing society. Opportunities for student learning are diverse and enriched by exposure to various clinical agencies throughout Northeast Ohio. Students also have the opportunity to care for individuals of all ages in medical, surgical, pediatric, obstetric and geriatric settings. 
Students who successfully complete the two prerequisite nursing courses are eligible to sit for the ODH STNA (Ohio Department of Health State Tested Nurse Aide) exam and enter nursing program after meeting all admission requirements.
Students who complete the first year of the program will be awarded a certificate of proficiency in practical nursing and become eligible to sit for the NCLEX-PN.
Students who complete the second year of the Nursing program will earn an Associate of Applied Science degree and become eligible to sit for the NCLEX-RN. The program prepares graduates to be able to provide nursing care to patients or groups of patients at home or in institutions, at the direction of a licensed physician, advanced practice nurse, dentist, optometrist or podiatrist.
All students are admitted using common-admission criteria. Applicants are reviewed on a continual basis throughout the year. Students meeting all required criteria can be placed. New students are placed and begin the program in the Fall and Spring semesters yearly. Information for placement in the ADN program is sent out via Tri-C email. Placement in all programs is on a first-come, first-served basis. View nursing admission requirements for the program of your choice.
Nursing Program Tracks
Associate of Applied Science Degree in Nursing (ADN) Program
The ADN program is a two-year nursing program that admits students twice a year. Students can opt to take classes in during the day, or evenings and weekends. There are two entry tracks into the ADN program, depending on a student's prior education level. Information about admission to each track can be found by clicking below.
The Accelerated Track and Practical Nurse Program discontinued admitting students as of the Fall 2019 semester.
Nursing Continuum
The RN-to-BSN nursing continuum provides a pathway from Tri-C's associate degree program to the bachelor's degree nursing program at Cleveland State University. It enables Tri-C graduates licensed a registered nurse (RN) to complete their Bachelor of Science in Nursing (BSN) via CSU's online program, while working.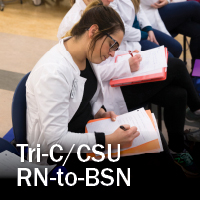 Videos