Nursing Program

The Division of Nursing Program at Cuyahoga Community College is one program offered at three different locations: the Eastern, Metropolitan and Westshore campuses. The program consists of two areas, the Associate of Applied Science Degree in Nursing and the Certificate in Practical Nursing.
The programs are highly individualized and blend classroom instruction with laboratory work and a professional clinical field experience that offers students excellent hands-on experience in real world health care settings. As a profession, nurses have an important, influential role in health care delivery. As a nurse, you will derive satisfaction from knowing that you are able to support patients and their loved one through their lifespan.
Advisement
Prospective nursing students: If you wish to enter a Fall 2019 nursing program, it is strongly advised that all admission requirements, including the A2 entrance exam, be completed by June 30, 2019.
Nursing Program Tracks
The Associate of Applied Science Degree in Nursing (ADN) Program
The ADN Program is a two-year nursing program that admits students twice a year. Students can opt to take classes in a day program or modified evening/weekend program. In consideration of the various stages of students' education levels and experiences, there are three entry tracks into the ADN program. Information about admission into each track can be found by clicking a track below.
Practical Nursing Certificate of Proficiency Program
The Practical Nursing Program is a one-year certificate program that admits students each fall semester and has day and evening components. Prerequisite criteria must be met prior to admission. See the practical nursing information packet for specific details.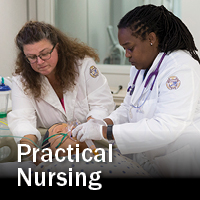 Nursing Continuum
The RN-to-BSN nursing continuum is a program designed to provide a smooth transition from Tri-C's associate's degree program to earning a bachelor's degree at CSU. The nursing continuum will enable Tri-C graduates with a license as a registered nurse (RN) to complete their bachelor of science in nursing (BSN) in CSU's online program while working.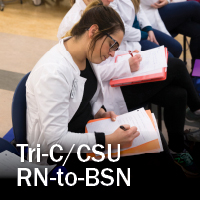 Videos