Natasha Dumas
Natasha Dumas' Journey into Nursing Inspired by Family
Nontraditional student draws on own experience to tutor her Tri-C peers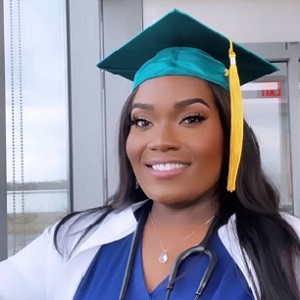 Coming from a family of nurses motivated Natasha Dumas to attend Cuyahoga Community College (Tri-C®) as the first step toward her own dream career.
"Witnessing my nursing family members in amazing specialties shaped my educational journey," she says. "I wanted to be as smart and well-versed in the human body as they were."
Dumas will receive her Associate of Applied Science in Nursing during the College's Spring Commencement on Friday, May 19, at the Wolstein Center at Cleveland State University. She plans to transfer to Ohio University to pursue her Bachelor of Nursing degree.
The 29-year-old is familiar with the challenges of a nontraditional student's path, which inspired her to tutor other nursing students from different backgrounds.
"What interests me most about my chosen profession is I can continue to help people of different backgrounds and ages," she said.
A member of Tri-C's Honors Program, the Lyndhurst resident also participates in the Black American Council and the Student Nurses Association on campus.
What made you choose Tri-C?
Tri-C has always had a word-of-mouth reputation for the nursing program. Some people would say it's great and others will say it's extremely difficult. But the most consistent statement would be, "Tri-C nurses graduate and become some of the strongest nurses in the field." I knew I had to graduate as a nurse from Tri-C's nursing program.
Describe your Tri-C experience. Has a specific person, class or event played a role in your success?
My Tri-C experience was amazing. My instructors played a huge role in my success. Being a safe, confident and competent nurse is what I learned from my instructors.
What's your advice for potential students considering a similar academic or career path?
You have to maintain the determination each semester. Be steadfast about your studying time and studying skills. Nursing school is not easy, but do not let that intimidate you. You have seen countless students graduate with their nursing degrees. That just shows you that it is definitely doable. Utilize all the resources that Tri-C has to offer.