Lydia Rabne
Meaning and Grace
Tri-C provided the foundation she needed for success in nursing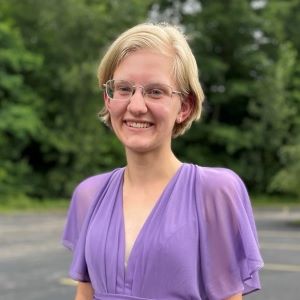 Lydia Rabne was interested in human anatomy and physiology from an early age. Her fascination with the medical profession brought her to Cuyahoga Community College (Tri-C®) while still in high school.
Now the Strongsville resident is working her way up the career ladder as a nurse.
"I first knew I had a strong stomach in elementary school when my class did dissections," Rabne said. "I was interested in anatomy and physiology — other students were getting sick."
Rabne will receive her Associate of Applied Science in Nursing during the College's Spring Commencement on May 19, at the Wolstein Center. The 20-year-old took advantage of the College Credit Plus (CCP) program, which allows high school students to earn college credits.
Rabne works as an LPN, a job she started while completing her associate degree at Westshore Campus. She's already working on her bachelor's degree in nursing at Ohio University.
How did you decide nursing was for you?
My faith plays a big part in my life. I feel a call to nursing to show love and share hope with people who are going through hard times.
My mom has also been a huge inspiration for me to pursue nursing. She cares for my older brother with special needs with such selflessness and grace.
Describe your Tri-C experience.
All my nursing professors have taught me something unique. One of my first clinical instructors, Helena Wilson, had us write about why we chose nursing so we could look back at it as inspiration to keep going. My experience at Tri-C has been amazing and empowering. I have a strong foundation to use in my job and in further education.
What are your interests outside of nursing?
Music is a big part of my life. I sang in high school with the Baldwin Wallace women's chorus, and I like to play guitar and sing at my church. I worked in a nursing home as a nursing assistant, and the nurses frequently asked me to sing for our residents.
How has Tri-C changed your life?
Tri-C has given me an affordable, quality education and opened up a variety of opportunities. I'm beginning my job search and have so many medical facilities to pick from. Tri-C is an amazing resource and tries to be accommodating to students' life circumstances. In high school, I needed testing accommodations for health reasons and was able to receive the help I needed through Student Accessibility Services. I was so grateful that I could test in an environment that met my needs.
What's your advice for potential students considering a similar academic or career path?
Try to maintain a healthy work-life balance. I wasn't always the best at taking breaks, and I realize now how important self-care is. You'll be busy early in the program — especially if you work — but it's always important to spend time with family, listen to your favorite music, take breaks and exercise.