Maureen Flanick
The Student Becomes the Teacher
Assistant professor of nursing started her journey as a Tri-C student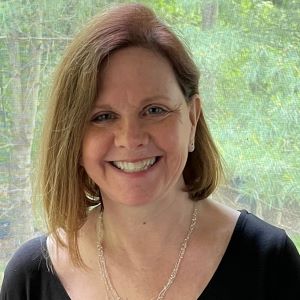 This spring, Maureen Flanick shared an experience with the nursing students she instructs at Cuyahoga Community College (Tri-C®).
During the College's 2023 Spring Commencement on May 19, 81 Tri-C students earned their Associate of Science degrees in Nursing. Flanick, an assistant professor of nursing, earned her Doctor of Nursing Practice (DNP) in July from Case Western Reserve University.
"Nurses are just movers and shakers. It's what we do," Flanick said.
Continuing education often indicates a dedication to the craft, and Flanick is not unique as a member of Tri-C's nursing faculty. It's characteristic. Faculty members are constantly advancing their credentials, and Flanick's achievement bookends an educational journey that started where she now teaches.
In 1992, Flanick was one of the Tri-C students claiming her associate degree in nursing. Almost 20 years later, she joined the College's teaching team full-time. In between, her career in the field had her doing everything from Level 1 trauma to residential nursing to working in "Big Pharma."
Flanick became interested in the field at a young age.
"I had an accident as a kid, and I wanted to know what was going on behind those closed doors," Flanick said.
Working at MetroHealth Medical Center, a teaching hospital, Flanick discovered she had a knack for instruction. It grew until she decided she wanted to make teaching her primary work.
"I thought, 'Why not go back to my school?' My heart was with Tri-C. I thought I would give it a shot," she said.
"I love being able to connect with patients — but being able to help the students connect, that's special, and I am the conduit."
Flanick's level of experience gives students in the nursing program a touchpoint to the practice. Ask her what makes Tri-C's nursing program special, and Flanick doesn't miss a beat.
"The faculty. The rigor. Tri-C is where it is. I went to Tri-C, and I'd still go to Tri-C. Our students are very good. We put out great nurses, and the community knows it," she said.