Carrie Rhodes
Tri-C Nursing Faculty Delivered the Care She Needed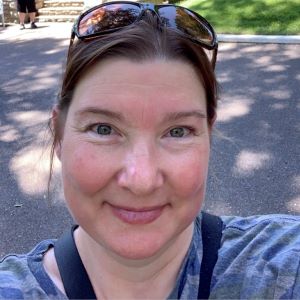 There were moments when Carrie Rhodes doubted she could do it. She was in her late 30s, and the other students in her classes tended to be much younger. She had a full-time job to hold down. She slept little, had kids to take care of and a house to run. At times, it felt like too much.
But the faculty in the Nursing program at Cuyahoga Community College (Tri-C®) provided a lifeline — particularly teachers like Sharon Wasko-Arnold.
"She helped me any time I wanted to quit. It was just so hard, and I was struggling so much," Rhodes said. "She would have me come into her office, and I would just cry. She still tells people about 'Kleenex Girl.'"
When Rhodes failed a psychology course, she thought she was done, but Wasko-Arnold told her to "get back up right now and reapply."
"I did what she told me to do, and then I graduated," Rhodes said.
That was in 2018 when she earned her associate degree. Now a registered nurse at University Hospitals St. John Medical Center in Westlake, Rhodes earned her BSN this year.
"Aside from raising my children, I have always said nursing school was the hardest thing I ever did — and I would do it again," Rhodes, who lives in Brunswick, said. "I'd wanted to be a nurse since I was a little girl. I didn't pretend to be a doctor when I was a kid. I played nurse."
Tri-C offered Rhodes quality, convenience and affordability.
"I would go to Tri-C again. You save a lot of money and get a really good education," Rhodes said.
Rhodes also chose Tri-C for its high pass rate on the National Council Licensure Examination (NCLEX), an exam for the licensing of nurses.
Rhodes's husband also went to Tri-C, and her daughter is currently in the Nursing program. She said encouraging her daughter to attend Tri-C is all anyone needs to know about her thoughts on the College.
"There are teachers who want to make you better, and they are at Tri-C," Rhodes said.