Employer Job Openings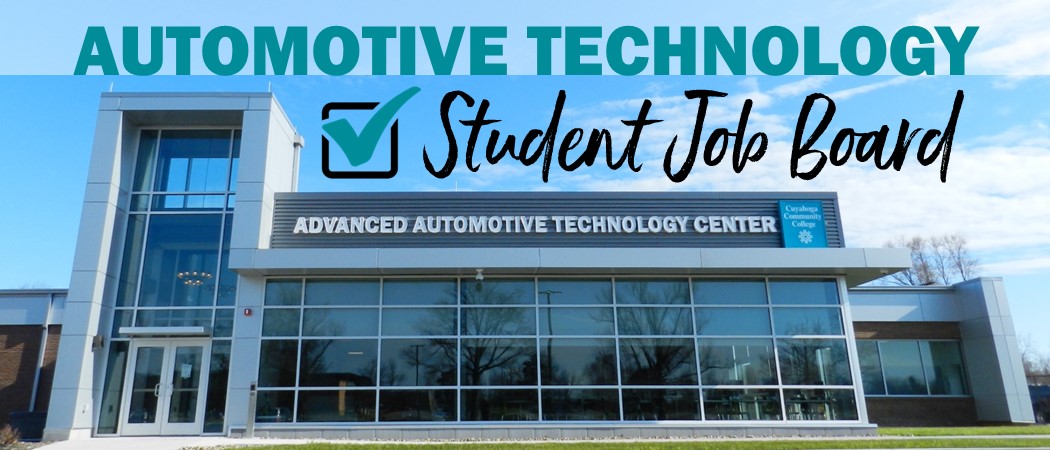 WhirlyBall, Laser-Sport, Private Bowling
Job Title: Maintenance Technician
Location: 5055 Richmond Rd, Bedford Heights, OH 44146
Contact: Rick
Phone: 216-591-0707
Email: rick@wbcleveland.com
Web: www.wbcleveland.com
Description: We will train for general maintenance in an indoor amusement facility. Looking for someone who can work three to five days a week for three to six hours each day. Electric Bumper car mechanical work, light bowling maintenance and facility upkeep. Mechanical back-round needed and some general knowledge for various repairs. Training provided on premises. One or two employees needed. Hourly rate: $12.50 to $17 +.

Date Received: 8-31-2022
Cuyahoga Community College
Job Title: Maintenance Mechanic, Grounds
Location: Metro Campus
Description: Click HERE for the job description. Apply online at www.tri-c.edu. Qualified candidates will be ASE certified with at least five years of mechanic's experience or a complete vocational/apprenticeship program. Full time position with a minimum annual salary of $54,567.55.

Date Received: 9-14-2022
United States Postal Service
Job Title: Automotive Technicians
Location: Cleveland and Akron
Contact: 216-443-4038
              Donald Hanzel donald.a.hanzel@usps.gov
              Howard Jackson howard.i.jackson@usps.gov
Description: The United States Postal Service is Now Hiring Automotive Technicians in Northern Ohio.
Cleveland Automotive Technician - Chagrin Blvd.
Cleveland Automotive Technician - Broadway Ave.
Date Received: 9-7-2022
Cleveland Auto Pros
Job Title: Automotive Technician
Location: 6111 Barberton Ave, Cleveland, OH 44102
Call/Text: 440-650-8836
Email Resumes to: clevelandautopros@gmail.com
Description: Click HERE for information.

Date Received: 9-1-2022
Bay Auto Care
Job Title: Automotive Technician
Location: 691 Dover Center Road. Westlake, OH 44145
Contact: Jacob Piechowiak
Phone: 440-871-7797
Web: bayautowestlake.com
Description: Email bayautowestlake@gmail.com with your resume and information. Currently seeking an Automotive Technician to become an integral part of our team! You will diagnose, adjust, repair, and overhaul automotive vehicles. Students welcome as we will provide on the job training. Shop hours are 8 a.m.-5 p.m. Monday-Friday and 8 a.m.-2 p.m. Saturday. Health insurance and retirement packages are available to full time employees.
Responsibilities: Diagnose and repair automotive vehicles. Perform routine vehicle tune-ups and maintenance. Maintain a cleanly, professional appearance. Supply your own tools for daily use, specialty tools can be provided. Ability to interpret wiring diagrams and diagnostic charts preferred. Ability to be on your feet for a full 8 or 9 hour work day.
Qualifications: Previous experience as an automotive technician, mechanic, or other related fields. Knowledge of diagnostic and repair equipment preferred. Strong mechanical aptitude and troubleshooting skills. Deadline and detail-oriented. Desire to learn new skills and abilities. ASE certifications are encouraged but not required.

Date Received: 8-15-2022
BrakeTime, LTD
Job Titles: Roadside Assistance Technician.  Mobile Automotive Repair Technician.
Phone: 216-202-4343
Fax: 216-250-8282
Email: kenny@braketime.mobi
Web: www.itsbraketime.com
Description: Click HERE for more information.  Click HERE to download an application.
Date Received: 8-15-2022
Tesla
Job Title: Service technicians
Description: Click HERE for details. https://www.tesla.com/careers
Date Received: 7-15-2022