Employer Job Openings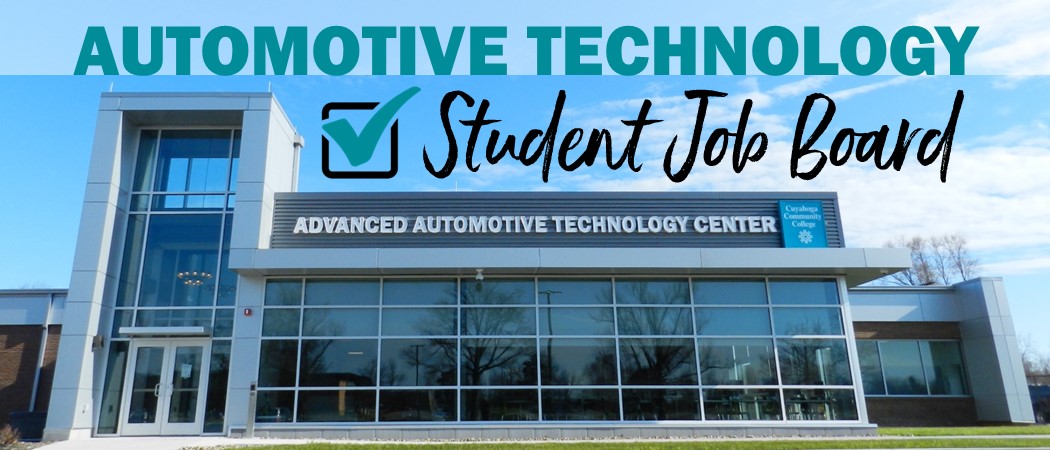 Auto Zone
Job Title: Customer Service
Location: 1071 E Aurora Rd. Macedonia, OH 44056
Phone: 330-468-5513
Description: In need of evening customer service help. Also need weekend drivers.

Date Received: 6-6-2022
ITW Engine Repair
Job Title: Technical Training & Support Specialist
Location: 6875 Parkland Blvd. Solon, OH 44139
Contact: Dan Clarke, daniel.clarke@permatex.com
Phone: Cell: 203-427-1428.  Office: 440-914-3548
Description: Click HERE for job description.  The Technical Training & Support Specialist is the primary point of contact for professional auto mechanics and do-it-yourself customers of ITW Engine Repair's Permatex and Versachem branded products.  Full time.  FLSA Status: exempt.  Employees can work remotely.

Date Received: 6-3-2022
Midas
Job Title: Technicians
Location: 4808 Memphis Ave. Cleveland, OH 44144
Phone: 216-398-7990
Description: Part-time or full-time positions available.  Open from 8am-5pm Monday-Friday, 8am-4pm Saturday, closed Sunday.

Date Received: 5-23-2022
Penske
Job Title: Multiple (see link below)
Location: Brookpark, Oakwood Village, and Akron, OH
Contact: Amira Carter, Recruiter, Amira.Carter@penske.com
Phone: 610-214-3933
Description: Click HERE to view open positions.  FYI: Washer/fueler positions are usually for students or candidates who have little or no experience in the maintenance field. Tech III positions are for graduates or someone with diesel maintenance experience.

Date Received: 5-19-2022
Leppo Rents
Job Title: Technicians
Location: Multiple (see below)
Contact: Raiana Paull, Recruiter, raiana@leppos.com
Phone: 234-200-1471  (Cell: 330-819-9210)
Description: Click HERE to view job description. Leppo has been in business over 75 years all while being guided by the "Leppo Way": We Will Meet Our Commitments. We Will Be Thorough. We Will Make Good Decisions. We Will Ask Questions.  Leppo Rents is proud to offer its co-workers Medical, Dental, FSA & Vision Insurance; company paid Life Insurance/AD&D & Employee Assistance Program; and company paid Short Term Disability & Long-Term Disability. We have a 401K plan and match it up to 5%. We generously revamped our PTO policy, offer paid holidays, and threw in a new floating holiday! We offer our coworkers paid Training and Development, Wellness Incentive Bonuses, Discounts, Allowance for Company Clothing, Quarterly and Annual Company Bonuses, Celebration Luncheons/Milestone Anniversary Gifts, and one pretty awesome Christmas Party!  Positions are available at the following locations:
1. Bobcat of Cleveland West - Leppo Rents.  32200 Lorain Rd, North Ridgeville, OH 44039.  Apply HERE.
2. Bobcat of Cleveland - Leppo Rents.  5095 Taylor Dr, Cleveland, OH 44128.  Apply HERE.
3. Bobcat of Cleveland East - Leppo Rents. NEW LOCATION opening this summer in North Perry, OH. Apply HERE.

Date Received: 5-9-2022
Beaulieu Auto Center
Job Title: Mechanic
Location: 4380 East 71st Street, Cleveland, OH 44105
Contact: Cindy Thomas, Manager, beaulieuautorepair@gmail.com
Phone: 216-441-1950
Description: If you strive to be the best and are looking to join a highly motivated repair facility, we are the place to be. Local shop of 40 years and growing! Up to $2,000 signing bonus and up to $30/hr with all ASEs and experience (ASE Preferred, but not required). Must have own reliable transportation and tools - we will move your box and handle the bill. Guaranteed hours for the first 90 days. 8:00am-5:00pm Monday through Friday (weekends off) with paid holidays and vacations.
Manage your bay as if it's your own. Monthly goals with shop bonuses. Technicians are expected to work closely with service advisors on every job to understand customers' concerns and to properly write your own hours. Test drive, diagnose and repair most foreign and domestic vehicles - from chassis and suspension, to powertrain and emissions. Replace and reprogram modules. Properly repair customers' concerns to limit comebacks. Properly document all work performed on the work order. Maintain shop cleanliness and ensure equipment and tools are organized and in proper working order. Report any problems or safety issues to management. Find and recommend work by performing inspections. Use computers efficiently. Current driver's license with minimal points or accidents.

Date Received: 5-9-2022
Cleveland Auto Pros
Job Title: Mechanic
Location: 6111 Barberton Ave, Cleveland, OH 44102
Contact: Dmitriy Fedorchuk, clevelandautopros@gmail.com
Phone: 440-650-8836
Description: We are looking for a full-time technician who has 2-3 years of on the job experience, a couple of ASE certifications, and some formal education in automotive technology (HS, career center, or college).  The candidate would handle anything from basic maintenance, replacing timing chains, A/C work, tire machine and wheel balencer operation, performing diagnostics with a scan tool, and symptom-based diagnostics to determine the problem. This position is open to someone who just graduated an auto program all the way up to a master certified tech, and the pay range is reflective of that. This would be a starting point and further pay would be determined on the job.
The following are some basic requirements:
- current driver's license with minimal amount of points or accidents
- has own tools to be able to work on customer vehicles
- have a mode of transportation to get to and from work on time
- able to effectively communicate issues with vehicles

Date Received: 4-29-2022
Hertz
Job Title: Mechanic
Location: Cleveland Airport and nationally
Contact: Haley Hudson, 847-284-8902, hhudson@hertz.com
Description: Hertz has a huge need for techs right now, part-time and full-time. Students are welcome. Hertz offers competitive rates and sign on bonuses for all hourly roles. Apply at www.hertzcareers.com. Click HERE for more information. Click HERE to view all national job openings as of 4-19-22.
Date Received: 4-23-2022
United States Postal Service
Job Title: Automotive Technicians
Location: 1801 Broadway Ave. Cleveland, OH 44101
Contact: 216-443-4038
              Donald Hanzel donald.a.hanzel@usps.gov
              Howard Jackson howard.i.jackson@usps.gov
Description: The United States Postal Service is Now Hiring Automotive Technicians in Northern Ohio.
Date Received: 4-22-2022
Swissport
Job Title: Mechanic or Diesel Mechanic
Location: 5851 South Cargo Rd. Cleveland, OH 44135
Contact: John Vegh, Ground Support Equipment Manager. (330) 554-1320. Email: John.Vegh@swissport.com
Fernando J. Franco, Sr. Manager, Policy and Compliance. (602) 284-6934. Email: Fernando.Franco1@swissport.com
Description: Full time mechanic and diesel mechanic openings.  Click for more information.
Date Received: 4-19-2022
Suburban School Transportation
Job Title: Mechanic
Location: Brunswick, OH
Contact: Austin Ondrejcak, Fleet Manager
Phone: 440-580-2400 x116  (Work cell: 440-724-7218)
Description: Suburban Transportation is a small company with an upbeat family atmosphere. We are seeking a full time automotive mechanic to join our fleet department. We currently maintain a large fleet of vans and commercial vehicles that transport children to and from school. Safety of our students is of the upmost importance. Click HERE for application.
Responsibilities and Duties:
· Perform inspections and preventative maintenance of vehicles and shop equipment
· Perform routine and scheduled maintenance services such as oil changes, brake and tire changes, lubrications and filter replacements
· While performing services on vehicles, inspect them for any additional needed repairs or services.
· Troubleshoot and repair electrical systems, engine components, exhaust systems, steering systems, air conditioning and other related systems
· Communicate with shop lead with any issues or problems
· Maintain a clean and organized workspace
· Properly document all work performed on the work order. Maintain shop cleanliness and insure equipment and tools are in proper working order. Report any problems or safety issues to management.
· Test drive vehicles and perform road calls as required
· Must have a great attitude and be able to communicate with other team members

Requirements:
· Must possess own tools and have the minimum tools required
· Must be willing to perform other functions and duties as required by managers and supervisors
· Must be willing to work overtime
· High School Diploma or Equivalent required
· Valid driver's license and good driving record
· Must pass a pre-employment drug screen and background check
· ASE Preferred but not required
Date Received: 4-11-2022