Metamorphosis Cleveland: Climate. Justice. Equity. Sustainability.

The Metamorphosis Cleveland contest and celebratory event is a cocurricular activity scheduled to take place April 25, 2024. The themes of Metamorphosis Cleveland include climate, justice, equity and sustainability and the connections between these issues. Metamorphosis Cleveland was held in spring 2023 and was first held in spring 2019 with a theme of "a ravaged river revitalized and 50 years of change," recognizing the 50th anniversary of the 1969 Cuyahoga River fire.

Early in the Cuyahoga Community College (Tri-C®) Spring 2024 semester, the Metamorphosis Cleveland team will launch a Collegewide call for submissions, asking students to interpret a sustainability-related change — or metamorphosis — that is meaningful to them. Submissions can call attention to positive or negative changes.
Students can choose to enter one of five categories:
Creative Writing: Poetry, short fiction, creative nonfiction
Visual: Paintings, posters, sculptures, photographs, collage
Performance: Short plays, spoken word poetry, songs, dance
Media: Films, websites, social media campaigns, slideshows, board games
Academic: Research posters, PowerPoint presentations, academic papers and projects
Click here to review submission guidelines and submit an entry.
2023 Event Photos
2023 Award Winners
Presidents' Award
Save Her - poem
Brandon Lieb
Community Judges' Award
Help Earth Help Us - children's book
Cassandra Smith
People's Choice Award
The World Today - digital illustration
Rebecca Abramovich
Metamorphosis Cleveland 2019 Event Photos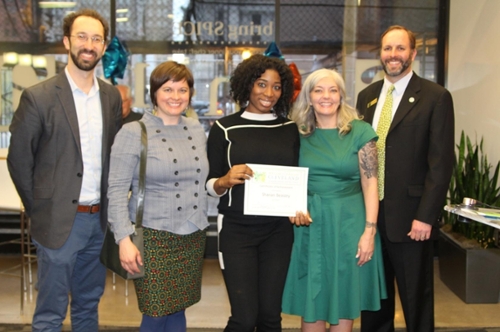 2019 Winners
Presidents' Award
Hi, I'm a Water Bottle - Choose your own adventure book about what happens to a plastic water bottle.
Mohammad Hamdan, Melinda Lashutka and Kara Timinski
Westshore Campus chemistry students
Paul Allotta, faculty sponsor
Community Judges' Award
From Then to Now - poem
Shanan Beasley
Eastern Campus English student
Casandra Sweeney, faculty sponsor
People's Choice Award
Solar Panels
Madeline Clair, Elizabeth Skourlis, Jay Tamilio, Tysaun Blevins, Joseph Klucknik and Olivia Rodriguez
Westshore/Corporate College® West Environmental Club
Anne Distler, faculty sponsor