Class B CDL Accelerated Training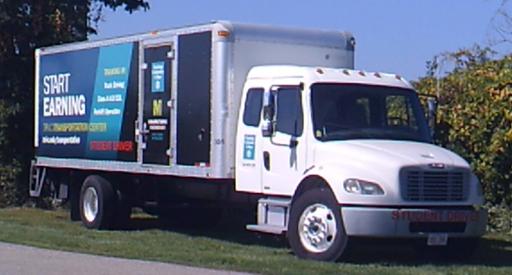 This 120 hour program features:
40 Hours classroom instruction
10 Hours of skills pad (maneuverability)
10 Hours minimum actual behind the wheel road training.
Additional 20 hours will be utilized driving behind the wheel doing either maneuverability skills or road skills
40 Hours of combined time spent observing skills, working on the Pre-Trip Inspection that is required to pass the State CDL test, plus the actual CDL State Test itself in the CDL Class B box truck.
Cost is $4200.00, which includes $4000.00 tuition and $200 in non-refundable testing fees
ZRTR 1007 CDL-B Accelerated
Prerequisite: 
You must be at least 18 years of age
You must possess a valid Ohio Driver's license
You must have a high school diploma or GED or
Score at Level 3 on 3 required ACT WorkKeys Assessment Tests
You must pass a DOT Physical/Drug Screen
Please call Transportation Innovation Center to register. Traditional Student Aid does not apply.
This 120 hour course is designed to familiarize the student with the skills required to obtain a Class "B" CDL driver's license.  It includes classroom, driving skills and road driving.
Cost: $4000 plus a non-refundable $200 administrative fee.
$4,000                              CEU: 12                      HRS: 120
Please call 216-987-3231 to register.
Day Class  7 am - 6 pm
  Monday- Thursday

Start Date

End Date

CRN

CDL-B Accelerated

7/9/18

8/9/18

40268

CDL-B Accelerated

7/23/18

8/23/18

40269

CDL-B Accelerated

9/10/18

10/11/18

40536

CDL-B Accelerated

9/24/18

10/25/18

40538

CDL-B Accelerated

10/8/18

11/8/18

40539

CDL-B Accelerated

10/22/18

11/21/18

40540

CDL-B Accelerated

11/5/18

12/13/18

40542

CDL-B Accelerated

11/19/18

12/20/18

40543

CDL-B Accelerated

12/10/18

1/24/19

40544