Class B CDL Accelerated Training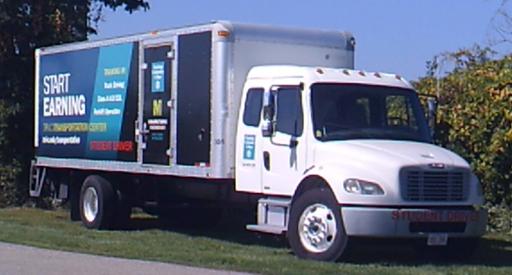 Class B Accelerated CDL Driver Training 
Monday, Tuesday, Wednesday and Thursday | 7 a.m. – 6 p.m. | $4,700
Call 216-987-3226
Overview
The Tri-C Transportation Center is unique. Unlike many other truck driving schools, Tri-C offers small class sizes, giving students individualized attention during training. Plus, all of the trucks have been completely redesigned to enhance student safety and learning to ensure they train in a safe and healthy environment.
Driver safety instruction includes 120 hours of classroom and hands-on training and testing. Training includes pre-trip vehicle inspection, vehicle control and on-road driving (required for skills testing).
This program is licensed by the Ohio Department of Public Safety as a CDL Driver Training School. 
**Video or voice recording of the training sessions is prohibited.
Course Outline:
40 hours minimum classroom instruction
Eight hours minimum of skills pad (maneuverability)
Eight hours minimum behind-the-wheel road training
12 additional hours driving behind the wheel, emphasizing maneuverability or road skills
52 hours of combined time spent observing skills and working on the pre-trip inspection required to pass the state CDL test
Program Admission Requirements:
You must be at least 18.
You must possess a valid Ohio driver's license.
You must have a high school or GED diploma.
You must pass tests for basic math, reading and reading comprehension.
You must pass a DOT physical/drug screen prior to the start of class.
You must pass your basic permit test prior to the start of class.
Tuition | $4,500 | Plus a $200 non-refundable administrative fee
Tuition includes:
CDL Learner's Permit
DOT physical and drug screen
Classroom materials
CDL state test
CDL license upon passing CDL testing
Class availability is limited and based on demand. Call 216-987-3226 for the class schedule and enrollment information. 
See which states this program meets licensure/certification requirements.