Class B CDL Accelerated Training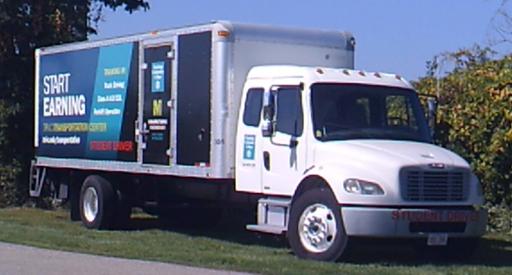 The Tri-C Transportation Center is unique. Unlike many other truck driving schools, Tri-C offers small class sizes, which allow us to give more attention during training. Furthermore, all of our trucks have been completely redesigned to enhance student safety and learning as we ensure our students train in a safe and healthy environment.
120 hours of classroom and hands-on training and testing provides instruction in driver safety. Training includes pre-trip vehicle inspection, vehicle control, and on-road driving (required for skills testing).
This program is licensed by the Ohio Department of Public Safety as a CDL Driver Training School. 
Course Outline:
40 Hours minimum classroom Instruction
8 Hours minimum of skills pad (maneuverability)
8 Hours minimum behind the wheel road training.
14 Additional hours will be utilized driving behind the wheel doing either maneuverability skills or road skills.
50 hours of combined time spent observing skills, working on the Pre-trip Inspection that is required to pass the State CDL Test.
Program Admission Requirements:
You must be at least 18 years of age
You must possess a valid Ohio Driver's license
You must have a high school diploma or GED or
Score at basic math, reading and reading comprehension
You must pass a DOT Physical/Drug Screen prior to class start
You must pass your basic permit test prior to class start
Tuition
Cost of the CDL-B Accelerated Program starting July 1, 2019 is $4200.00 and a $200 non-refundable administrative fee includes:
CDL Learners Permit
DOT Physical and Drug Screen
Classroom Materials
CDL State Test
CDL License upon passing CDL testing
Tuition Assistance
The College has announced a Tuition Assistance program to offset academic and workforce training costs for Cuyahoga County residents facing financial hardship due to the COVID-19 outbreak. 
Assistance can cover up to one year of academic courses or the full length of a workforce training program if you qualify. 
Class Schedule CDL-B Accelerated
Please reach out to 216-987-3226 for class availability and registration.
Resourceful Course Material Links
Free electronic Ohio CDL Manual
See which states this program meets licensure/certification requirements.