Career Action Plan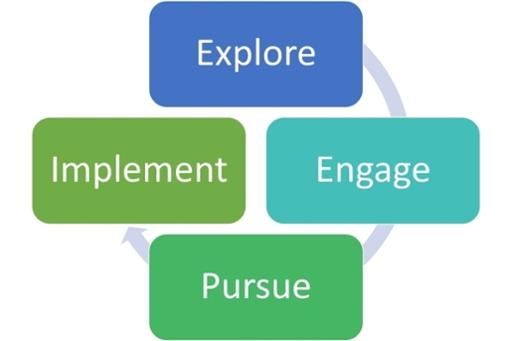 Explore
Take some time to self-reflect and think about what you want from a career. Utilizing the tools that the Career Center offers and familiarizing yourself with academic programs offered through Tri-C will help aid you in this critical first step.
MyPlan Career Assessment tool is unique in its methodology. You may have taken personality tests before, but this tool also asks you about your interests, your values, and what kind of skills you want to develop in creating a list of possible careers that may be of interest to you.
MyPlan is offered through the Career Center but is supported by Academic Counseling as a positive tool for self and career exploration.
Engage
Engaging with the career resources you have on campus will prepare you and make you more successful when it comes time to transition to a full-time position in your field. 
Many find the most success by starting with the free workshops offered throughout the year to learn best practices in resume writing, interviewing, and networking. These short, classroom sessions prepare you with the fundamentals to create an effective resume that can grow with you and be utilized as your interviewing cue card.
Establishing a working relationship with a Career Service Specialist through one-on-one coaching appointments will help you further improve your job skills, develop a standout resume, provide you with a dedicated workspace to create your individualized career plan, practice interviewing, and be a professional source to ask questions about how you can best reach your career ambitions
Pursue
Now that you've prepared yourself through writing and practice, you can begin to pursue gaining professional experience and on-the-job training through Experiential Learning (Internships, Co-ops, Field Experience) and Job Shadowing.
Employee Relations Specialist are the part of the Career Center staff that bring employers to Tri-C students. Through Internship/Co-op placement, on-campus recruiting events, networking and industry touring opportunities, they are a student's professional network connector.
Implement
This is the step in the process where you implement what you have learned and move forward towards a new job or more advanced education. The Career Center is still available to you as alumni to answer job search questions, critique additions to your resume, and help you with all the nuances that come with starting a career.