Electrical/Electronic Engineering Technology
Area of Study: Electrical/Electronic Engineering Technology
Degree/Certificate: Associate of Applied Science degree in Electrical/Electronic Engineering Technology
This Program is ABET Accredited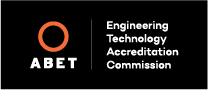 The Electrical/Electronic Engineering Technology program is accredited by the Engineering Technology Accreditation Commission of ABET, www.abet.org.
About the Program
The ever-changing and increasing field of Electronic Technology is expanding the need for highly trained electronic technicians.
These electronic technicians assist engineers and scientists in various electronic environments such as:
Electronic instrumentation and control
Aerospace research
Electronic communications
Process control
Robotics
Computer repair
Students completing the program gain the theoretical knowledge and skills to be successful in these various electronic fields. Transferable to certain universities under the 2+2 program. 
Program Video