Basic Police Academy
 Application process for the fall academy is closed.
DO NOT COMPLETE ANY FORMS FOR THE SPRING 2023 or FALL 2023 ACADEMIES  
Forms are time sensitive per the State.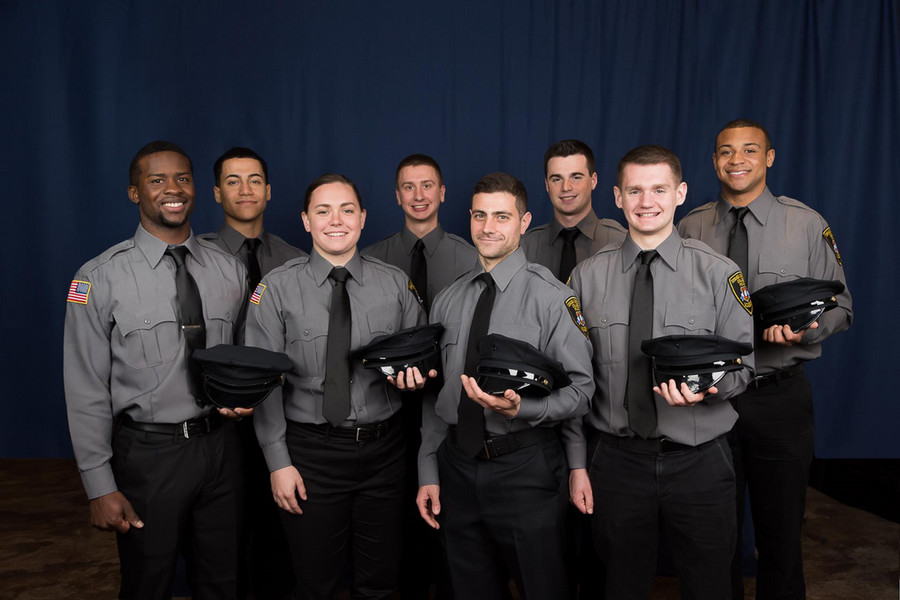 The Tri-C® Peace Officer Basic Training (POBT) Academy, also known as the Police Academy, is the first step on your path to a rewarding career as a police officer. Earn college credit while preparing to become a police officer in the state of Ohio. 
The spring and fall Police Academies are face-to-face training at the Tri-C Public Safety Training Center. Tri-C adopted safe distancing measures and precautions recommended by health officials. Learn more about the measures we are taking to keep students safe.
Program Features
Full-time day (24-week) or part-time evening (36-week) academies available

Offered at Tri-C's Western Campus

More than 700 contact hours

Lectures, hands-on training, scenario-based and group participation

Prepares you for the Ohio Peace Officer Training Commission (OPOTC) exam

Additional advanced training certifications available

State-of-the-art law enforcement training facility includes onsite range

Financial aid available to eligible students

24 credit hours can be applied toward an Associate of Applied Science degree in Criminal Justice with concentration in Basic Police Academy
Program Requirements
High school diploma or GED

18 years or older at time of acceptance (21 years recommended)*  

Mandatory attendance for duration of the academy (per OPOTC regulation). Missed classes must be made up within 14 days at the discretion of the commander.

U.S. citizen

Valid Ohio driver's license with full driving privileges

In good health as documented by physical exam signed by a licensed physician

Successfully pass a nine-panel drug screen and background check

Successfully pass Physical Fitness Assessment (PFA)

No criminal history**
*There is no age requirement; however, potential cadets should understand the unlikelihood of being hired/sworn (offered a commission) with a police department until 21 years of age or older. The College also requires that all firearms be transported to and from the range by someone of at least 21 years of age. The following OPOTC standards are in place and apply to all graduates of the Police Academy, regardless of age:
The individual has one year after taking and passing the OPOTC State Certification Exam (SCE) to obtain a commission without having to take any further classes.

If hired after the one-year anniversary of passing the SCE, the individual must have enough time to finish any new OPOTC requirements before the second year anniversary date of the SCE. If the deadline is not met, the individual must repeat the entire OPOTC Basic Police Academy.

If any individual does not receive a commission by the second year anniversary of having passed the SCE, they must successfully repeat the entire OPOTC Basic Police Academy.
 ** Any felony conviction (including any arrests or convictions expunged or sealed by the court) and certain misdemeanor convictions (including domestic violence and drug possession) may prohibit you from entering the academy. In addition, any crime reduction or plea agreement/bargain in which the original charge was domestic violence will prohibit you from entering the academy. A full list of disqualifiers can be found in the Ohio Administration Code section 109:2-1-03.
Tuition and Fees
Cuyahoga County residents: $5,875*

Out-of-county residents: $6,583.96*
Tuition includes:
Cost of 24 academic credit hours (based on residency) plus, academy noncredit fee

Blackboard access to OPOTC (Ohio Peace Officer Training Commission) classroom materials and handouts

Standard American Heart Association or Red Cross First Aid/CPR certification

Uniform components

Optional use of duty gear and firearms. Cadets wishing to purchase their own firearm must purchase a 9mm Glock, Model 17 or 19. Personal handguns and ammunition must be inspected and approved by range master. Firearms should not be purchased until instructed by academy staff.

Cost for one (1) attempt to pass State Certification Exam (second attempt, if needed is $95)
Additional fees not covered in above costs:
Non-refundable Physical Fitness Assessment Fee** (due at time of assessment): $25

Technology fee for full-time students (two semesters): $140

Pre-entrance drug screen (paid directly to screen agency): $40

Pre-entrance physical exam (paid directly to medical provider): Cost varies

Required uniform pants: Approximately $25 per pair

Ammunition for handgun and shotgun: Approximately $345
*Tuition or fees subject to change without notice.
**Keep in mind that a Physical Agility test taken at Tri-C does NOT meet the Physical Fitness Assessment requirement.
Application Process
DO NOT COMPLETE ANY FORMS FOR THE SPRING 2023 or FALL 2023 ACADEMIES  
Forms are time sensitive per the State.
You must complete all the following actions to be accepted into the Basic Police Academy. There is no specific order that the following actions must be completed. We encourage applicants to work on all actions simultaneously. View all details in the application process.

Forms must be completed during a certain time frame. Forms completed prior to that time frame will not be accepted by the  Ohio Peace Officer Training Commission per their regulations.
You must make an appointment to turn in your complete application packet. Do not make an appointment until all requirements are completed, including passing the physical fitness assessment. 
Related Programs or Classes
Tri-C offers an Associate of Applied Science degree in Criminal Justice with a concentration in Basic Police Academy. For more information on the associate degree program, contact jimi.gonzalez@tri-c.edu or call 216-987-5113.
Be sure to use Tri-C School Code: 003040 and Criminal Justice/Police Academy Major Code: S606 or S608.
See which states this program meets licensure/certification requirements.
Program Video