Faculty Online Digital Accessibility

The following Accessibility Statement and associated links should be made clear to our students. It is included on the main Blackboard Learn Institution page under Student Support Services and should be included within the Blackboard course site and syllabus.
"Tri-C is committed to providing online services, software, and electronic information that is accessible and usable by all of our students, including those with disabilities. It is our mission to provide accessible opportunities and services by complying with Federal and State accessibility guidelines.

Cuyahoga Community College adheres to the Web Content Accessibility Guidelines (WCAG) 2.0 standards for digital content.  It is a requirement for all content that is uploaded to our Learning Management System(LMS), Blackboard.  This includes any Videos, PDF's, Microsoft Word, Powerpoint, and Excel files.
An intentional action is required to make most documents accessible. Below you will find general guidelines that can assist with your course content. Click on one of the icons above for more detailed information or download our Best Practices for Accessibility Compliance Guide.
Color Contrast
Documents must have sufficient color contrast. Refrain from using color as the only identifier of an item in a document. Use the WebAIM Contrast Checker as a reference tool for checking color combinations. A 4:5:1 ratio or greater is preferred.
Images
All software packages provide the ability to add alternative text (Alt Text) to images within a document. Images when inserted are inaccessible unless the Alt Text is added. Right click on the Image then select Edit Alt Text.
Links
Hyperlinks in a document should have meaningful text describing where the link will go.  Ideally they should be a different color (usually blue) and underlined. 
Examples:
Good:  Specific dates can be found in the Academic Calendar.  
Bad:  Specific dates can be found in the Academic Calendar. Learn More.
Structuring Documents
Use the Styles pane for your document Headings. Remember you can customize them to your liking after the document is structured.

The Paragraph pane is where you will find the numbered list and bullet list options. This allows screen readers to understand the content presented.  Makes for a neater layout in the document and is accessible.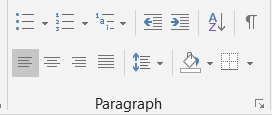 If there are structuring elements available in your editing platform, then use it to save time and increase accessibility.
Videos
Captions are a requirement for all pre-recorded videos. If captions are not possible, create and provide transcripts for video files.
Auto-generated captions may not accurately capture audio and would need to be proofed and edited for them to be totally accessible.
Subtitles and captions are not the same but many have used the words interchangeably. Captions are created for people who cannot hear.  Subtitles are created for people who can hear but do not understand the language spoken in the audio or video.