Accessible Images


By default, images are not accessible to people who have a vision impairment such as blindness, low vision or color blindness. Non-text content must have a text-based alternative that describes what is displayed.

Alternative Text (Alt Text)
Alternative Text is text tagged to an image. Alternative Text is not visible on the page, however it is recognized and read aloud by assistive technologies such as screen readers, thus describing the image to the user. When using Alt Text descriptions, keep it short and accurate, describing the image in 125 characters or less.
Alternative text should be used for all images including icons, screenshots, and logos.
Good Examples of Alt Text
Professor Smith demonstrating CPR techniques
Tri-C Students cheering after at a basketball game
A cup of coffee in a red mug on a wood table
Poor Examples of Alt Text
Photo of students
Img_2022_01_23_528963147
sidewalk
Decorative Images
Decorative images are images with no meaningful content and do not need alt text.  Examples would be backgrounds or banners. Most platform editors have an option to mark the image as decorative. Look for a checkbox like the "Mark as Decorative" option displayed in the Microsoft Word screenshot below. Screen readers will ignore images that have been tagged or marked as decorative.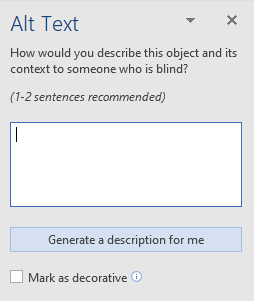 Complex Images
Graphs and Tables are examples of complex images within a document. It is a best practice to use both Alt Text and a visible caption to describe the item. Notice that color is not the only delineating factor.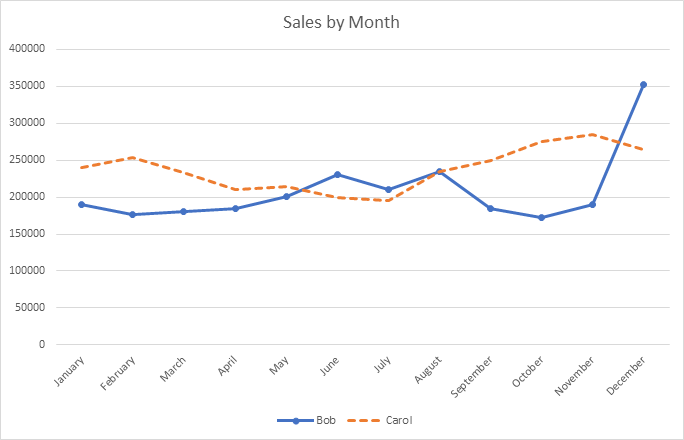 Images of Text
WordArt and Wordle are examples of images with text. Use the same guidelines as for complex images. However, because screen readers are unable to read these images, it is recommended to use them sparingly.
If your document contains logos, you should add Alt Text to initially identify the logo. All future instances of the logo can then have Alt Text that simply states "Logo" or they can be marked as decorative items.
Verifying and Checking
The following content creation applications have built in Accessibility Checkers that will flag images missing Alt Text. 
Microsoft Word
Microsoft PowerPoint
Microsoft Outlook
Adobe Acrobat