General Documents


Follow the principle of Universal Design for Learning (UDL) when creating accessible documents and content. The content should be Perceivable, Operable, Understandable and Robust. Documents that are created as accessible in the initial editing software will maintain those accessibility settings for any exported or saved copies (e.g. Microsoft Word exported to PDF).

Text and Fonts
The font families and font styles used for digital content can have a major impact on the content's readability.
Choosing easy to read fonts and ensuring adequate whitespace in your text helps reduce eyestrain.
This improves usability for everyone, and is especially beneficial for people with limited vision.
The bulk of your text should be an easy-to-read font. Good examples are:

Tahoma
Calibri
Helvetica
Arial
Verdana
Times New Roman

It is not reccommended to use script fonts or fonts with tails, such as:

Use generous line spacing, 1.5x at a minimum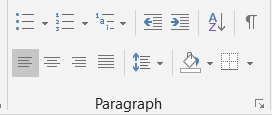 Left-aligned text works the best
Consider breaking long paragraphs of text into smaller paragraphs of text or into bullet lists
Use high-contrasting font colors and check using the WebAIM Tool
Pages must be able to zoom in up to 200% without loss of functionality

Zoom in by using Ctrl + until you reach 200% zoom. Make sure the text resizes appropriately and is readable
Microsoft Word
Use high-contrasting font colors
Use 12-point font sizes or higher when possible
Add Alt Text descriptions that convey meaning and context
Use Headings and Styles
Embed Links
Use the Microsoft Accessibility Checker on all Word documents

Select the Review Tab —> then Click on Check Accessibility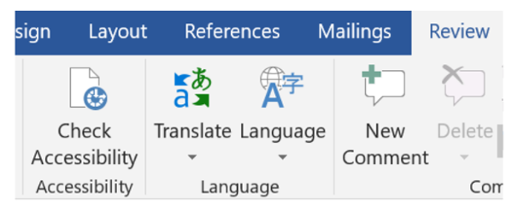 PowerPoint
Use a built-in template whenever possible
Use 20-point font sizes or higher when possible
Add Alt Text descriptions that convey meaning and context
Use Titles
Embed Links
Check the reading order and adjust it as needed
Use the Microsoft Accessibility Checker on all PowerPoint documents

Select the Review Tab —> then Click on Check Accessibility

Portable Document Files (PDFs)
Avoid scanned PDFs and image-only files, scanning a document to PDF makes the document inaccessible

Optical Character Recognition (OCR) would be required to make them accessible
Check with a Reference Librarian at your campus to assist in finding a digital copy of articles or book chapters.

Use a Microsoft Word document (.doc) to export a PDF
Use Adobe Acrobat DC to add or edit the Alt Tags in a PDV. Adobe Acrobat DC is freely available to Tri-C employees
Use the Adobe Accessibility Checker

Select the Tools Tab —> then Click on Accessibility