The Right Medicine
College Credit Plus brings life to Kristen Septaric's career aspirations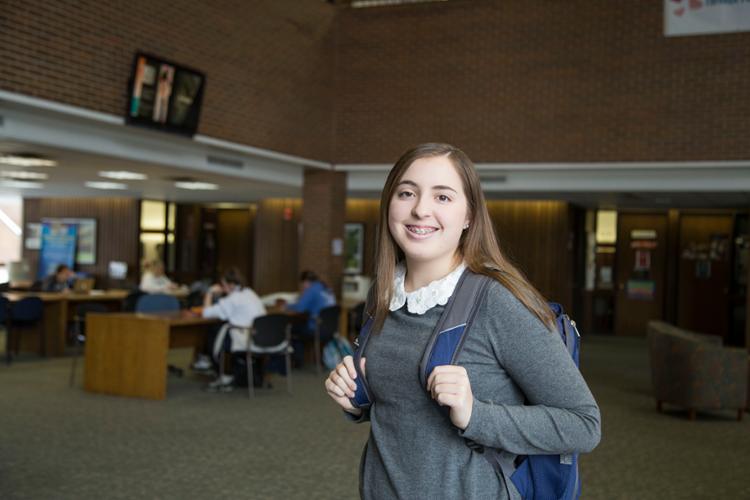 Every year, thousands of local high school students begin their higher education journey at Cuyahoga Community College (Tri-C®) through Ohio's College Credit Plus program. Tri-C's newsroom will share success stories from the program throughout the week of March 12-16.
Kristen Septaric dreamed of becoming a doctor. She just didn't believe that dream could come true. Too many years of school with too many dollars in tuition stood between her and a medical degree.
"I couldn't see how to make it happen, given the money and the time and all of the obstacles in the way," Septaric said. "I wanted it, I really did … but it seemed impossible."
Cuyahoga Community College and the College Credit Plus program changed that diagnosis.
Four years of classes at Tri-C's Western Campus in Parma — all while a student at nearby Normandy High School — gave Septaric a no-cost jump-start toward a white coat and the title of doctor.
Septaric earned 75 college credits at Tri-C and will graduate in May with two degrees — an Associate of Arts and an Associate of Science. She will receive her high school diploma the same month.
The teen knew the benefits of early college enrollment after watching her older sister, Nicole, attend Tri-C while at Normandy High. Nicole Septaric took classes through the state's Post Secondary Enrollment Options program, an early version of College Credit Plus.
"Nicole had so much success with it, so I followed in her footsteps," Septaric said.
In the fall, she will walk onto the Kent State University campus as a junior to begin working on a bachelor's degree in public health. Medical school will follow.
Her ultimate goal is to become a flight surgeon with the U.S. Air Force.
"Tri-C and College Credit Plus are the reasons I can even think about doing that," said Septaric, 17, who lives in Seven Hills. "The program put me in a position to really go after my dream. It made me think bigger."
This week's series of College Credit Plus profiles also include success stories on students Nigel Becker, Nathan Cabot and Jennifer Watley.
March 12, 2018
John Horton, 216-987-4281 john.horton@tri-c.edu