An Academic Home
College Credit Plus helps home-schooled student Nigel Becker build skills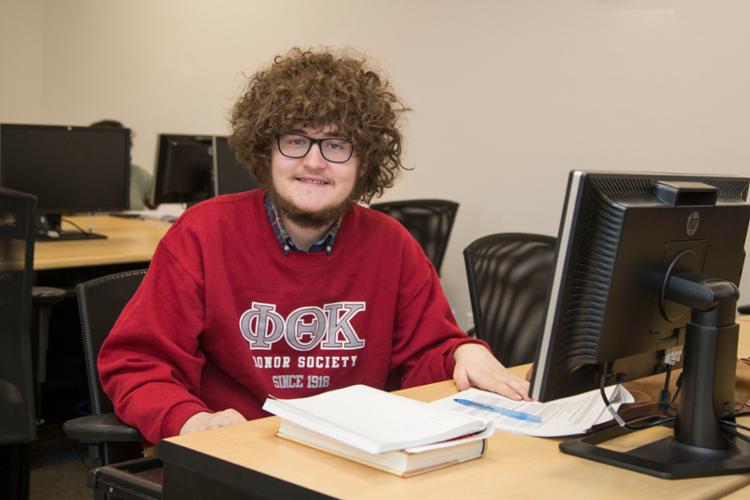 Every year, thousands of local high school students begin their higher education journey at Cuyahoga Community College (Tri-C®) through Ohio's College Credit Plus program. Tri-C's newsroom will share success stories from the program throughout the week of March 12-16.
Nigel Becker signed on to a computer and started college at age 14.
The home-schooled student enrolled in his first class at Tri-C — Honors College Composition — in fall 2015. He has since taken more than 20 credit hours online through the College Credit Plus program.
Becker said he has used the classes to supplement his home-school curriculum, explore a range of mercurial interests and get a head start on a college degree. He hopes to pursue a career as an advertising copywriter.
"College Credit Plus has given me a wonderful opportunity to start working toward my future," Becker said.
Success in the classroom connected the teen to campus life, too. A flawless GPA earned Becker an invitation to join Phi Theta Kappa Honor Society, which offers opportunities for students to grow as scholars and leaders.
He currently serves as vice president and secretary of the honor society's Beta Upsilon Beta chapter at Westshore Campus near his home in the county's western suburbs.
In that leadership role, Becker helped the chapter organize a donation drive for Hurricane Maria survivors as well as a pair of programs to introduce home-schooled students to opportunities at Westshore Campus.
"I've had so many interactions with people at Tri-C, from the campus president to fellow students," Becker said. "It has been a great experience and — as a home-schooled student — it really helped me build up interpersonal skills."
This week's series of College Credit Plus profiles also include success stories on students Kristen Septaric, Nathan Cabot and Jennifer Watley.
March 13, 2018
John Horton, 216-987-4281 john.horton@tri-c.edu