Yolanda Ramos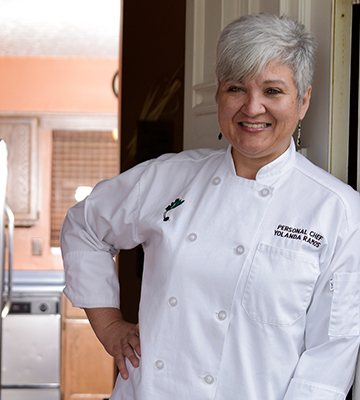 Yolanda Ramos is a believer and practitioner of healthy eating. The Certified Personal Chef/Professional Culinarian earned an Associate of Applied Business degree in Hospitality Management with a concentration in Culinary Arts from Tri-C in 2015. She had a two-year internship with Whole Foods Market in their prepared foods department as part of her training, where she specialized in healthy eating for healthy living. Ramos credits Chefs Karen Monath, Ky-Wai Wong and Michelle Gaw for guiding her on her path to success. "The professors at Tri-C helped keep me motivated to achieve my degree," she said.
After graduation, Ramos decided to combine her years of property management and customer service experience with her passion for hospitality and knowledge of natural foods to launch The Healthy Living Kitchen LLC. The goal is to help people learn about good food - what it is, where to get it, how to use it - and to give them the tools and information they need to make healthy eating a part of their daily life. She also teaches cooking classes that specialize in foods that heal and promote healthy living.
With her father's roots deeply planted in Puerto Rico, the Chef uses memories of her family's culturally enriched meals as the inspiration for transforming classic Latin dishes into modern masterpieces of healthy eating. In 2015, she was asked to be the Healthy Latin Cuisine Chef for a local hospital located in a Latino community without much access to affordable, healthy food. Ramos used her skills and knowledge of healthy food to teach the local Latina women healthy cooking techniques, and how to make their traditional meals healthier by changing a few ingredients. Last year she was awarded the opportunity to create a new Farm Stand inside MetroHealth Women & Children's Pavilion where she provides live cooking demos featuring locally grown produce in her recipes.
Ramos is grateful for the opportunities she had at Tri-C and appreciates the support she received along the way. She encourages future students to utilize the tremendous resources and assets available at Tri-C. "It's very affordable," she said, "and the professors and staff are very helpful and supportive. Some of the faculty continue to stay in touch with me even now two years after I graduated."