Distinguished Alumni Awards
2019 Alumni Awards Winners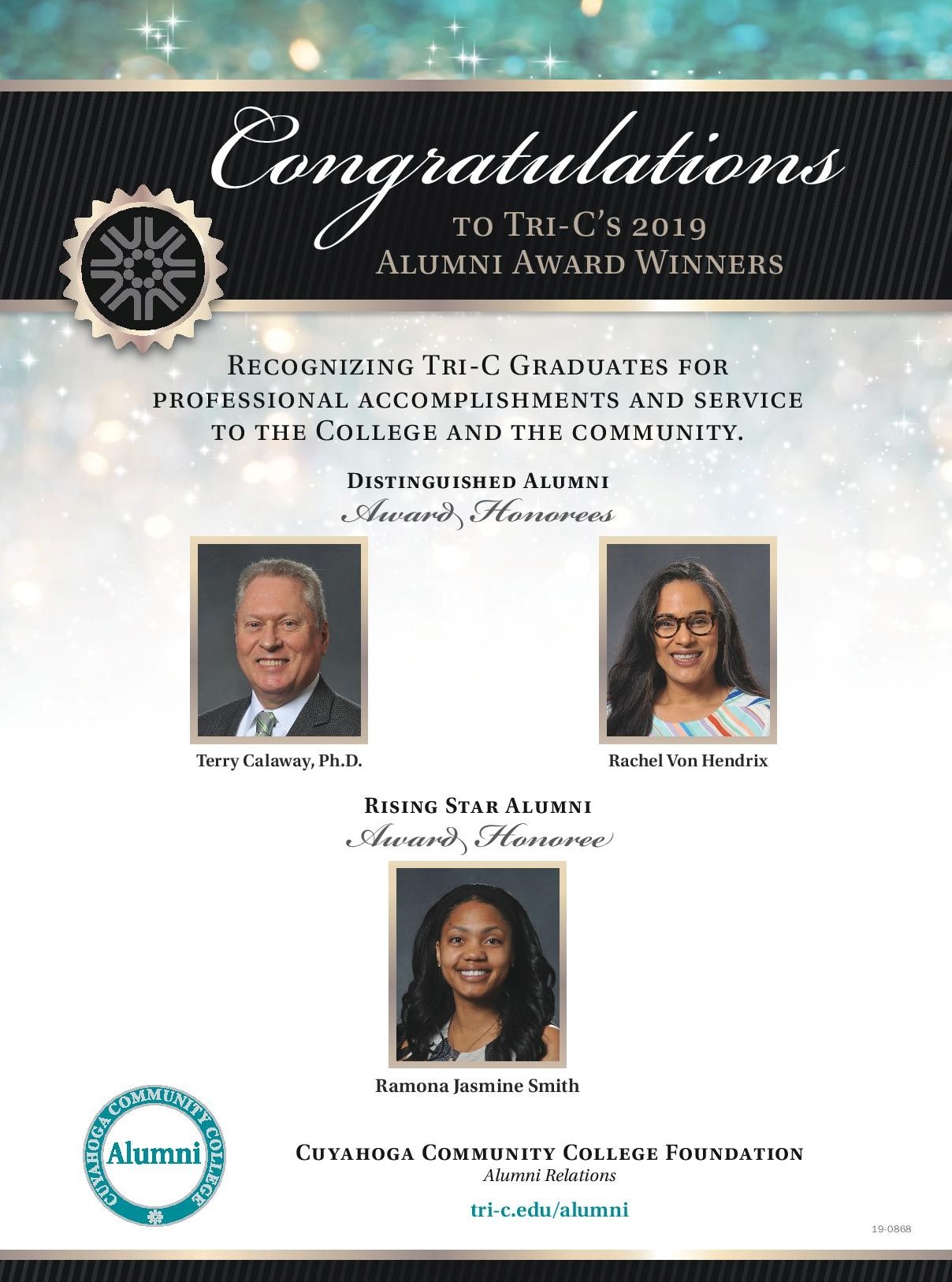 Since opening in 1963, Cuyahoga Community College has awarded more than 98,000 degrees and certificates to alumni. We are proud of our graduates and the contributions they make to Tri-C and our community, across hundreds of professions.
The Alumni Relations is pleased to present two Distinguished Alumni and one Rising Star Award to recognize alumni for professional achievements, service and volunteer work. Thank you to Government Relations and Community Outreach for partnering with us to present these awards at the 2019 Advisory Committees Appreciation Breakfast. 
Distinguished Alumni Award
The Distinguished Alumni Award is presented to an alumnus or alumna who has established himself or herself as an accomplished professional, demonstrating notable achievements and/or College and community service, having earned a Tri-C degree more than 10 years ago.
Dr. Terry Calaway, Distinguished Alumni Award honoree, retired from Johnson County Community College after 36 successful years in the community college world, the final 11 years as a community college CEO. He and his wife Marlene are both Tri-C alumni and former employees. Recently they established a scholarship fund with the Tri-C Foundation dedicated to helping single parents achieve educational success.

Rachel Von Hendrix, Distinguished Alumni Award honoree, is a self-described "dot connector" and an IT project manager, working for the state of Tennessee. In between charters and risks, she is a writer and educational advocate committed to adult education & learning. Her passion is supporting our WIT program, even lacing up her shoes to run the Cleveland Marathon as a fundraiser for WIT scholarships.
Rising Star Alumni Award
Rising Star Alumni Award is presented to an alumnus or alumna who received his or her Tri-C degree within the last 10 years whose work and commitment is making a difference for our College or community.
Ramona Jasmine Smith, Rising Star Alumni Award honoree, is a determined and resilient Tri-C alumna who has achieved international acclaim and serves as a mentor to others globally. Ramona won the 2018 Toa stmasters International World Championship of Public Speaking from a field of over 30,000 competitors. She is only the fifth woman and the second African-American woman to win the title.