Alumni Awards
Since opening in 1963, Cuyahoga Community College has awarded more than 98,000 degrees and certificates to alumni. We are proud of our graduates and the contributions they make to Tri-C and our community, across hundreds of professions.
The Alumni Relations is pleased to present two alumni awards.  The Distinguished Alumni Award and the Rising Star Award to recognize alumni for professional achievements, service and volunteer work. 
Distinguished Alumni Award
The Distinguished Alumni Award is presented to an alumnus or alumna who has established himself or herself as an accomplished professional, demonstrating notable achievements and/or College and community service, having earned a Tri-C degree more than 10 years ago.
Rising Star Award
Rising Star Alumni Award is presented to an alumnus or alumna who received his or her Tri-C degree within the last 10 years whose work and commitment is making a difference for our College or community.
Now Accepting Nominations for 2021 Alumni Awards
The Office of Resource Development and Alumni Relations is pleased to announce we are accepting nomination for our 2021 Distinguished Alumni Awards to recognize alumni for their service and volunteer work with the college, their professional accomplishments and our local community. Honorees will be announced at the 2021 Advisory Board Breakfast.
Please send nominations to: Alumni Relations c/o Office of Resource Development, Cuyahoga Community College, 700 Carnegie Avenue, Cleveland, OH 44115 or email: alumnirelations@tri-c.edu. Nominations due by: April 23, 2021.
2020 Tri-C Alumni Award Honorees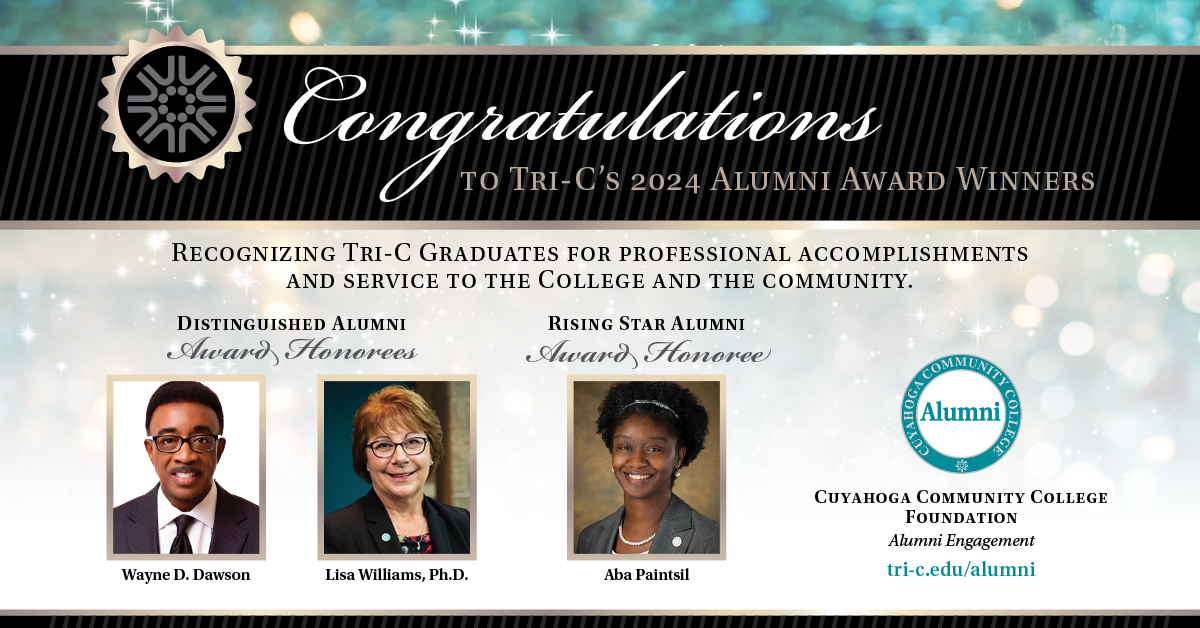 Read their stories here.     
Past Honorees
Terry Calaway received the 2019 Distinguished Alumni Award.  He graduated from Tri-C with an Associate of Arts degree in 1978.  Terry spent decades as a higher education leader, serving as president of two institutions — Johnson County Community College in Kansas and Central Arizona College just south of Phoenix.  He and his wife, Marlene— also a Tri-C graduate — established a scholarship fund with the Cuyahoga Community College Foundation to help single parents achieve educational success.
Rachel Von Hendrix received the 2019 Distinguished Alumni Award.  Von Hendrix enrolled at Tri-C in 2006 and committed herself to education, earning an Associates of Arts degree.  She attended the Myers School of Art at the University of Akron where she received a bachelor's degree; and two master's degrees from Kent State University.  In 2014, she returned to Tri-C after being appointed to the College's board of trustees by Gov. John Kasich.  She served four years and raised more than $26,000 for Tri-C's Women in Transition (WIT) Program.  She continues to advocate for Tri-C and WIT.
Ramona J. Smith received the 2019 Rising Star Alumni Award.  She earned an Associate of Arts degree before transferring to Baldwin Wallace University, where she graduated magna cum laude.  The 2014 Tri-C graduate won the Toastmasters International World Championship of Public Speaking in 2018 with a speech focused on overcoming challenges.  Smith is an award winning professional speaker, poet and author whose mission is to uplift the world in which we live, one word at a time.
Peter J. Elliott received the 2018 Distinguished Alumni Award.  He graduated from Tri-C in 1990, earned a bachelor's degree from Capital University and has served as a United States Marshal for three U.S presidents. Elliott, the longest-serving U.S. Marshal in Ohio, has been honored by members of the U.S. Congress on numerous occasions for his innovations and success.

Elizabeth Tilley received the 2018 Rising Star Alumni Award.  She earned Associate of Arts and Associate of Science degrees from Tri-C in 2011 before transferring to John Carroll University where she received a bachelor's degree in sociology and criminology and a master's degree in nonprofit administration. Tilley is the founder and executive director of Royal Haven, Inc., a nonprofit organization and residential facility for men living with mental illness.