Alumni Awards
Since opening in 1963, Cuyahoga Community College has awarded more than 100,000 degrees and certificates to alumni. We are proud of our graduates and the contributions they make to Tri-C and our community, across hundreds of professions.
Distinguished Alumni Award
The Distinguished Alumni Award is presented to an alumnus or alumna who has established himself or herself as an accomplished professional, demonstrating notable achievements and/or College and community service, having attended Tri-C more than 10 years ago.
Rising Star Award
Rising Star Alumni Award is presented to an alumnus or alumna who attended Tri-C within the last 10 years whose work and commitment is making a difference for our College or community.
2022 Tri-C Alumni Award Honorees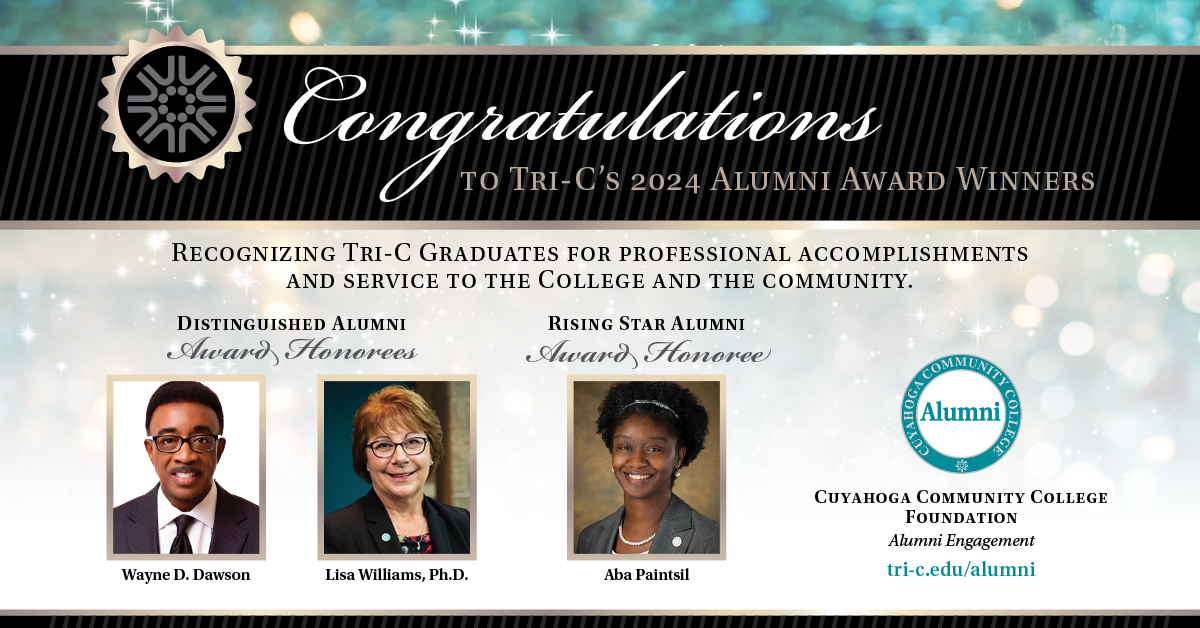 Alumni Relations is pleased to announce the  recipients of the 5th Annual  Alumni Awards, providing recognition for professional accomplishments and service to Northeast Ohio and the College.

Distinguished Alumni Award winner for 2022 is Erin Huber. Olena Firman and Agustin Torres received the Rising Star Award.

Erin Huber has been recognized for her commitment to educating and engaging youth, communities, and people of all socio-economic backgrounds about the importance of caring for the water we put into our bodies and the water that surrounds us.                                          
Erin is a rural Water, Sanitation and Hygiene expert, social entrepreneur, author, documentarian, and the executive director and founder of Drink Local. Drink Tap., Inc. For nearly 25 years, she has been a strong advocate and civic leader working with underserved communities throughout the world.      
In 2019, she received the Crain's Cleveland Business 40 Under 40 award. In 2017, she was voted "Best Activist" by Cleveland Scene Magazine, and named one of Cleveland's Most Interesting People of 2012 by Cleveland Magazine.
Erin is the executive producer of the documentary, "Making Waves," the executive producer and director of the 2020 documentary "The Last Drop," co-author of Make Waves 4 Change, and advocates for equitable water and sanitation domestically and internationally. Currently, she serves on the US Global Leadership Coalition Advisory Board for the State of Ohio, the Greater Cleveland Water Equity Partners board, and as an advisor in various capacities.   
Olena Firman was born in Ukraine, learning to cook and bake at an early age, and considered her family kitchen her restaurant. She and her brother prepared crepes and pierogis alongside their mother, often for large family gatherings.
After graduating from art school and about to continue her studies at the Lviv Academy of the Arts, she had the opportunity to move to Cleveland at the age of 20. Olena then discovered Tri-C and enrolled in the College's English as a Second Language program.
Uncertain about an art career, she decided to pursue a culinary degree. The passion of Tri-C's faculty chefs inspired her to think of opening her own business. Olena graduated in 2017 with an Associate of Arts degree in Restaurant and Foodservice management earning another degree in 2018 in Culinary Arts, along with three certificates.
She opened La Crepe Bakery and Café in Berea in March 2017, where she serves a wide variety of sweet and savory crepes for breakfast, lunch and dinner. Her inspiration came from her travels throughout Europe, where the delicacy was abundant. She combines Ukrainian, French and European-style preparation with an American touch, which has been her recipe for success.
When COVID-19 hit, she and her business partner adapted, adjusted and remained open, even expanding to a second location in Strongsville in August, 2021. When Olena moved to the U.S., alone, she thought it was the most difficult thing in her life. Then it seemed that college and opening her own business was the hardest thing she'd face.
All that changed this year on February 24, which she calls the scariest day of her life. Now, she constantly worries about her family back home in Ukraine. But, she says, life continues and we all have to maintain hope and go on, no matter what.
Agustin Torres immigrated to the United States in 1996, working in the restaurant industry as he had in his native Mexico, operating his own restaurant in the Cleveland area.
While working towards his GED at the federal courthouse, Auggie met Elliot Huff, a training specialist with Tri-C's Adult Learning program, who became an encouraging force for him. After earning his GED, Elliott said to him, "What's next?" Auggie thought about it and realized it was a good question. He no longer owned a business, did not have any money, and most importantly, he realized that without a college degree, his future seemed uncertain. So, he enrolled at Tri-C, which seemed the right place for his new beginning.  
At Tri-C, he focused on enhancing his leadership skills and became a peer mentor. Auggie graduated as a Jack, Joseph and Morton Mandel Scholar with his Associate of Arts in 2018. He enrolled at Case Western Reserve University, through Tri-C's grant-funded partnership program, the Cleveland Humanities Collaborative.
Inspired by his studies, he returned to his native country to interview Mexicans of African descent to learn about their transitions, family, and how they cope with discrimination. Auggie graduated from Case with 3.9 GPA in Spring of 2020, and last year, began working at a local firm Sus Abogados Latinos, the first Spanish speaking law firm in Ohio, where he serves as the director of client relations.
Past Honorees
Dr. Terri Pope received the 2021 Distinguished Alumni Award. Former president of the Westshore Campus, Dr. Pope served in numerous academic and administrative roles at the College since 1988. Her efforts have garnered numerous awards, including Tri-C's Ralph M. Besse Award for Teaching Excellence and the League for Innovation's John & Suanne Roueche Excellence Award.
 
Ariane Kirkpatrick received the 2021 Distinguished Alumni Awards president and CEO of The AKA Team, a full-service commercial construction and facilities company with multiple divisions including general trades, commercial cleaning and commercial waterproofing. She serves on the College's Workforce, Community and Economic Development Board of Visitors and has volunteered her time as an alumna, serving on career panels for students. Kirkpatrick is also an advocate for small businesses, graduating from the Goldman Sachs 10,000 Small Businesses program at Tri-C.

Harry Quiñones received the 2021 Rising Star Award. As a Tri-C student, developed a business plan, aspiring to bring part of his Puerto Rican heritage to Cleveland by opening a restaurant or market. Earlier this year, that dream turned into 787 Market and Café in Cleveland's Old Brooklyn neighborhood, specializing in Puerto Rican goods, groceries and prepared food and coffee. At Tri-C, Quiñones was active in the College's Hispanic Council. He was also a Jack, Joseph and Morton Mandel Scholar and a Tri-C Foundation scholarship recipient. 
Harold Anderson received the 2020 Distinguished Alumni Award. Decorated service in the U.S.. Army Reserve and work as an educator and community leader highlight this 1983 Tri-C graduate's resume. Anderson enlisted in the military more than three decades ago and his risen to the rank of colonel. During his service, he has deployed to the Middle East twice and been assigned to the Pentagon. Though his work with the Alpha Phi Alpha fraternity, Anderson founded and chaired Cleveland's first Thurgood Marshall Oratorical Debate competition in 2018. He also created an urban student forum for more than 250 middle and high school students.
Jamal Julia Boudiab received the 2020 Rising Star Award. This 2013 Tri-C graduate is part of the leadership board of the Arab Americans of Cleveland (AAC) – Young Professionals Network and a founder of Masrah Cleveland Al-Arabi, a Cleveland Public Theatre program by and for Arabic-speaking communities. Boudiab studied graphic design at Tri-C and earned an Associate of Applied Business degree in 2013. She's currently a licensed real estate agent and operations manager at B2B Realty, where she leads the property management department. Born and raised in Lebanon, Boudiab immigrated to the United States with her family in 2006. She enrolled at Tri-C after graduating from Cleveland's Lincoln-West High School. The AAC formed last year to connect young Arab Americans in the city, organize events and create a solid network of professionals. Boudiab said she joined the board to help support the close-knit ethnic community.
Lawrence Heller received the 2020 Rising Star Award. This 2013 Tri-C graduate found a new future at the College. Today, he works to help others find a better tomorrow as an addiction counselor at Northern Ohio Recovery Association (NORA) in Cleveland. Heller provides individual and group counseling at NORA while also managing client cases. During the coronavirus crisis, he helped NORA agency groups shift to telehealth services. He serves on the Mental Health Advisory Committee of the Cuyahoga County Opiate Task Force. Heller is also an active community volunteer, distributing meals to those in need every weekend. Last year, he gave out 1,000 coats to take the chill out of Cleveland's winters. His work at Tri-C, where he helped establish campus food pantries, foretold his desire to go above and beyond to help others. After graduating from Tri-C, Heller earned bachelor's degrees in social work and psychology from Cleveland State University. He says life's greatest reward is being able to see the look in someone's eyes when they begin to find hope.
Terry Calaway received the 2019 Distinguished Alumni Award.  He graduated from Tri-C with an Associate of Arts degree in 1978.  Terry spent decades as a higher education leader, serving as president of two institutions — Johnson County Community College in Kansas and Central Arizona College just south of Phoenix.  He and his wife, Marlene— also a Tri-C graduate — established a scholarship fund with the Cuyahoga Community College Foundation to help single parents achieve educational success.
Rachel Von Hendrix received the 2019 Distinguished Alumni Award.  Von Hendrix enrolled at Tri-C in 2006 and committed herself to education, earning an Associates of Arts degree.  She attended the Myers School of Art at the University of Akron where she received a bachelor's degree; and two master's degrees from Kent State University.  In 2014, she returned to Tri-C after being appointed to the College's board of trustees by Gov. John Kasich.  She served four years and raised more than $26,000 for Tri-C's Women in Transition (WIT) Program.  She continues to advocate for Tri-C and WIT.
Ramona J. Smith received the 2019 Rising Star Alumni Award.  She earned an Associate of Arts degree before transferring to Baldwin Wallace University, where she graduated magna cum laude.  The 2014 Tri-C graduate won the Toastmasters International World Championship of Public Speaking in 2018 with a speech focused on overcoming challenges.  Smith is an award winning professional speaker, poet and author whose mission is to uplift the world in which we live, one word at a time.
Peter J. Elliott received the 2018 Distinguished Alumni Award.  He graduated from Tri-C in 1990, earned a bachelor's degree from Capital University and has served as a United States Marshal for three U.S. presidents. Elliott, the longest-serving U.S.. Marshal in Ohio, has been honored by members of the U.S.. Congress on numerous occasions for his innovations and success.

Elizabeth Tilley received the 2018 Rising Star Alumni Award.  She earned Associate of Arts and Associate of Science degrees from Tri-C in 2011 before transferring to John Carroll University where she received a bachelor's degree in sociology and criminology and a master's degree in nonprofit administration. Tilley is the founder and executive director of Royal Haven, Inc., a nonprofit organization and residential facility for men living with mental illness.