Ticardo Williams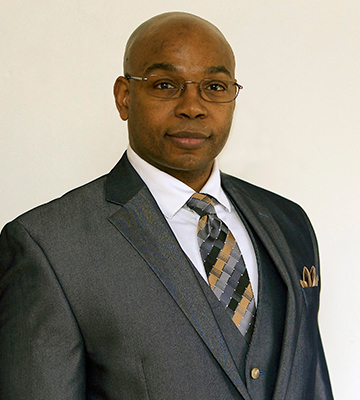 From 1993-1996, Ticardo L. Williams served as an Air Transportation Specialist in the United States Air Force. He was stationed at Ramstein Air Base in Germany, and had the opportunity to learn conversational German and earn the National Defense Service Medal before returning home to Cleveland. His journey then hit a road block; he was seeking treatment for substance addiction when he met a counselor from Cuyahoga Community College who spoke to him about the outreach opportunities available through the College. Williams said, "I had been praying about what I should do next to improve my life," so he turned to Tri-C for the training and education he would need to pursue a career in social work.
He worked in Tri-C's Customer Service department while taking classes, and thanks that team for being "so encouraging and accommodating throughout my entire time at Tri-C." Williams also appreciates the support from Charmain Gordon and the TRiO department, and is grateful for the scholarships he received from Tri-C, College Now and the Cleveland Foundation.
After graduating magna cum laude with an Associate of Arts degree from Tri-C in 2014, Williams immediately transferred to Cleveland State University. He earned a bachelor's degree in Social Work in 2016 and is on track to achieve a master's degree in December. Having once faced addiction himself, his goal is to help people suffering from chemical dependencies overcome those obstacles, achieve an education and find employment. Williams is working as the Intake Coordinator and Counselor at Stella Maris, Inc, and recently published his first book, IJP I'm Just Praying, which is available at www.tlawayne.com.
Williams offers this advice to Tri-C students, "Fill out those scholarship applications, try to get into TRiO, utilize the tutors, never give up. Pray."