Richard Pulice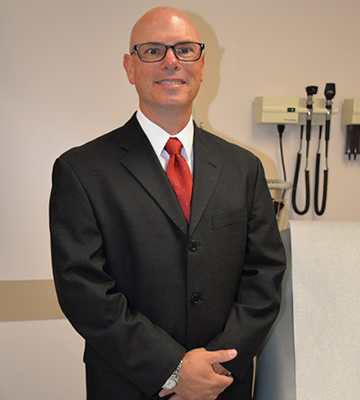 Richard Pulice graduated from Cuyahoga Community College in 1994 with an Associate of Applied Science degree and certification as a physician assistant. He transferred to Excelsior College for a bachelor's degree and to the University of Nebraska for his Master of Physician Assistant Studies degree, with a concentration in internal medicine. Currently working as a physician assistant in gastroenterology
at the Louis Stokes Cleveland VA Medical Center, Pulice also holds the rank of lieutenant colonel in the Ohio Air National Guard, working in flight medicine.
Pulice has dedicated his life to helping people. He brings his passion, vision and expertise to the advisory board for Tri-C's Physician Assistant Program, for which he also serves as the co-chairman. He began his studies at Tri-C after serving four years of active duty in the United States Air Force. He intended to obtain his associate degree and then transfer to a pre-med program. But after talking to a Veterans Administration representative, he quickly realized that staying at Tri-C and becoming a certified physician assistant was a better fit for him. The education, training and guidance he received at Tri-C has exposed him to all aspects of medicine. "I don't believe I would be where I am today without Tri-C."
Pulice was recently awarded the Albert E. Dyckes Health Care Worker of the Year Award by the Ohio Hospital Association. The award is presented annually to an Ohio caregiver who personifies a leader, gives back to the community, reflects the mission and values of his or her organization and routinely goes beyond the call of duty. His nomination for the award described him as "a true leader, innovator and tremendously caring medical provider."