Peter Elliott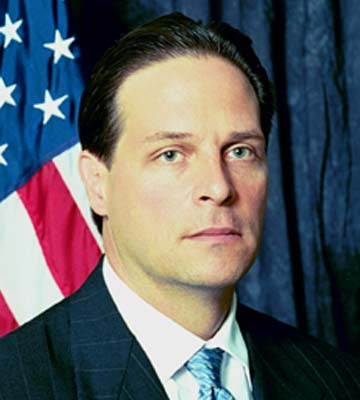 When Peter Elliott was a lad in Lakewood, he enjoyed watching the great variety of police shows on TV. He came by this rather naturally, as his father and great-grandfather were both in law enforcement. However, following their career path held much less appeal than following the base paths. Young Peter wanted to become a professional baseball player.
He was a very good player at St. Edward High School and expected to continue playing in college and beyond until a serious knee injury took him off the ball field and led him to the law enforcement field.
After graduating from St. Edward, he worked as a store detective at the old Higbee and Halle Bros. department stores downtown. When he turned 21, he began working undercover narcotics for a Lorain County law enforcement agency. "I received a lot of on-the-job training that was very practical and useful," said Elliott. "However, I knew that if I really wanted to succeed and do this job well, I needed more training."
With that in mind, he enrolled at Cuyahoga Community College (Tri-C®) and began taking law enforcement courses. At the same time, Elliott was working full time and also receiving instruction in the Ohio Police Academy. In 1990, he received his associate degree in law enforcement from Tri-C.
By that time, his good work in law enforcement had already caught the attention of the federal government. In 1987, he had become a deputy United States marshal, a position his father also had held. Elliott later joined the ATF as an agent investigating terrorism, firearms and explosives cases.
In his time at Tri-C, Elliott discovered that he liked school and enjoyed learning. "Tri-C opened the door to my path in life. My future did begin at Tri-C," said Elliott, who went on to earn a bachelor's degree in public administration from Capital University in 1991.
On March 10, 2003, President Bush appointed Elliot as the 26th overall United States marshal for the Northern District of Ohio. Elliott is responsible for the management, administration and direction of operations for a district consisting of the 40 northern counties in the state.
Elliott has created many new and innovative programs that have increased collaboration among federal, state and local agencies and involved communities in making their streets safer. These innovations have been replicated throughout the country, and Elliott has won numerous national and local awards for his work and service.
Elliott is very proud of his Tri-C degree and thankful he took the route he did.
"The teachers I had motivated me to stay in school," said Elliott. "They set the direction for the rest of my life and it has been very good."