Persistence Pays Off for Tri-C Alumna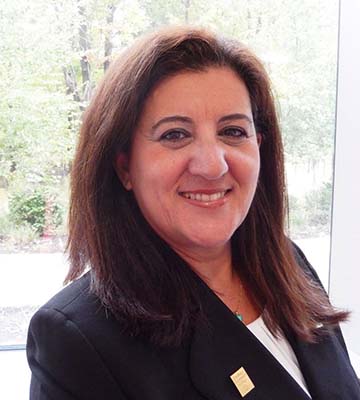 In 1980, Mireille "Miro" Tabanji's family fled the civil war in Lebanon and found refuge in Jordan. Only 18 years old at the time, Tabanji had not yet graduated high school.
Five years later, the family settled in the United States, where Tabanji learned English and was finally able to earn a high school diploma. She soon married and started a family in Rocky River.
In 2009, Tabanji enrolled in a career exploration course at Tri-C. She attended classes at Corporate College® West and the Western Campus while raising her two sons, Anthony and Nathan.
Though she struggled initially with math and English, Tabanji received support and encouragement from the Tutoring Center and was eventually accepted into Honors English.
In addition to school and family responsibilities, Tabanji enthusiastically served in several work-study and Student Life positions at Tri-C, including:
Student Government secretary, vice president and president
Student Ambassador
Secretary in dean's office at Corporate College West
Westshore International Club president
As a student ambassador, Tabanji assisted students with the enrollment process and directed them to resources that could help them navigate their career path.
One particular student was trying to register for classes at Corporate College West. He was visibly frustrated when Tabanji came to his rescue. Upon resolving the issues, the student jumped up and exclaimed, "Miro, my hero!"
Continued hard work and dedication led to Tabanji's appointment as Board Student Scholar for the 2014-2015 academic year. In that role, she worked with student government leaders on all four campuses and brought their concerns and issues to the College's Board of Trustees.
After earning an Associate of Arts degree from Tri-C in 2016, Tabanji accepted a position as activities assistant at the Westlake Rehab and Nursing Center.
She currently works full time as activities director for O'Neill Healthcare Bay Village and part time as activities assistant at The Normandy Senior Living Community.
Tabanji attributes her success to the encouragement, guidance and opportunities provided by Tri-C faculty, scholarships and continued support.