Paul Ondo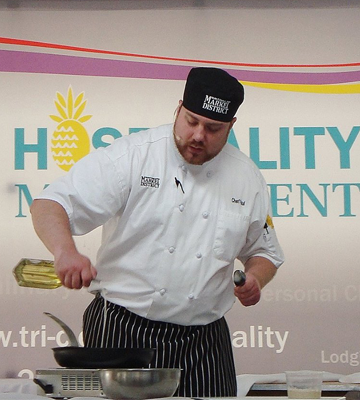 Chef Paul Ondo went through the Hospitality Management Program at Cuyahoga Community College (Tri-C) and graduated with an associate degree in business. He spent his first years in the kitchen as a dishwasher, working his way up to chef upon his graduation from Tri-C. While at Tri-C, Chef Ondo recalls that his experiences with faculty members were instructive in a theoretical and practical sense. From his perspective, one of the most useful elements of Tri-C's Hospitality Management program was the real-world experience that his instructors brought to the classroom through their time spent as chefs. In a fast-moving program that relies upon the student's diligence and willingness to take initiative, it was essential to gain a realistic understanding of what their experiences as chefs were like in actuality, rather than simply mastering the processes described in books.
Chef Ondo spent five years honing his abilities under restaurateur and Tri-C Foundation Board Member, Zack Bruell, spending time at L'Albatros and then working as sous chef at Parallax. Chef Ondo then joined the Market District team at Solon as a demo chef. When the Strongsville Market District location opened, he transferred to the role of cooking school chef. In his current position as food marketing team leader and cooking school lead, Chef Ondo loves teaching his guests every day the joys of cooking from everyday ingredients. Chef Ondo lives by the words of Julia Child, "You don't have to cook fancy or complicated masterpieces, just good food from fresh ingredients."
Chef Ondo is grateful for his experience at Tri-C and continues to volunteer at Tri-C through his engagement in College activities. Recently, he performed four cooking demonstrations in the Hospitality Management Center's tent during Tri-C's 37th annual JazzFest. In reflecting on his experience at Tri-C, Chef Ondo concluded that his time here provided "an affordable opportunity" that he is extremely grateful for. Tri-C proved to be a great choice for Chef Ondo that provided an affordable, high-quality education with invaluable professional inroads that helped launch him on a path for a successful career in the culinary arts.