Monique Menefee-Profitt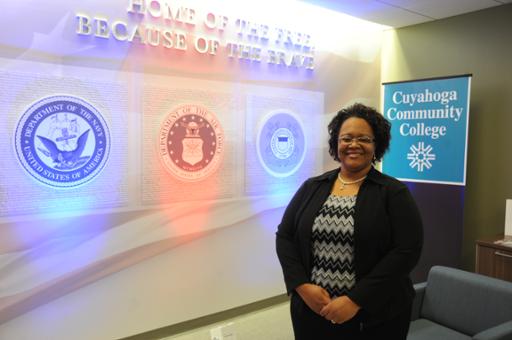 Tri-C graduate Monique Menefee-Profitt has seen a lot of adversity. She has also overcome the obstacles she has encountered, establishing a better life for herself and her daughter.
After an honorable discharge from the U.S. Air Force, Profitt found herself – and her infant daughter – homeless. Living out of her car, she knew life had more in store for her. Her resolve kept her going. After making a home for her daughter through the Cleveland Housing Network, she enrolled in the TRIO Program on Tri-C's Metro Campus. This federal program helps underserved and first generation individuals complete their post-secondary education and prepare for successful post-baccalaureate programs.
As a Veteran, she became an advocate for the College's Veterans Initiative, speaking to groups and writing letters to organizations promoting the need for support for Veterans and Tri-C's efforts on their behalf.
"Tri-C's Veterans Initiative helped with my adjustment to everyday life and to my college career. The individualized support and assistance I received made all the difference in my life," she recalls.
It wasn't long before this tenacious woman found herself at the head of the class, earning a Tri-C Foundation Scholarship and receiving the honor of serving as the College's Student Board Scholar for the 2008-2009 academic year. By the time she completed her tenure in that role, she had also earned three degrees from Tri-C- the Associate of Arts, the Associate of Science and the Associate of Business degrees.
She didn't stop there. She continued her studies at Kent State University, earning her Bachelor of Science in Spanish translation and her Master of Education in higher education administration. Just like her Tri-C experience, her leadership was acknowledged when she earned a role as the Board of Trustees graduate representative.
"Tri-C is one of the greatest places I have encountered on my journey. I will forever be grateful for all the support and many wonderful people who took time to help foster the person I have become. Tri-C will always be home."
Today, Profitt serves as the Associate Director of Career-Technical Transfer Initiatives, Ohio Articulation and Transfer Network, for the Ohio Department of Higher Education. She is an inspiration to others, including her daughter.
"My future began at Tri-C," Profitt says.