Malcolm Dotson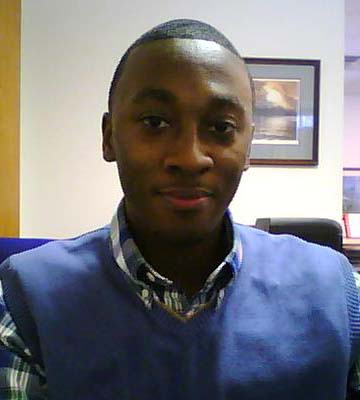 Soft-spoken and articulate, Malcolm Dotson readily admits that he did not work as hard as he could have while he attended Cleveland School of the Arts. "I was a fair student," said Dotson. "I concentrated on drama and theater and was in a lot of plays so my studies slipped a bit. The school helped me develop some special talents and that has helped me a great deal."
Dotson graduated from high school in 2007 and enrolled at Cuyahoga Community College (Tri-C®) to continue his education. "I knew that I could get a great education at Tri-C and at a great price," said Dotson, who grew up in the Union-Kinsman neighborhood on Cleveland's East Side.
He worked at Dave's Supermarket, went to school full time and was in the Co-op program. The Co-op program, also known as Cooperative Education, combines academic studies with productive work experiences related to a student's academic and/or career goals.
Always interested in fixing things, Dotson gravitated toward the field of information technology networking. He completed an internship at Case Western Reserve University and benefited greatly from the hands-on experience.
"My time at Case was very valuable and it set me up for a paid internship at the company I now work for," said Dotson. "The Tri-C Career Center was very helpful. Mia Walsh and Maria Brathwaite helped me get ready for interviews and with the preparation of my resume."
Team Logic IT in Westlake hired Dotson as an intern and kept him on after he graduated from Tri-C. He works at the help desk, does troubleshooting and repairs computers.
Dotson, who earned his Associate of Applied Business degree in information technology networking software in December 2012, is finishing his dual degree in IT computer hardware at Tri-C and enrolling in the Baldwin Wallace University partnership program to earn his bachelor's degree in information systems.
Dotson's time at Tri-C was special to him. "I loved the environment, the one-on-one attention and the hands-on approach of Tri-C," he said. "Tri-C offers each student a great opportunity with great staff in a great learning environment with great resources to succeed. I am very thankful."