Tri-C Alumna Finds Career Path in Respiratory Therapy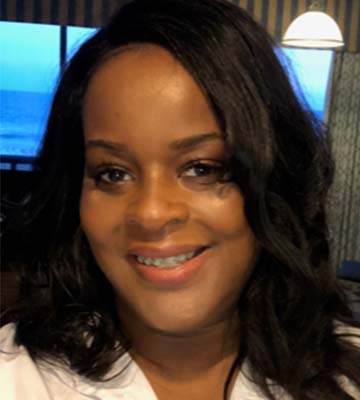 The global COVID-19 pandemic is impacting every area of the health care field. Just ask Kellie McCall, a respiratory therapist who received her training at Cuyahoga Community College.

"Working in the health care field with a global pandemic is a frightening experience, but I love my work," McCall said. "Wherever I am employed, the staff is making sure we have the proper PPE, and they regularly conduct meetings and huddles to review procedures and guidelines from the CDC."

Currently a contract employee for an agency that sends therapists to various hospitals and long-term care facilities, McCall finds a great deal of fulfillment in her work. But her journey to becoming an essential worker during the pandemic didn't take a direct route. 

After graduating from high school, McCall knew she wanted to attend a community college and chose Tri-C, following in the footsteps of her sisters, both also Tri-C graduates.

At the time, unsure of a career path, McCall was happy that Tri-C would offer her an opportunity to explore different interests and discover new career options.

Though she subsequently left Tri-C and moved out of state for a period of time, McCall eventually returned to Ohio and re-enrolled. She initially considered studying to become a physical therapist, but as she continued to research health care careers, switched to respiratory therapy.
"I knew I wanted a career in health care, but physical therapy was not enough movement for me," she said. "I needed more of an adrenaline rush."   

The courses were challenging. However, McCall's instructors and fellow students supported her studies. McCall said her instructors always had an open-door policy and her classmates were always willing to help with studying.

McCall's education extended well beyond the classroom. She reflected on how beneficial her clinical rotations were at area hospitals.

Our supervisors at MetroHealth Medical Center, the Cleveland Clinic's main campus and St. Vincent Charity Medical Center all knew our Tri-C instructors," she said. "We felt very connected and gained a lot of experience, just asking questions and learning skills on different equipment."

After graduating from Tri-C, McCall worked at MetroHealth and then spent seven years at University Hospitals.

Apart from her career, McCall enjoys traveling and tries to take a trip every few months. Her most memorable excursion was a trip to Hawaii.

In addition to travel, she speaks Spanish, enjoys hiking and gardening, and is the proud mom of daughter Kemmarie, a staffing manager and a singer.

To future students at Tri-C, McCall gives the following advice:

"Hang in there. Take advantage of the resources available to you, such as tutoring, counseling, study groups and networking. If life gets in the way and you have to leave school, always go back and finish. Be sure to join a professional association in whatever field you are pursuing, which will help you stay current and involved in your profession."