Karen Gilliam, Ph.D.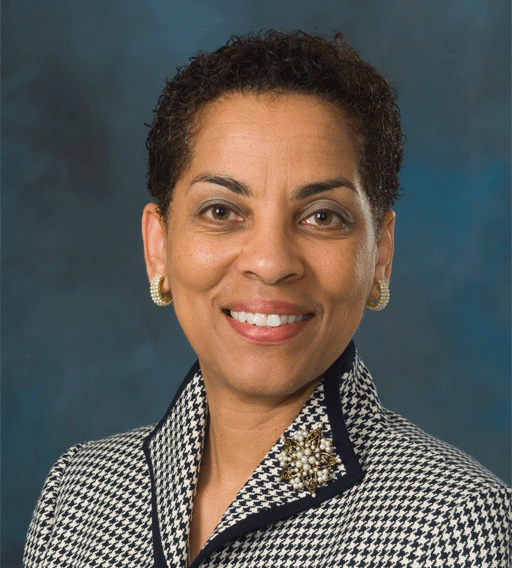 Cuyahoga Community College alumna Karen Gilliam, Ph.D., Class of 1981, is a self-proclaimed lifelong learner. Her experience at the College had a lot to do with that.
"Tri-C holds a very special place in my heart," Gilliam recalled recently, noting that her love for learning was nurtured during her time here as a student.
Initially, it was affordability that drew her to attend Cuyahoga Community College. While working for a family-owned pharmacy, Gilliam enrolled in medical terminology courses. Before long, she decided that she wanted more – a degree. Dedicated to learning, she excelled in her coursework, becoming a member of the Phi Theta Kappa Honor Society, which recognizes and encourages scholarship among two-year college students.
After earning her Associate of Arts degree with honors, Gilliam served as Tri-C's alumni speaker at Commencement a year later, while continuing her education at Notre Dame College, earning her bachelor's degree. Gilliam completed her Master of Business Administration degree from Baldwin Wallace University and her doctorate in leadership and change from Antioch University.
Gilliam, currently Division Chief, Human Capital Development at NASA Glenn Research Center, is responsible for the planning, development and delivery of a comprehensive program of training, change management, organizational development, consulting support, coaching and mentoring services. She is also active in her community, having served for nine years as an elected councilwoman in Bedford Heights, Ohio. She published her first book, Finding Your Voice in A World That Needs It, in 2011, and was selected by NASA to be profiled for African-American History Month earlier this year.
With a foundation firmly in the liberal arts, she strongly believes that all of the courses she took at Tri-C helped prepare her for work and life. In particular, she says her Introduction to Humanities course was memorable. As a part of the work in that course she interviewed her grandmother, trying to capture her biography. It was challenging because her grandmother was stubborn about sharing family history. This experience helped lead her, years later, to focus her doctoral studies on the linkage between leadership and storytelling.
Her connection to the instructor in that same course, Dr. Carol Jones, eventually led to Gilliam serving as an adjunct instructor at Eastern Campus, bringing her educational experience full-circle, from student to teacher.
She remains an advocate for Cuyahoga Community College and appreciates the powerful impact that scholarships have on students' education
"I support Tri-C because I know the importance of giving back to help the next generation of students discover their untapped potential and realize their dreams," Gilliam said.