Joann Huge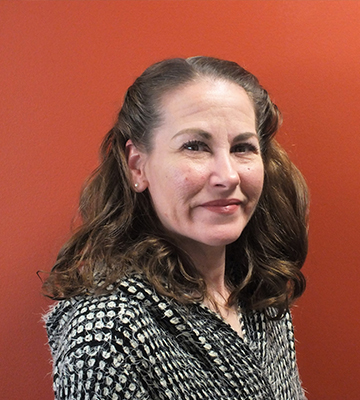 Joann Huge worked for a local law firm for 20 years, but when her boss announced his retirement, she turned to Cuyahoga Community College for the training and education she would need to make a career change. Huge began her Tri-C experience in the Captioning and Court Reporting program, but soon decided the Hospitality Management program was a better fit and would offer her more job security. "I have always been an advocate for the city of Cleveland," she said. "And I realized the hospitality industry is a driving force in Cleveland's economy."
Assistant Professors Chef Ky-Wai Wong and Chef Maureen Leonard were her first instructors, and they were very helpful for Huge and her classmates. She remembers them both as "very dedicated to their jobs and always available for students." In addition to her classwork, Huge had an internship with Nancy Farinacci, Tri-C's Special Events Manager, which provided the future event planner with great experience and exposure to important contacts within the College as well as outside vendors.
Huge graduated from Tri-C in 2015 with an Associate of Applied Business degree in Lodging and Tourism management, as well as certificates in Event Planning and Lodging Rooms Division. She advises current students to volunteer for as many opportunities as possible, both to gain experience and make connections. Huge first met Chef Brandt Evans, owner of Pura Vida, by volunteering at an Autisum Speaks event, and he offered her a position with his downtown restaurant as soon as she graduated.
She credits Chef Brandt for creating a positive environment for his team, "Brandt is really good to his employees. What I admire most is he personally doesn't take full credit for our successes – it's always about the team. That says a lot about the culture." She is now the restaurant's Private Dining Coordinator, and manages catering orders and private bookings for events such as rehearsal dinners and holiday parties. Pura Vida was booked for private events throughout last year's Republican National Convention, but Huge said the 16-hour work days were worth it for the tremendous exposure the restaurant received by hosting politicians from across the country.
Huge would eventually like to complete a bachelor's degree in hospitality management, but for now she is happy with her career, and enjoys spending time with her youngest daughter, Abigail, who is a sophomore in high school. She is happy to stay connected with the College through the space Pura Vida and the Hospitality Management Center share on Public Square, and regularly sees Tri-C's President, Dr. Alex Johnson. "He always takes time to say 'hello' and shake my hand," she said. "As a Tri-C alumna, that really means a lot to me."
She is grateful for the scholarship she received while at Tri-C, as well as the education and opportunities the College provided. "If I wasn't in the Tri-C Hospitality Management program," she said, "I wouldn't have met Chef Brandt and wouldn't be where I am today."