Geraldine Powers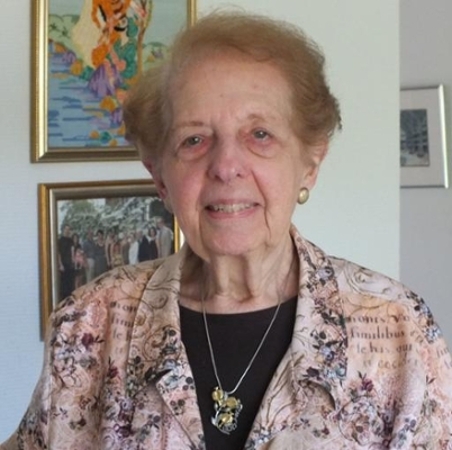 Geraldine Powers started her path at Cuyahoga Community College with a singular English course in 1966. At the time, she was living with her husband, three children, and father, did not have a specific academic goal in mind; and describes simply feeling "gratified" to have someone read her writing.
While at Tri-C one of her fondest memories was an overnight trip to Washington D.C. spearheaded by library instructor Dorothy Johnson. While there, the group enjoyed a guided tour through the Library of Congress. Enamored by the splendor she was observing and reflecting upon the perception that there were financial constraints preventing her from attending college immediately after graduating from Glenville High School in 1940, Mrs. Powers concluded that Tri-C and the opportunities afforded her through enrollment changed her whole life.
In 1972 Mrs. Powers emerged as graduate with her Associate of Arts degree and the conclusion that Tri-C was the best thing that ever happened to her. She began her career as the founding librarian at the Solomon Schechter Day School. She worked as a children's librarian into her late 70s and continues to volunteer weekly at Gearity School in Cleveland Heights to help the kindergarteners practice reading.
Mrs. Powers, a life-long lover of music, continues to enjoy musical performances at the Eastern Campus and also regularly participates in yoga and multiple book groups, and seeks out every opportunity to enjoy her eight grandchildren.
Most recently, in 2015, her book Letters from Gelvan was published. The book explores 15 years of heartbreaking, revealing, and beautiful correspondence between her grandfather in Lithuania and his children in America.
This impressive foray into the writing world was not Mrs. Powers' first. She also published an article "Life in the Nineties" which appeared in Forward, a national newspaper, on October 9, 2015.
Mrs. Powers noted that in the 1940's there were very few college scholarships offered to high school graduates. Guidance was limited. Hence, she realizes the importance of making scholarship help available when needed for students today. She noted, "Tri-C focuses in the most admirable way on scholarships for their students and I believe that Tri-C is a great resource in the Cleveland area. It is there for all, regardless of age."
50 years later, Mrs. Powers still has the graded copies of her written work in her home.