Striving for Excellence Advances Tri-C Graduate's Career in Anthropology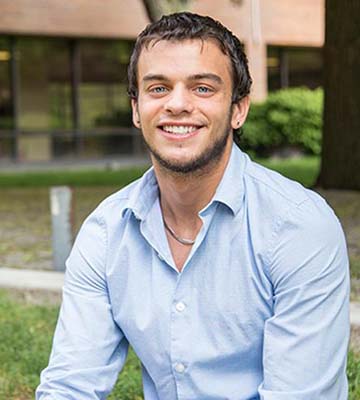 Enzo Zaccardelli was once an average high school student with no plans to attend college. That changed during his senior year at Padua Franciscan High School in Parma, when he discovered an interest in anthropology. After graduation, he enrolled at Cuyahoga Community College. The affordable tuition drew him in, but his newfound passion for learning kept him coming back.

Zaccardelli earned A's in all but one of his courses ― physical geography lab, in which he received a B. He joined Phi Theta Kappa, garnering numerous academic awards including a place on the All-Ohio Community College Academic Team and a 2015 Coca-Cola Leader of Promise Scholarship. He also received support from the Cuyahoga Community College Foundation's Bernie Moreno Companies Scholarship Fund.

"It helped me to support myself," Zaccardelli said. "I believe this is what Mr. Moreno intended — to provide students an opportunity to reach their potential and complete their degrees."

Zaccardelli graduated from Tri-C with an Associate of Arts degree in 2016 and enrolled at Cleveland State University, where he studied history and anthropology. Two years later, he graduated as valedictorian of his class. 

In fall 2018, he began his graduate work at Ohio State University. His research on the integration of refugees in underdeveloped regions of Italy earned him the Ohio State University Fellowship Award for Anthropology.

This past summer, Zaccardelli traveled to poorer regions of southern Italy where refugees have helped to jumpstart the economy. He is studying why this concept has worked so well in that region compared to areas that are more affluent. He plans to return to southern Italy in December to continue his research. 

Looking back on his academic journey, Zaccardelli remembers his lone B grade as the catalyst that spurred him on to greater achievements. He maintains that choosing Tri-C was the best decision he could have made. With smaller class sizes and continued support from faculty, the learning environment was conducive to his success.

"I learned how academia works," he said. "I always wanted to transfer and the people at Tri-C worked with me to make sure I reached that goal."