Frances M. Franklin Scholarship Program

Frances M. Franklin Scholarship Program
The Black American Council oversees the awarding of student scholarships through the Frances M. Franklin Scholarship Fund. The scholarship honors the memory of Frances Mason Franklin, a Cleveland educator and former Tri-C faculty member. Every spring, the Council hosts the Frances M. Franklin Scholarship Luncheon where scholarships of various amounts are awarded. Contributions to the Frances M. Franklin Scholarship Fund can be made through the Tri-C Foundation. Proceeds from these donations support the education of deserving Tri-C students.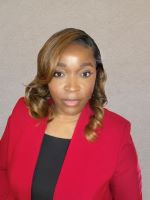 The keynote speaker for the 32nd Annual Frances M. Franklin Scholarship and Protégé Luncheon will be Jowan Smith, Founder and CEO of Getting Our Babies to College 101 and 1,000 Ties.
Born and raised in Cleveland, Jowan Smith has a big heart for the city. After graduating from John Hay High School, she started a career in event planning and earned degrees in business and marketing from Bryant and Stratton College and Cleveland State University.
While working for the Cuyahoga County Department of Job & Family Services, Smith saw firsthand how the lack of postsecondary education options impacts our community. Years later, while going through the college preparation process with her eldest daughter, she noticed the lack of resources available to parents and decided to change that narrative.
Smith's "Getting Our Babies to College 101" proposal won the Education category in the Cleveland Leadership Center's Accelerate 2017 competition. She created the curriculum to assist families with the postsecondary education process starting in middle school. As CEO, Smith facilitates workshops in five local school districts and one prison. The program has already helped thousands of students and parents navigate the journey to a college degree.
In 2019, Smith created an event for young men ages 6-21 called "1,000 Ties." The goal of the event — which features workshops on self-love, handshaking, eye contact and communication skills, as well as a lesson on how to tie a tie — is to impart skills that will benefit participants throughout their lives and to connect them with community mentors. That event inspired Smith to create the 1,000 Ties Etiquette Program, which won the Accelerate 2020 competition and a 2021 Stiletto Boss Award.
Smith has been recognized with several other recent awards, including Future History Maker 2019, the 2019 NCNW Trailblazer Award, CPL Drum Major of Change 2020 and a 2020 Phenomenal Woman Award. She was also honored as an Emerging Philanthropist by Soul of Philanthropy Cleveland in 2019.
She is the author of two children's books, Zakari Goes to College and Grandma Hattie's Ice Cream, and is currently working on her third.
As a mother of two, Smith is connected to our youth's current needs and goals. She does this work because she feels it is her purpose. It's more than a business — it's a movement.
Protégé Mentoring Program
The protégé mentoring program was established to encourage academic progress, emotional support, motivation and inspiration to Tri-C students. Each student who participates is paired with Tri-C staff, faculty or an administrator who serves as a mentor and resource throughout the student's academic endeavors. Apply online to become a BAC mentee.