Paralegal Job Opportunities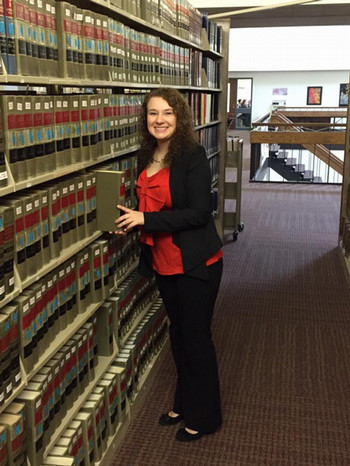 05/17/2019  
Legal Assistant Position - Independence, OH
Auto Services Unlimited, Inc. and its associated companies are seeking a recent college grad with excellent writing and communication skills as an entry-level legal assistant to support two in-house attorneys. Duties would range in difficulty from calendar management and document filing to drafting responses to attorney general complaints and legal correspondence. This position requires a high attention to detail, an ability to learn quickly, excellent writing and communication skills, and a strict adherence to confidentiality. The company is rapidly growing and there is opportunity to grow within it. Please send all resumes and inquiries to tyler@northcoastauto.com.
05/14/2019
Thompson Hine has an opening for a Paralegal at the Cleveland office.
05/10/2019
Foreclosure Paralegal
Responsible for supporting the attorneys in the foreclosure process with the following duties and responsibilities.
Primary Responsibilities:
Preparation and filing of Praecipes for Order of Sale
Obtain Sheriff's Sale dates and bid information, enter into calendar and provide to clients
Obtain bidding instructions from clients, prepare bid forms and hire local counsel to attend the sale
Prepare motions and orders to appoint Private Selling Officers- PSOs
Work with auction.com and client to coordinate sale auctions
Enters dates and information for files into Client systems
Read and respond to daily e-mails from Attorneys, staff, courts, and clients
Prepares miscellaneous motions, notices, AOM's, stipulation agreements, orders of sale, borrower correspondence, payoffs, reinstatements
Court follow up
Hires outside counsel for miscellaneous attendance at hearings
Performs other incidental and related duties as required and assigned
Able to maintain regular and consistent attendance at the Firm worksite and other worksites that may be assigned.
Qualifications and Requirements:
Education: Paralegal degree or paralegal certification preferred
Experience: Preferred 2 years' experience in a law firm
Computer Skills: Strong computer skills
Travel: Less than 5%
Ability to work in a fast paced environment
Ability to lift up to 20 lbs.
Attention to detail and ability to multi-task
Customer service skills is a must
Great work environment and attractive benefits package including health, dental, vision, disability, and life insurance, 401(k) Plan, volunteer time off, paid holidays and generous paid time off (PTO) policy.
Please direct all inquiries to Brad Hanson, HR Manager 216-771-6500 ext 100 or bhanson@weinerlaw.com
05/06/2019
Brennan, Manna & Diamond, LLC
Job Title:          Legal Assistant/Paralegal
Reports to:       Managing Partner
Salary Range:   $38,000 - $50,000
Job Summary
 This position will provide Paralegal and Legal Assistant responsibilities for a growing 70 attorney/120 employee law firm.
Paralegal/Legal Assistant Duties and responsibilities
 Performs research and prepares a summary of research results as requested.
Drafts legal documents and proofreads for accuracy.
Files documents and pleadings with various courts and other agencies.
Summarizes legal documents, deposition transcripts, etc.
Communicate professionally and promptly with BMD personnel and external contacts at all times; emphasis on customer service excellence.
Tracks all case dates and deadlines.
Assists in preparing for trial including but not limited to preparation of various legal documents and organizing documents for use at trial.
Prepares exhibits and exhibit indexing for trial, maintaining exhibits for orderly retrieval and use.
Prepares basic motions and court filings.
Prefer experience with and knowledge of e-discovery, the EDRM, and experience using e-discovery software (e.g., Trial Director, Relativity, Summation, Everlaw, etc.).
Assists with factual investigation and legal research, including contact with various agencies to request documents and reports.
 Qualifications
 Requires a bachelor's degree or certificate in paralegal studies.
1 to 3 years of experience is preferred.
Strong computer skills, including MS Office; Excel and Word.
Strong written, oral, reporting, and presentation skills.
Ability to manage multiple projects simultaneously.
Strong organization and analytical skills; good attention to detail.
Ability and willingness to maintain confidentiality.
Team oriented mindset with excellent customer-service skills and matching attitude.
Working conditions
Located in Cleveland, Ohio. This is a fast-paced office environment, working regular business hours, but may work evenings and / or weekends as needed for special projects. Parking prices vary from $8-20. Work will be conducted on site.
 Physical requirements
Sitting minimum of 6 hours a day.
Standing maximum 2 hours a day.
Lifting maximum of 20lbs.
Walking 1-3 hours a day.
Send resume and cover letter to Mary Miles, Cheif People Officer at memiles@bmdllc.com
05/02/2019
Business/ Real Estate Paralegal
Growing mid-size law firm located on the eastside of Cleveland seeks a full time Paralegal for the business and real estate group. The firm has a collegial, dynamic work environment.
Candidates should have at least five or more years of law firm corporate and/or real estate paralegal experience.
This position will have a variety of responsibilities and opportunity for professional growth. Duties and responsibilities to include:
Formation of limited liability companies and corporations;
Preparation of resolutions of directors, shareholders, managers and members;
Preparation and maintenance of operating agreements and corporate record books and stock certificates;
Assist with real estate and business transactions (document and due diligence materials management and closings);
Trademark application preparation;
Preparation of deeds;
Review of title commitments, title summaries and review and comment on surveys; and
Assist with tax
 Education and/or Experience.
 Bachelor's or Associates Degree or graduated from an accredited paralegal program. Minimum of five years of experience in a corporate or real estate practice at a law firm. Additional Knowledge.
Knowledge and proficient on MS Word, MS Outlook, Excel, Adobe, internet searches and legal research. Experience and proficiency with Worldox and/or Amicus a plus.
Please submit your resume and salary requirements in confidence to attys123@yahoo.com.
04/29/2019
Entry-Level Spanish-Speaking Paralegal/Legal Assistant who will based in Cleveland, Ohio to assist immigration lawyers collect documents from clients, assist with preparation of forms and court filings, and translate. Spanish, English and writing skills required required. We are a fast-paced office, located in Downtown, Cleveland. We help clients apply for green cards, work visas, asylum, citizenship, waivers, immigration appeals, fight deportation. Rewarding career helping families, individuals and businesses with a variety of immigration legal matters. Great opportunity to grow and assume significant responsibilities at the law firm. We will train to be a paralegal --- most important skill are problem solving, attention to detail, and communication. We are a few blocks from the U.S. Citizenship & Immigration Service and the U.S. Immigration Court. Come and join our family. www.LawFirm4Immigrants.com
Click here to learn more about Herman Legal Group
For more information or to apply, contact Richard Herman at 216-696-6170 or email Richard@HermanImmigrationLawyer.com
04/26/2019
Part-time Legal Secretary position - Westlake, OH
Legal Secretary 
Job Description:
Our law firm is in search of a Legal Secretary to join our team.   The Legal Secretary will be responsible for supporting our attorney and paralegal by performing a variety of administrative duties, including maintaining case files, transcribing dictation, answering phones, greeting visitors and communicating with attorneys, clients and court personnel. 
 Responsibilities:
Initial case file set up and maintain case files through closure
Answer telephone as well as make phone calls to courts
Confirm hearing dates, court's receipt of filing, and court dates
Transmitting legal filings to courts and opposing counsel by certified and regular mail
Prepare and disseminate well-written, professional correspondence, memos, emails and other communications often times from dictation
Proactively work to insure case filings are being addressed by courts through proactive phone calls, emails and letters
Managing the daily/weekly/monthly firm docket and arranging new meetings and appointments.
File and update contact information of courts, municipal offices, law firms, and clients
 Requirements:
Outstanding organizational and time management skills
Ability to prioritize daily workload and multitask
Excellent verbal and written communication skills
Discretion and confidentiality required
Excellent client relation skills
High School Diploma
Proficiency in MS Office
Smokeball a plus
Required 1-3 years office experience
 Location:
Westlake, Ohio
Please send resume to Jessica Kubiak jess318@hotmail.com
04/26/2019
Gallagher Sharp in Cleveland is hiring
Gallagher Sharp has an immediate opening for an experienced Civil Litigation Paralegal with an emphasis on trucking and transportation claims and litigation. Responsibilities encompass all duties associated with a busy litigation practice, including preparation of correspondence and responses to discovery, file management and organization and investigation of catastrophic truck, bus and railroad accidents. Candidates should possess strong analytical skills, verbal and written communication skills and be detail oriented. Candidates should also be proficient in online research and interactions with law enforcement. Also proficient in Microsoft Word and Excel. A bachelor's degree and /or paralegal certificate and a minimum of three years experience required.
For more information or to apply please contact Stephanie Cruz scruz@gallaghersharp.com
04/18/2019
Dinn Hochman & Potter has an immediate opening for a Legal Assistant in Mayfield Heights.
The job specifics are as follows:
Assist attorney in litigation matters pre and post filing in court;
Assist in the preparation of pleadings, motions, briefs, notices, discovery and document maintenance and production;
Maintain a docket of important dates, both court related and practice related;
Assist in trial preparation and presentation including electronic projection and imaging;
Assist in small business representation, including document and record preparation on a limited basis;
Maintain client files and records in the office;
Court, opposing counsel, co-counsel and client communication and correspondence as needed, oral, electronic and written;
Maintain office in attorney's absence.
To apply, please send resume to Edgar Boles, Esq. eboles@dhplaw.com
04/17/2019
Hurtuk & Daroff Co., LLP is a well-established boutique real estate law firm looking for a paralegal to join our busy commercial real estate practice.
Duties may include:
Preparing letters and initials drafts of deeds, resolutions and closing documents;
Tracking closing checklists;
Ordering searches, certified copies and zoning letters;
Obtaining documents from various governmental agencies;
Managing client files; and
Performing other tasks related to the financing/purchase/transfer of multifamily and commercial real estate.
Our ideal candidate possesses the following:
Excellent writing and communication skills;
Top notch organization and time management skills;
Ability to pay close attention to detail and follow up requirements;
Ability to be flexible, multi-task and prioritize work flow;
Computer abilities, with a strong knowledge working with Microsoft Office; and
Willingness to relocate to the East side of Cleveland.
Experience with LLCs, real estate transactions, title review and/or closings is a plus.  Although we are seeking a full time candidate, we will consider part-time candidates. 
For inquiries or to submit your resume, please contact Haley Eppler hae@hurtukdaroff.com
04/08/2019
Paralegal - Worker's Compensation
Small downtown law firm is seeking a Worker's Compensation Paralegal. Job duties include but are not limited to, filing appeals, preparing motions, filing various applications, assisting in preparing for hearings, client contact, scheduling doctor's examinations for claimants, monitoring files, and other miscellaneous administrative tasks as requested. Must be reliable, well organized, a team player, but also able to work independently. This full-time or part-time position available for immediate hire. Flexible hours with a very competitive compensation plan including 3 weeks paid vacation and benefits. Experience in workers' compensation and/or the legal field preferred but not mandatory. Please submit your resume with references for consideration to dsmith@zmlaws.com
04/08/2019
Fairmax law is a fast growing law firm that is looking to make an immediate hire. The position would be for a paralegal. We offer stellar training, and good compensation. All resumes should be emailed directly to David@fairmaxlaw.com
04/03/2019
Litigation Paralegal - Energy & Product Liability
 
Benesch is seeking a Litigation Paralegal to join our growing Energy and Product Liability practice. The Paralegal provides support to attorneys for all types of specific practice group matters for high profile clients, as well as ensures that all filings and other duties are completed in a timely and accurate manner.

Essential Functions:
 
1.   Performs research and prepares a summary of research results as requested.

2.   Drafts legal documents and proofreads for accuracy.

3.   Prepares correspondence.

4.   Files documents and pleadings with various courts and other agencies.

5.   Summarizes legal documents, deposition transcripts, etc.

6.   Communicates professionally and promptly with Benesch personnel and external contacts at all times and must exhibit a high level of customer service at all times.

7.     Tracks all case dates and deadlines.


Litigation Practice Group Essential Functions:
 
1.  Assists in preparing for trial including but not limited to preparation of various legal documents and organizing documents for use at trial.

2.   Works directly with fact and expert witnesses, including but not limited scheduling meetings, preparing materials for review, and preparing witness subpoenas and effecting service.

3.   Prepares exhibits and exhibit indexing for trial, maintaining exhibits for orderly retrieval and use.

4.  Prepares basic motions and court filings.

5.    Has experience with and knowledge of e-discovery, the EDRM, and experience using e- discovery software (e.g., Trial Director, Relativity, Summation, Everlaw, etc.).

6.  Attends at trial and court hearings to assist attorneys with exhibits, witnesses and demonstrative presentations as necessary.

7.   Checks citations in briefs for compliance with The Bluebook Uniform System of Citation and court rules, etc.

8.   Assists with propounding and responding to written discovery requests, preparing documents for production, and preparing subpoenas for documents.

9.   Assists with summarizing and organizing depositions and document productions. Ability to digest and summarize medical records a plus.

10.   Assists with factual investigation and legal research, including contact with various agencies to request documents and reports

11.  Performs other duties as assigned.

Confidentiality: Due to the nature of your employment, various documents and information, which are of a confidential and privileged nature, will come into your possession. Such documents and information must be kept confidential at all times.

Qualifications:

The Paralegal must have a degree or certificate in paralegal studies. A minimum of three years of related experience is preferred, but will consider entry level candidates who demonstrate strong organization skills, professional maturity, self-motivation, ability to learn quickly, and a team oriented mindset. Proficiency in various software applications is required. Must be able to handle many priorities at one time, work well with others and have excellent communication skills. Flexibility to work overtime as needed. Must possess an excellent customer service attitude.
For more information and to apply for this job see the Careers page at beneschlaw.com
04/03/2019
Robert Half Legal is seeking candidates with legal experience for an opportunity starting next week with a legal services company.
Details:
Location:  Mayfield Heights, OH
Parking: Free onsite parking available
Pay: $16.00/hour
Hours:  Regular business hours (all work onsite; no remote work available)
Duration: 1 month with possibility of extension
 Job duties:
Reviewing authorization forms for each of our clients – checking to make sure certain information is documented/filled in properly, filling in special authorizations when required, and then uploading into our system. I would say about a month duration for now to be safe.
Taking information from fact sheets and entering that information into various systems.
Utilize legal knowledge to identify pertinent information in legal documents and capture it for use in reporting information to internal and external clients
Handle all aspects of processing incoming legal documents in our imaging center as needed while being accountable for adhering to client retention protocols.
Requirements:
High proficiency in Microsoft Word, Outlook, Excel
High computer systems aptitude
Familiarity with legal documents
Some experience or education as legal file clerk, secretary, paralegal, or licensed or unlicensed attorney is required.
If you are interested in this opportunity, please send your resume to Lauren Cofrin at lauren.cofrin@roberthalflegal.com
03/22/2019
Bankruptcy Specialist II-Huntington Bank (please apply to requisition 27756 on our Careers page at careers.huntington.com)
Provides technical and operational assistance on all loan, lease and mortgage accounts involved in bankruptcy and/or legal action.
Position Summary:
Provides technical and operational assistance on all loan, lease and mortgage accounts involved in bankruptcy and/or legal action.
Establishes complete and accurate records on accounts as required to ensure that legal, reporting and/or systems requirements are met.
Takes appropriate action to minimize further losses and maximize the recovery.
Researches and responds to inquiries regarding accounts involved in bankruptcy and/or legal action.
Adheres to bank policies and procedures and complies with bankruptcy and/or legal and regulatory requirements.
Basic Qualifications:
High School Diploma or GED
Minimum of 3 years of bankruptcy experience in a financial institution or law firm setting required
Preferred Qualifications:
Working knowledge of Microsoft Word and Excel 
Should be able to read and evaluate bankruptcy documents filed with the courts including but not limited to Petitions, Plans and Motions
Should have the ability to do detailed analysis of legal documents to mitigate any potential losses
Should have the ability to set up and handle financials by accurately and thoroughly entering all data in the system in the prescribed manner and to do periodic balancing of accounts to insure payments are applied correctly
Should be able communicate in a professional manner in all situations
03/21/2019
Paralegal/Legal Assistant at Lowe, Eklund, Wakefield
Compensation:      $35,000.00 to 45,000.00 Annually
Benefits Offered:   401K, Dental, Life, Medical, Vision
Employment Type: Full-Time
Why work here?
"Great place to work, great benefits, room for growth! Competitive salary based on experience!!!!"
We are seeking an experienced Legal Assistant to join our team.  Duties include working for attorneys in a busy personal injury practice.  Responsibilities are all aspects of case preparation, including client contact, medical records retrieval, answering phones, pleadings, discovery and dictation.  This position includes full benefits with a competitive salary commensurate with experience, required experience and skills:
 ***Must have a minimum of 2 years experience in personal injury litigation***
 Keeps cases organized by establishing and organizing files; monitoring calendars; meeting deadlines; documenting actions; inputting information into file database and case management software; confirming case status with attorney.
 Collects all client billing and medical records and organizes an audit for each client.
 Keeps clients informed by maintaining contact; communicating case progress
 Accomplishes organization goals by accepting ownership for accomplishing new and different requests; exploring opportunities to add value to job accomplishments.
 If you do not have personal injury experience, please do not respond. This job requires a candidate who can "hit the ground running".
 About HR Recruiting:
 Great place to work.  Fun, challenging and high energy.  We are well established in the market.
 Please call Attorney Kyle Melling 440-821-8509 or email kmelling@lewlaw.com
03/20/2019
Immigration Paralegal-Federal Practice
Margaret W. Wong & Associates is recruiting an Immigration Paralegal - Federal Practice to join our growing team. You will be responsible for a wide variety of legal support activities, including helping attorneys with federal litigation cases, research and writing, gathering and preparing documents, filing activities, and client communications. The position offers a unique opportunity to make a high impact supporting our people and clients in a dynamic and growing company.
Click here for full job details and application link
03/15/2019
Wargo and Wargo Co., L.P.A.
 Small law firm located in Berea, Oh, seeking to hire full-time Probate paralegal  You will be working closely with attorneys on files pertaining to probate, trust and guardianship administration.  Legal secretarial experience preferred.  Candidate must have strong research and communication skills; proficiency with word processing, spreadsheet and database applications.  Please send cover letter and resume to:  John@wargoandwargo.com
 03/15/2019
Part-time Legal Assistant/Paralegal: Criminal defense attorney in the Akron area seeking a paralegal to work 20-25 hours a week.  If interested, please contact Janet Griffing-Labonne, Akron Bar Member Services and Marketing Director, at 330-436-0105.
03/08/2019
Amin, Turocy & Watson, LLP is a nationally ranked intellectual property firm that services numerous Fortune 100/500 high technology clients.  The firm seeks to add an entry level paralegal, and will train this individual from scratch in connection with paralegal work associated with patent, trademark and copyright procurement.  The firm provides a generous salary, medical/retirement benefits, merit-based yearly bonuses and has some of the nicest office in the state.  We recently moved from the penthouse of Key Tower (which the firm built out from raw space to architectural-award winning offices) to the exciting new Live, Work & Play development at Pinecrest in Beachwood.  Our new location has luxury apartments on site, dozens of retail and dining options, work-out facilities (including an in-building gym, Orange Theory, Citizens Yoga, and Pinecrest Pilates) and free covered garage parking.  
The ideal candidate will have keen interest in learning about intellectual property (IP) law (including foreign IP law), have strong organization & writing skills, be proficient with Microsoft Word, Microsoft Outlook, and have some familiarity with Microsoft Excel.  The position will involve facilitating attorneys with preparing and filing patent, trademark and copyright applications, interfacing with clients, managing attorney dockets, docketing, scheduling, preparing and filing documents with the U.S. Patent and Trademark Office, preparing other documents such as information disclosure statements, foreign filing of patent and trademark applications, and after several years of becoming proficient with the foregoing be exposed to intellectual property litigation related work.
 It is a fast-paced, exciting environment that services many of the top technology companies at executive levels.  Accordingly, expectations from our clients is very high given that they have the luxury of choosing from most any firm in the country.  If you desire to be best in class as an IP paralegal, then our firm will be a good fit.
 The firm will interview suitable graduates or candidates graduating by June 2019.
 Please send your resume to jobs@thepatentattorneys.com
03/06/2019
RECEPTIONIST/LEGAL ASSISTANT 
COMPANY OVERVIEW 
For over 20 years, The Kabb Law Firm has been dedicated to assisting elder clients and their families with the challenges that accompany aging.  Our team takes pride in providing quality legal and care coordinator services.
 The Kabb Law Firm is dedicated to ensuring that seniors are able to live out their lives with dignity. We are one of the few Elder Law firms in the country - and the first in Northeast Ohio - to have a Social Worker (our Care Coordinator) and Public Benefits Coordinators on staff.  These resources allow us to go to greater lengths to protect and enhance your loved one's quality of life.  
From your first meeting with us, you will sense our passion for doing right by our clients. We will fight for your loved one's legal rights, while providing care solutions that make the most sense for their well-being and future.
JOB OVERVIEW
 The Receptionist/Legal Assistant will manage the flow of calls and clients coming to the office.  They will assist in the opening of new files, creation of documents and letters as requested by the attorneys.  They will assist in the daily activities of the team.
 PRIMARY RESPONSIBILITIES
    1. Front Office:
Greet clients and offer coffee etc.
Answer phones and route calls
Schedule appointments
Complete Fee agreements
Copy
File
Scan
Open files in Amicus as completely as possible. Add names and emails to master list
Confirm appointments
Prepare correspondence
Help with Intakes
Support Darlene.
Estate Planning
Prepare Wills, POA's for finances and health care
Prepare living wills
Utilize checklist
Communicate with clients to verify wishes
Email documents when done
Prepare Deeds for filing with the Recorder/Auditor
    3. Elder law
Schedule meetings with Rachel and ECC for the area of client
Email or mail the proper Intake form
Confirm receipt of the form
Make sure documents are complete and correct
Copy intake form when they arrive and give to Rachel and ECC
If they sign, prepare fee agreement
Schedule assessment visit for ECC and second meeting with RKE and ECC
Start documents
Make sure Authorization and Medicaid Appointment of rep are signed
Follow up to make sure the client brings the required Medicaid/VA documentation
Create To Do's for the instructions at end of RKE plan
When on Medicaid, send out "Now that you are on Medicaid" letter
Fax Medicaid applications and hearing requests
Follow up on hearings
Do card for when a client dies. Make sure everyone knows when someone dies.
Probate
Prepare proper probate paperwork
Schedule for signing
Create To Do's for next filings
Help proof accountings, etc.
Copy
 PROFESSIONAL QUALITIES
Detail oriented and follow through.
Ability to work with tight deadlines in a team environment
Ability to juggle multiple projects simultaneously
Collaborative and likes being on a team
Curious and Open to new ideas
Likes and seeks feedback
Willing to voice an opinion and engage in challenging conversations to vet and come to the best ideas.
 CREDENTIALS & QUALIFICATIONS
Must possess outstanding workflow management skills
Excellent communication skills with a positive attitude
Unrestricted driver's license and clean driving record
Reliable transportation and valid automobile insurance
Able to maintain satisfactory relationships with team members and clients
Neat, clean, professional appearance
Proficient computer and internet skills, including Microsoft Office (Word, Excel, PowerPoint)
Marketing-centered experience and able to work with diverse populations
Excellent interpersonal skills and able to communicate well with others
Able to work a flexible schedule, including some evenings
Decision-making skills and able to work under pressure
Resume required,  Cover letter optional, references optional.  Candidates can send resumes to info@kabblaw.com
2/18/19 Paralegal: Law firm in Cleveland, OH seeking to hire a full-time personal injury paralegal, experience is not necessary. Our law firm focuses on personal injury, workers' compensation, and criminal law.   Primary responsibilities include:  requesting medical records, expert reports, billing statements; setting up subrogation; preparing demand packages; tracking dates and deadlines; assisting in misc. projects; and other office duties.  Salary includes personal health, dental, eye, and life insurance benefits after 90 days, plus parking.  For consideration, please submit resume via email (georgemineff@yahoo.com) or fax (216)694-3444.
 Feb. 15, 2019: Legal Administrator (F/T) Cleveland, OH.
Join one of the best companies to work for in Northeast Ohio! Applied Industrial Technologies is a
17-time winner of the NorthCoast 99 best places to work in Cleveland. Headquartered in Midtown
Cleveland, we are listed on the New York Stock Exchange (NYSE: AIT) and, with $3.1 billion in
annual sales, are one of the largest industrial distributors worldwide. We offer free secured
parking, subsidized benefits including health care, vision & dental, onsite fitness center and
cafeteria, tuition reimbursement, and career development opportunities.

The Legal Administrator is responsible for providing support for the Commercial Law Group and the Employment Law Group, as well as managing the contract management database, files, and various Legal Department processes. Work in a highly collaborative manner with several departments across the company.

This is a permanent full time position at our corporate headquarters campus in the Midtown Corridor of Cleveland, OH.

Overview:

This role is responsible for assisting with day-to-day general legal administration and managing
our processes. In this role, you will manage files in our contract management database, customer & supplier questionnaires and certifications, and related documents to ensure clarity, compliance,
best business practices. Training will be provided.

Responsibilities include:

• Administration and maintenance of contract management database and other files. Identify,
recommend, and help implement process improvements

• Assist in preparing and sending employee non-compete reminder letters, cease and desist
letters

• Assist in gathering information for subpoenas responses

• Assist in maintaining domain name registrations

• Assist other team members in the Department in various processes

• Act as main liaison between Legal, other Corporate departments and service
centers/subsidiaries

• Track and maintain various processes, including all training materials, training
presentations given and attendees

• Some administrative duties (filing, initiating check requests, mail distribution, UPS, office
supplies)

• Special projects as needed

Requirements:

• 1+ year proven administration skills including process improvement

• Strong computer skills including MS Office particularly Word & Excel

• Written and verbal communication skills, including English grammar

• Interpersonal skills, positive business relationships both in person and via phone / email

• Attention to detail, sense of urgency, sense of humor

• Multi-tasking, prioritizing, analytical, problem solving, organization skills

• Ability to work under pressure, meet deadlines

• High school diploma required

• Paralegal certification / education, a plus but not required

Build a rewarding career with a global leader in industrial distribution.
https://career4.successfactors.com/sfcareer/jobreqcareer?jobId=20628&company=AIT&username=
Feb. 14, 2019: Intake Specialist (P/T) Cleveland, OH.
The Cleveland Metropolitan Bar Association seeks intake specialists for its Lawyer Referral Service (LRS). Intake specialists provide customer service to callers looking to be connected with a lawyer or needing legal direction. Primary responsibilities include: Intake of incoming phone calls to LRS, spotting legal issues based on facts provided by callers, referring callers to an attorney or governmental agency as determined by the facts presented, managing voicemails and emails, maintaining database (iMIS) records related to LRS referrals, and performing miscellaneous research and data reporting tasks as needed.

Ideal candidate is detail-oriented and an effective communicator. Legal knowledge required to identify legal issues. Salary is $10 per hour.

Intake specialists are needed to work the following shifts: Tuesdays, 10:30 a.m.–4 p.m.; Wednesdays, 10:30 a.m.–4 p.m.; and/or Thursdays, 8:30 a.m.–2 p.m.

Potential candidates should send cover letter and resume to konders@clemetrobar.org.
Feb. 14, 2019: Planned Giving Coordinator (F/T) Ashland, OH.
Ashland University seeks a planned giving coordinator with a background in paralegal studies, accounting, business or similar academic background to join the planned giving team.

Reporting to the associate director of planned giving, the planned giving coordinator provides support for all programs in the planned giving department and serves as a primary source of program information to support institutional advancement leadership, major gift officers and other development colleagues, donors and vendors. This position also oversees the management of donor involvement with endowed gifts and endowed scholarships for the university.

This planned giving coordinator is responsible for the account administration of life income agreement gifts using accounting software and for maintaining the accuracy of donor information records, recognition society membership lists, and preparing and generating reports. The positon also provides administrative support to the associate director of planned giving, including meeting scheduling and support, file maintenance and managing time-sensitive mailings.
Click here for full job details.
Feb. 11, 2019: Paralegal (F/T) Brecksville, OH.
The Regional Income Tax Agency is accepting resumes for a full-time paralegal in its Brecksville office. Primary duties include: Responding to taxpayer inquiries; performing duties associated with civil litigation for the recovery of unpaid municipal income tax, including court attendance;  examining and auditing municipal income tax accounts and supporting records; extensive telephone and in-person interaction with taxpayers, accountants, municipal officials, attorneys and court personnel.

Paralegal certificate or equivalent education/experience required. Must have reliable transportation. Starting pay $22.07/hour plus benefits. Send resume with cover letter to RitaJobs@ritaohio.com or mail to:
RITA
10107 Brecksville Road
Brecksville, OH 44141
Attn: Human Resources/Paralegal 
No walk-ins or phone inquiries. The Regional Income Tax Agency is an Equal Opportunity Employer. 
Jan. 25, 2019: Litigation Legal Secretary (F/T) Cleveland, OH. 
Matasar Jacobs LLP, a boutique law firm focused on business and securities litigation matters, seeks an experienced litigation legal secretary for its downtown Cleveland office. This is a full-time position offering 35-40 hours per week, depending upon mutual determination of firm and candidate.
The successful candidate will be detail-oriented, highly organized, and maintain a professional demeanor and positive attitude. We seek someone who thrives in a collaborative team environment, has the ability to multitask and prioritize while maintaining a sense of humor, and who has excellent written and verbal communication skills.
Either a bachelor's degree or minimum of two years' recent experience as a legal assistant/legal secretary working in a litigation practice setting strongly preferred.

Duties include, but are not limited to: Performing a full range of legal secretary duties in the support of up to five attorneys; preparing legal documents, pleadings, contracts and correspondence from draft or dictated text; managing attorney calendars and assisting in meeting deadlines; interfacing with clients; maintaining attorneys' time entries for billing purposes; performing clerical duties such as scheduling appointments, taking dictation, composing and typing routine correspondence, scanning and converting various documents, and reading and routing incoming mail; processing incoming and outgoing mail; preparing PowerPoint documents for assigned attorneys' speaking engagements; answering a multi-line telephone system, determining the purpose of calls and transferring callers to appropriate personnel; filing correspondence and legal documents in office filing system; maintaining and organizing new and existing client files; ensuring proper indexing and filing of original legal documents; and preparing closed case files for off-site storage.

Required Competencies:
Exceptional people skills and a positive, can-do attitude.
Ability to handle multiple tasks simultaneously, set priorities and accommodate rush requests.
Team player, willing to support other team members and attorneys.
Strong communication, writing and organizational skills.
Ability to follow complex instructions and collect and analyze information.
Litigation experience a plus.
Typing minimum 50 WPM.
Advanced proficiency in Microsoft Office Suite (Outlook, Word, Excel, PowerPoint).
Experience using a legal time and billing system.
Knowledge and familiarity of federal and state court procedures and rules a major plus.

We offer an informal and collaborative team environment with a business casual dress code. Competitive compensation commensurate with experience. Flexible work schedule available.
Full-time salary: $15 to $18/hour. At least one year of legal secretary experience required. Apply through Indeed.com. Matasar Jacobs
Jan. 23, 2019: Paralegal (F/T) Middleburg Hts., OH.
Phillips & Mille seeks a highly motivated full-time paralegal for its elder law practice in its Middleburg Heights office. The ideal candidate must have two or more years of paralegal experience in the areas of estate plan drafting, Medicaid, guardianship administration, and probate and trust administration. Candidates without experience in the named areas will not be considered. 

Candidate should have excellent writing/drafting, communication and organizational skills. The ideal candidate is self-motivated, pleasant with clients and able to work autonomously. This is an excellent opportunity to join an established firm and develop within a thriving and growing practice.

Phillips & Mille Co. LPA is a full-service law firm with offices in Middleburg Heights and Peninsula. The elder law practice consists primarily of estate planning, Medicaid, long-term care planning, probate, guardianship, and probate and trust litigation. Phillips & Mille offers paid time off and holidays, health insurance and a 401(k). Attorneys at Phillips & Mille are committed to providing personalized and quality legal services and maintaining relationships with clients.

Interested candidates should submit a resume and cover letter, including salary requirements, to:
Phillips & Mille Co., LPA
Attn: Erica A. Skerl
7530 Lucerne Drive, Suite 200
Middleburg Heights, OH 44130
Jan. 23, 2019: Law Firm Assistant (P/T) Cleveland, OH.
Butcher Elder Law seeks a part-time estate planning and elder law firm assistant. We work with senior citizens and individuals with special needs and seek a personable, outgoing, cheerful and compassionate individual. The job requires strong customer service and computer skills, multitasking abilities and keen writing skills. Position could potentially become full-time. Potential candidates must submit a cover letter to be considered.

Responsibilities include: Formatting letters/documents; answering telephone calls; inputting data into client database; inputting information into software to assist in drafting wills, trusts and power of attorney documents; formatting and printing all estate planning documents for attorney meetings; assisting with document collection for Medicaid; maintaining timely communication with clients; assisting attorneys with drafting of probate forms and briefs; notarizing legal documents; receiving work from multiple attorneys; usage of Practice Management Software, Microsoft Word, Excel, PowerPoint and Outlook, Windows Operating Systemm, Microsoft Edge/Google Chrome and Microsoft 365; providing world-class service to all current and prospective clients; coordination on projects with other team members.

Send a cover letter with an explanation of why this job interests you, along with a resume and references, to erine@butcherelderlaw.com.  

Jan. 17, 2019: Project Assistant (F/T) Cleveland, OH.
With more than 2,500 lawyers, including more than 400 lawyers in Europe and 200 lawyers in Asia, Jones Day ranks among the world's largest law firms. Jones Day seeks to employ the most qualified people for every position in order to continually deliver superior client service through professional excellence and teamwork. Jones Day offers competitive compensation, excellent benefits and career advancement opportunities in a stimulating work environment.

Primary responsibilities include providing general assistance to a project team in the banking, finance and securities practice. Duties include legal factual research with respect to client matters, including formation documents, entity good standings, litigation and lien searches, relevant markets and industry standards and practices; participation in due diligence and other reviews of client records and files; ordering and reviewing title work and surveys; identifying title and survey issues, negotiating title coverage and changes to surveys in order to correct title defects and issue clear title, and verifying accuracy of final insurance policies and surveys; maintaining databases of client records and due diligence materials; tracking delivery and receipt of documents, diligence materials and other deliverables; obtaining services from outside contractors, including corporate services, research services, filing services, duplicating services, bindery services and printers, and process billing and disbursement paperwork in connection with those services; under the supervision of an attorney, drafting, editing, conforming and otherwise assisting in the preparation of contracts, closing documents and other legal documents and correspondence; and organizing, preparing for and attending closings, including assisting attorneys in preparing closing documents, setting up the closing, overseeing the execution, recordation (if necessary) and delivery of agreements and documents, and handling post-closing matters.

Required Qualifications:
• BA/BS degree.
• Paralegal certificate desired, but not required.
• Strong organizational and time management skills, including the ability to organize self and others.
• Strong analytical, research and communication skills; proficiency with computer-based word processing, spreadsheet and database applications and internet research; and a willingness to learn.
• Ability to work overtime as needed.

Potential candidates must complete an online application to be considered for this position. The application can be found on the Careers page of the Jones Day website at www.jonesday.com.
Jan. 11, 2019: Executive Legal Assistant (F/T) Akron, OH.
Brennan, Manna & Diamond LLC litigation department seeks executive legal assistant to work with its attorneys and clients on various civil litigations in both the state and federal court systems.

Candidate will be involved in each step of the litigation process, including (but not limited to): Opening files, preparing and filing pleadings, assisting in depositions and discovery, preparing binders and other materials for trial, and preparing and filing liens. Candidate must be able to prioritize, maintain and organize a large volume of files in a fast-paced environment. Candidate must be proficient in Microsoft Office (Outlook, Work, Excel) and Adobe Acrobat. Knowledge or experience with Juris, Olympus Dictation, Case Map, Time Map or Net Documents a plus.

Please contact Jeanie at 330-253-5060 ext. 138 or jskim@bmdllc.com with questions regarding this position. **Potential candidates should send resumes to Mary Miles at memiles@bmdllc.com.**