Paralegal Job Opportunities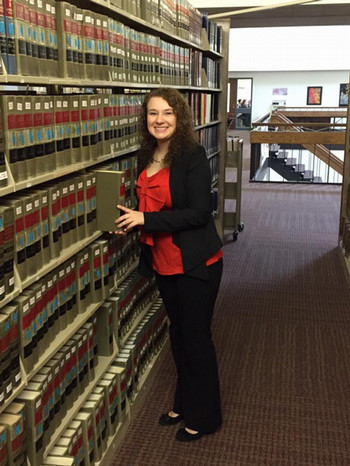 1/22/2021 - RITA is hiring two Paralegals in Brecksville
The purpose of this position is to initiate and monitor Agency litigation filed on delinquent tax accounts, in accordance with local income tax ordinances and local court rules.  Employees in this position are responsible for attending small claims hearings and, under the direction of Agency legal counsel, preparing pleadings, motions and entries for, as well as monitoring, all civil cases for an extremely busy legal department operating in municipal, county and common pleas courts throughout the State of Ohio. 
To be considered for this position, you must have a minimum of an associate's degree with course work emphasis in paralegal studies or a closely related field; supplemented by a minimum of two years previous experience and/or training involving tax laws/systems; or an equivalent combination of education, training and experience.
Click here to view the full job posting
To apply, please send cover letter and resume to: RitaJobs@ritaohio.com
1/22/2021 - Client Services Coordinator
Estate Planning and Elder Law Firm in Strongsville is seeking a legal assistant/receptionist with heavy emphasis on client relationships and communications to work 30-40 hours weekly. We work with senior citizens, individuals with special needs, and families facing life changing events.
The qualified candidate must be able to serve clients in a professional and compassionate manor, ensuring the highest level of client care. The position requires someone with the ability to multitask and provide support to other team members as well as strong organization and computer skills.
Please submit your resume with a cover letter and salary requirements to info@butcherelderlaw.com.
Position Includes:
Greet clients and visitors in a friendly, professional manner
Process payments received
Answering all phone calls and properly implementing next steps
Maintain timely communication with clients by phone, email, and written correspondence
Schedule and confirm client appointments
Enter and maintain accurate data and documentation in practice management software
Create and present statistical reporting using practice management software
Prepare client files and other materials
Prepare and print various client documents and correspondence
Notarize documents and serve as witness as needed
Assist in preparing forms and collection of client documents
Order office supplies
Coordinate clients matters with staff and attorneys to ensure exceptional client experience
Support other team members with daily work and projects as needed
Running errands from time to time including trips to the post office, courthouse, etc.
Qualifications and Skills:
Computer skills with proficient knowledge of Microsoft Office, virtual meeting platforms, able to quickly learn practice management software
4 years' experience in an office setting as receptionist/administrative assistant
Experience with estate planning, or in an elder law firm is helpful but not required
Strong focus on client satisfaction while adhering to practice standards
Communication skills that are consistent, effective, and compassionate
A positive attitude working as part of a team
Comfortable in a multi-tasking environment
Excellent organizational skills
Work to meet client needs while adhering to business procedures and policies
 Pay: From $13.00 per hour
1/13/2021 - The Legal Aid Society has two openings
Legal Aid offers Brief Advice Clinics on a first come, first served basis for free to eligible clients at numerous locations throughout the counties we serve. 
When it is possible again, staff and volunteer attorneys will meet one on one with clients who have a question, need help with a form, or want to know their rights in a particular situation. 
The Legal Aid Society of Cleveland is currently hiring an Outreach Paralegal
and a Spanish speaking Intake Specialist
To apply, follow the instructions included in the links above.
1/12/2021 -  Corporate/Tax Paralegal needed in Westlake
Cleveland based, tax law firm seeks a Corporate Paralegal with a minimum of 3 years' experience.  Competitive pay and benefits package.
Work with lawyers to prepare all documents required to form corporations (both business and not-for-profit corporations), partnerships and limited liability companies in any state.
Assist lawyers in the preparation of documentation for amendments, withdrawals, mergers and dissolutions of corporations, partnerships and/or limited liability companies.
Assist lawyers with the completion of stock certificates.
Complete franchise tax forms for lawyer review.
Create and maintain corporate minute books.
Provide lawyers with assistance in the preparation for and closing of various corporate transactions, including mergers and acquisitions.
Assist with the completion and filing of SS-4 Forms with the Internal Revenue Service for the purpose of obtaining Employer Identification Numbers (EINs) for corporations, partnerships and/or limited liability companies.
Prepare correspondence as needed.
Maintains files, including financial and tax records, and keeps track of all the due dates for probate and tax filings.
Draft various legal documents, including initial drafts of Wills or Trusts.
Client interaction via email, telephone and personal contact.
The capacity to handle multiple tasks simultaneously with ease.
Preparation of deeds and related real estate documents.
Follow up with clients on outstanding items/assist attorneys with project management by identifying outstanding items and upcoming deadlines.
Assist attorneys with maintenance of client files (ie., create and organize files and do attorneys' filing).
Support tax return preparers, including: 

Prepare tax returns for transmittal to client.
Prepare correspondence to client providing detailed instructions for execution of tax returns and for payment of tax due.
Transmission of tax returns to client via secure portal
Assist clients with technical issues with secure portal
Transmittal of tax returns and/or payments to taxation authorities
Maintain database tracking filing deadlines for tax returns
Requirements:
A minimum of 3-5 years corporate paralegal experience in a law firm
Attention to detail, conscientiousness, keen observation, consistency, reliability and ability to work independently.
Ability to perform high quality work in a deadline-based environment.
Excellent organization skills, and oral and written communication skills; as well as the capacity to be able to work under pressure to meet deadlines.
Ability to interface effectively with external legal counsel and others internally
Ability to work with minimal supervision, set priorities, be self-motivated, meet routine deadlines and resolve basic to intermediate problems with an understanding of the business and legal environments.
Ability to be a productive and cooperative team member.
Ability to interact effectively and in a professional and supportive manner with persons in all job responsibilities and from all backgrounds.
Proficiency in Microsoft Office Suite, )ie., Word, Excel, Outlook, etc.)
Benefits:
Competitive pay (commensurate with experience)
Paid time off
Professional development assistance
Employer offers vacation/sick time, vision, dental and health insurance.
Schedule:
Monday through Friday with some weekends during busy season
Overtime opportunities
To apply please email your resume to MGardineer@corsarolaw.com 
12/9/20 - Downtown Cleveland Personal Injury Firm Looking For Legal Assistant / Paralegal
High volume personal injury law firm is seeking a self-motivated legal assistant/paralegal to assist with client management, overflow work, and light paralegal tasks.  This position will assist one attorney, but will need to assist with firm overflow of certain tasks and medical records requests.  Willing to train.
 Responsibilities
Entering client information and reviewing statute dates
Assist in drafting pleadings and discovery
Communicating with clients, staff, and colleagues
Provide administrative support to attorney(s)
Medical records requests using appropriate authorizations
Maintaining calendar dates for hearings, depositions, etc.
Draft and file basic legal documents and correspondence
Answer and direct phone calls
Maintain databases and client ledgers
Monitor deadlines and calendars
 Skills
Organizational skills are a must.
Microsoft word, excel, and outlook are a must
Ability to learn new systems and local rules
Knowledge of E-Filing a plus
Typing
Proofreading
Working knowledge of case management software
Ability to juggle multiple activities and tasks
Employer offers vacation/sick time, 401k, vision, dental and health insurance
Please direct resumes to Ashley Ross aross@216lawyers.com
11/18/20 - Part time receptionist needed (great opportunity for current students)
ON HOLD - EMPLOYER IS NO LONGER ACCEPTING NEW APPLICATIONS
Our goal is to find a motivated, pleasant, and dependable candidate who can assist us in providing our clients with superior customer service.  
If you are a current student, recent graduate, or interested candidate looking for part time work and flexible hours, we are offering an opportunity for employment to engage and improve your office skills with our established law firm.  
Skill set should include office level phone skills, ability to maintain calendar and scheduled activities, basic Word and data entry capabilities, and the capacity to maintain and promote a professional and positive attitude. 
Flexible Weekday hours - 12 to 30 hours weekly.  Starting pay ranges from $12.00 to $13.50 per hour, depending upon experience. 
Responsibilities: 
Greet and assist onsite guests 
Answer inbound telephone calls 
Plan and schedule appointments and events 
Basic Word Processing and data entry 
Assistance with other office tasks 
Qualifications: 
Ability to prioritize and multitask 
Excellent communication skills 
Strong attention to detail 
Professional and Positive Attitude
Please send resume to davidb@kirnerandboldt.com
11/18/20 - Paralegal needed in the Major Trial Homicide Unit
The Cuyahoga County Prosecutors Office is hiring a paralegal for the Major Trial Homicide Unit.  Please see the following link for a description and details on how to apply. 
https://prosecutor.applicantstack.com/x/detail/a2p404you7jl
11/16/20 - Legal Assistant needed in Cleveland
Fund That Flip, Inc.
Cleveland, OH
5 days ago
Full-time
The Position: Client Success Associate Why work for us? We're a venture-backed start-up based in NYC with an office in Cleveland and powered by an award-winning team. We were recently named to the Inc. 5000 list of Fastest-Growing Companies in America for the second year in a row. At Fund That Flip, we value transparency, hard work, and results. We support personal and professional growth with an entrepreneurial culture that rewards those who push the bar higher for themselves and our company. Who Are We? Fund That Flip is laser-focused on offering developers a reliable source of capital so they can do what they do best – finding and rehabilitating homes, while at the same time creating new opportunities for investors to take advantage of the positive returns real estate can provide. Using modern technology, data, and access to capital via new legislation, we are modernizing the antiquated world of real estate investment. To date, we've originated over $450 million loans. Through our technology platform, we offer our customers a superior product and service which includes greater transparency, ease-of-use, and value-add technology tools. The Role This role reports directly to the SVP, Operations and is responsible for ensuring our Borrowers receive first-class service and stewardship to facilitate the loan process from origination to payoff. This includes monitoring monthly payments, progress of construction, loan maturity dates and loan repayment. This position is ideal for a recent graduate with a customer service background and interest in the real estate industry. Responsibilities • Act as the primary point of contact accountable for the delivery of high-quality Borrower support during loan servicing lifecycle. • Serve as a Subject Matter Expert (SME) with the ability to comprehend scope of projects and ascertain the ability and credibility of the Borrower focused on: • Providing the Borrower with seamless onboarding into the servicing organization. • Proactively identify risks borrowers or projects that have risks or issues and potential defaults for escalation to Lifecycle Lead. • Primary point of contact accountable for the delivery of high quality Borrower support during loan servicing lifecycle. • Review construction scope of work changes and escalate issues to the Lifecycle Lead to ensure they are not materially adverse to the risk profile of the loan. • Work with the finance group to calculate and submit payoff requests. • Review and order construction draw inspections. • Review and provide recommendations on loan extension requests. • Make calls to borrowers when monthly payments are not made. • Assess and summarize the construction draw process for approval by the Lifecycle Lead. • Perform cadence calls. • Collect interest payments from the Borrower. • Book extensions. • Monitor insurance and property taxes are current. • Oversee insurance processes. • Work with borrowers to get on Sets up ACH to facilitate automatic withdrawal processes. We Are Looking For People With • Business or communications degree preferred. • Demonstrated ability to have high attention to details. • Strong oral and written communications skills. • Excel at providing Customer Service with empathy, clarity and thoroughness. • Working knowledge of Microsoft Office applications. • Technology proficient and adopter of changes. • Organized and able to juggle multiple tasks in parallel. • Ability to identify key issues and communicate through proper channels. • A "we" first attitude focused on team success. • Takes ownership of outcomes. Self-motivated. Not one to make excuses. • Be quick on your feet. Know how to handle difficult conversations. • High degree of self-awareness, ability to quickly forge relationships with borrowers. • Must be motivated by learning and self-improvement. What We Offer • Base Salary commensurate with experience. • Performance based bonuses. • Healthcare, dental, vision and commuter benefits. • Unrestricted vacation policy. • Paid parental leave. • Stock options and 401(k). • Education reimbursement. • New office space stocked with snacks
11/13/20 -  Paralegal needed in Rocky River 
Bartos & Bartos, LPA is a 2 person law firm located in Rocky River, Ohio.   We are a general law firm, but our main area of practice is domestic law, including but not limited to divorce, dissolutions, custody, child support, and criminal law.  We also engage in civil law suits and bankruptcy law. 
We are currently looking for someone to conduct legal research, prepare motions, complete forms, filing with courts, prepare letters, speaking with clients and gathering information.
To apply, please send your resume to: legaladvicehere@aol.com
11/10/20 - Paralegal III Urgently needed at the Cleveland Clinic in Beachwood
PARALEGAL III
REQ #: 103641
LOCATION: BEACHWOOD, OH
FACILITY: CC ADMINISTRATIVE CAMPUS
PROFESSIONAL AREA: LEGAL
DEPARTMENT: LAW DEPARTMENT-EXECUTIVE ADMINISTRATION
JOBCODE: T28142
SCHEDULE: FULL TIME
SHIFT: 08:00AM-05:00PM
JOB DETAILS
JOB SUMMARY:

Performs duties with direction of Legal Counsel in specific practice area. May work with minimal supervision on matters of any degree of complexity.

RESPONSIBILITIES:

Reviews and analyzes various legal documents.
Drafts routine legal documents.
Compiles information concerning pertinent issues and prepares written summaries, statistics, charts and graphs that clearly detail the findings.
Interacts with internal and external entities, including: government agencies, expert witnesses, corporations and law firms to gather information or data.
Performs legal, factual and legislative research of any degree of complexity to identify issues and relevant matters.
Organizes, develops and maintains departmental informational databases.
Other duties as assigned.

EDUCATION:

Bachelor's degree or certificate of completion of an accredited paralegal program.
 
CERTIFICATIONS:

Certificate of completion of an accredited paralegal program.
 
COMPLEXITY OF WORK:

Ability to interface with all levels of employees.
Ability comprehend and provide support in large and complex legal matters.
Requires critical thinking skills, decisive judgment and the ability to work with minimal supervision.
Ability to organize, prioritize and complete tasks within time restraints.
Teamwork, communication skills and strong attention to detail are necessary to complete required tasks.
Advanced organizational and communication skills required.
 
WORK EXPERIENCE

Minimum of ten years paralegal experience in a law firm, health care system or major corporate legal department.
Comprehensive and detailed knowledge or expertise in one or more legal practice areas.
Experience with large, complex projects, transactions or complex litigation preferred.

PHYSICAL REQUIREMENTS:

Manual dexterity to operate office equipment.
May require periods of sitting, standing and the ability to walk to various locations to attend meetings.
Must have normal or corrected vision to normal range and be able to clearly communicate verbally by phone.
 
PERSONAL PROTECTIVE EQUIPMENT:

Follows standard precautions using personal protective equipment as required. 

The policy of Cleveland Clinic and its system hospitals (Cleveland Clinic) is to provide equal opportunity to all of our employees and applicants for employment in our tobacco free and drug free environment. All offers of employment are followed by testing for controlled substance and nicotine. Job offers will be rescinded for candidates for employment who test positive for nicotine. Candidates for employment who are impacted by Cleveland Clinic's Smoking Policy will be permitted to reapply for open positions after 90 days. Decisions concerning employment, transfers and promotions are made upon the basis of the best qualified candidate without regard to color, race, religion, national origin, age, sex, sexual orientation, marital status, ancestry, status as a disabled or Vietnam era veteran or any other characteristic protected by law. Information provided on this application may be shared with any Cleveland Clinic facility.

Click here to apply
11/10/20 - Part time Paralegal Position Available (excellent opportunity for students)
Part-time paralegal position for a candidate with a paralegal certificate or currently pursuing a paralegal certificate. 
Hours and days of the week can be flexible around class schedule but we anticipate a need for 15 to 25 hours per week.
Pay varies based on experience but ranges from $12.00/hr. to $16.00/hr. 
The position offers period reviews and pay increases and the opportunity to become a full-time position in the near future.
Our 5 attorney firm has a relaxed atmosphere and casual attire but our 5 attorneys do take their work and attention to detail seriously.
Practice areas include small business counseling, real estate transactions and litigation, commercial transactions, and commercial litigation.  
Resumes can be emailed to TJ@W-PLLC.com
11/9/20 - Escrow Officer Assistant needed in Key Tower
JOB TITLE: Escrow Assistant
EMPLOYER: Everest Land Title Agency Ltd
DEPARTMENT: Escrow
REPORTS TO: Office Manager
PAY SCALE:  $35,000 to $45,000. The Successful candidate will have potential to grow into escrow officer duties with commensurate increase in compensation.
SUMMARY: Responsible for residential and commercial real estate pre-closing matters; works with buyers, borrowers, sellers, escrow officers, lenders, loan officers, realtors, attorneys and other real estate professionals to acquire, analyze and organize all title and escrow documents needed for real estate closings including deeds, affidavits, real estate tax bills, mortgage loan payoffs, etc.  Position requires detail-orientation, initiative and practical administrative skills.  Successful candidate will have potential to grow into escrow officer duties with commensurate increase in compensation.
DUTIES AND RESPONSIBILITIES:
Opens escrows and ensures customers receive acknowledgment of title and escrow order within 24 hours of receipt
Assists in processing escrows with a high degree of quality, including working up preliminary figures for residential closing disclosures (CD) or commercial closing statements, prepares title documents for closing
Orders all necessary documents to close escrows in a timely manner, including payoffs, special tax searches, commission letters, proof of insurance, deeds, surveys and other items as listed on escrow assistant checklist
Maintains records of communication with all partners involved in escrows, including notes in production and storage systems
Follows company standards and practices when processing transactions, as well as applicable state laws and guidelines
Informs escrow officer of any missing items or problems relevant to closing
Receipts any funds received for escrow when file is with Assistant
Returns all calls, voicemails, and emails in a timely manner
Performs other duties as assigned by supervisor
QUALIFICATIONS:
Bachelor's Degree or Associates Degree with post-degree certificate or coursework preferred but not required (see below desired certificate programs and post-degree training), or one to three months related experience and/or training, or equivalent combination of education and experience.
Certificates, licenses and registrations preferred but not required:

Paralegal Post-Degree Certificate
Business Management Post-Degree Certificate
Administrative Specialist Post-Degree Certificate
Legal Administrative Post-Degree Certificate
Corporate College Post-Degree Training (Accounting, Finance and Tax / Business Communication / Problem Solving / Real Estate Course)

Computer skills required: Microsoft Office Suite; familiarity with standard web-based software applications.
 COMPETENCIES:
Diversity - Demonstrates knowledge of EEO policy; Shows respect and sensitivity for cultural differences; Educates others on the value of diversity; Promotes a harassment-free environment; Builds a diverse workforce.
Ethics - Treats people with respect; Keeps commitments; Inspires the trust of others; Works with integrity and ethically; Upholds organizational values.
Adaptability - Adapts to changes in the work environment; Manages competing demands; Changes approach or method to best fit the situation; Able to deal with frequent change, delays, or unexpected events.
Attendance/Punctuality - Is consistently at work and on time; Ensures work responsibilities are covered when absent; Arrives at meetings and appointments on time.
Customer Service - Manages difficult or emotional customer situations; Responds promptly to customer needs; Solicits customer feedback to improve service; Responds to requests for service and assistance; Meets commitments.
Dependability - Follows instructions, responds to management direction; Takes responsibility for own actions; Keeps commitments; Commits to long hours of work when necessary to reach goals; Completes tasks on time or notifies appropriate person with an alternate plan.
Initiative - Volunteers readily; Undertakes self-development activities; Seeks increased responsibilities; Takes independent actions and calculated risks; Looks for and takes advantage of opportunities; Asks for and offers help when needed.
Quality - Demonstrates accuracy and thoroughness; Looks for ways to improve and promote quality; Applies feedback to improve performance; Monitors own work to ensure quality.
Quantity - Meets productivity standards; Completes work in timely manner; Strives to increase productivity; Works quickly.
Teamwork - Balances team and individual responsibilities; Exhibits objectivity and openness to others' views; Gives and welcomes feedback; Contributes to building a positive team spirit; Puts success of team above own interests; Able to build morale and group commitments to goals and objectives; Supports everyone's efforts to succeed.
Technical Skills - Assesses own strengths and weaknesses; Pursues training and development opportunities; Strives to continuously build knowledge and skills; Shares expertise with others.
 PHYSICAL DEMANDS AND WORK ENVIRONMENT:
Frequently required to sit
Frequently required to utilize hand and finger dexterity
Continually required to talk or hear
While performing the duties of this job, the noise level in the work environment is usually moderate
The above is intended to describe the general content of and requirements for the performance of this job.  It is not to be construed as an exhaustive statement of duties, responsibilities or physical requirements.  Nothing in this job description restricts management's right to assign or reassign duties and responsibilities to this job at any time. Reasonable accommodations may be made to enable individuals with disabilities to perform the essential functions.
 To apply, please send resume and cover letter to: scrawford@everestland.com and name it Escrow Officer Assistant Needed in Key Tower 
11/5/20 - Litigation Specialist needed 
The Gnoesis Group is looking for skilled individuals to help report on record collection efforts for high-priority cases. Ideal candidates have strong customer service skills, are very detail-oriented and organized, work to create process improvements, and provide effective feedback to team members to improve outcomes.

This is a regular, full-time position, working at our client's Mayfield Heights office part-time and remotely the remainder of the hours, working 40 hours per week: 8:00-4:30 pm, 8:30-5:00 pm, or 9:00-5:30 pm. The position would start as a temporary project-based job, but has the potential to turn into a permanent position.

Education:

Paralegal, Legal Assistant, or Legal Secretaries make great Litigation Specialists
Minimum of high school diploma (or equivalent) with 4 years' experience in legal office required 
 
Requirements:
Must have home computer and reliable internet. 
Proficiency in Microsoft Word, Outlook, and Internet research and intermediate to advanced proficiency in MS Excel
Experience running various reports through Excel and LMI's proprietary systems
Must demonstrate excellent customer service to internal clients, providers of records, and external clients
Excellent communication: verbal and written required.
Must perform independently, be self-motivated, and collaborate with team members to accomplish goals

Experience suggesting process improvements and providing feedback to team members for improved outcomes also required
 
Interested and qualified candidates please submit resume to Lucy Higgins at lhiggins@gnoesisgroup.com for immediate consideration.
 
Remote Quality Assurance Document Review

The Gnoesis Group is looking for 10-15 paralegals to work on a remote quality assurance review for a local client. It is full-time work and requires a commitment of 40 hours weekly. It is expected to begin the week of November 16, and last at least 2 months.


Ideal candidate:
Proficiency in Microsoft Word, Outlook, and Excel
Strong computer system aptitude
Detail-oriented
Accurate data entry skills
Experience with legal and/or medical documents
 

Must have home computer and reliable internet. 

Interested and qualified candidates please send resume to Lucy Higgins at lhiggins@gnoesisgroup.com for consideration.
10/29/20 - St. Marie Law Firm in Elyria is seeking a Legal Secretary
Established law firm in Downtown Elyria seeking a full time Legal Secretary to undertake a variety of administrative and clerical tasks.

Monday - Friday 8:30 a.m. - 5:00 p.m.

You will work under the supervision of two attorneys focusing on domestic relations, criminal and probate law.

Responsibilities

Provide administrative support to two lawyers
Effectively communicate with clients and courts
Greet visitors, answer phone calls, take notes/messages and redirect calls when appropriate
Produce and file various legal documents such as appeals, motions or petitions
Tracking deadlines, reviewing dockets, maintaining attorneys calendars
Skills

Experience as legal secretary
Knowledge of the court system
Knowledge of MS Office and ability to work with legal technology (court-filing computer systems, transcription software, dictaphone etc)
Drafting documents such as letters and pleadings
Time-management, must be able to be self motivated, ability to multitask
Click here to apply
10/19/2020 - Paralegal needed in Independence
Job Description
We are looking for a self-motivated paralegal / legal assistant to assist with client management, drafting, and paralegal tasks. You will provide a broad spectrum of legal services under the supervision of an attorney.
Part-Time Position becoming full-time after covid pandemic. Candidate is able to work from home most days but will be responsible for coming into the Independence office 1-2 days a week.
Responsibilities
Entering client information
Using drafting software to create wills, trusts, powers of attorney, deeds, and other estate planning documents
Using critical thinking to draft documents according to client needs
Communicating with clients, staff, and colleagues
Provide administrative support to lawyer
Drafting probate forms
Using critical thinking to administer probate estates start to finish
Administratively support and attend client meetings, seminars, and lunch and learns.
Prepare estate planning materials for client meetings
Research new areas of law
Type up and file basic legal documents and correspondence
Answer and direct phone calls, as needed
Maintain contact lists and data bases
Monitor deadlines and juggle calendars
Learn and manage Clio, Quickbooks, and other systems.
Skills
#1 Organizational skills is a MUST.
Microsoft word, excel, and outlook are a must.
Ability to learn new systems (Clio Manage & Clio Grow)
Typing
Social media (Facebook, Linkedin, etc)
Proofreading
Satisfactory knowledge of day-to-day operations of a legal office
Computer literacy
Proficiency in English
Working knowledge of case management software
Excellent secretarial and organizational skills
Ability to juggle multiple activities and tasks
Job Type: Part-time position that will become full time.
Pay: $18.00 - $28.00 per hour
Please send your resume to Dan Baron. Dan@baronlawcleveland.com
10/06/2020 - Receptionist Needed at busy law firm in Independence
Job Summary
Our company is seeking a motivated, pleasant and dependable candidate who possesses effective communication and organizational skills.
Responsibilities include: answering phones, taking messages, greeting clients, copying, faxing, and assisting with various administrative tasks.
Tentatively 35 hours per week.
Starting pay from $10-$12 per hour, depending on experience.
Please submit your resume to the attention of Robert Bianchi via email rbianchilaw@yahoo.com or fax 216-264-4079
10/01/2020 - Spanish Speaking Immigration Paralegal Needed in Downtown Cleveland
Immigration Law Firm headquartered downtown Cleveland looking to hire a Spanish-speaking paralegal. Must enjoy working with clients from around the world. Great entry-level opportunity to grow and assume significant responsibilities. We will train. Also open to experienced paralegal/secretary.  Most important: written and communication skills; fluency in English and Spanish; punctuality; professional attire and demeanor; problem-solving; attention to detail. Come and join our family! Send resume to Richard@LawFirm4Immigrants.com. 
10/01/2020 - Immigration Paralegal Needed in Independence
An immigration law firm located in Independence has an immediate opening for an immigration paralegal. The candidate will work in support of attorneys on family- and employment-based visa petitions and applications. Must have strong written and oral communication skills; ability to multitask in a deadline-driven environment; and be dependable, organized and a self-starter. Must have proficient knowledge of Windows and Microsoft Office. Experience with an immigration tracking system is preferred. Ability to speak Spanish is a plus. Responsibilities will include: Assisting attorneys in document review and all aspects of case preparation; drafting forms; corresponding with clients under attorney supervision; managing document collection, deadlines, and case tracking. Bachelor's degree or a paralegal certificate is a plus. Salary commensurate with experience. Please send your resume to jobs@mjbimmigration.com.
9/28/2020 - Paralegal positions available in Akron, Cleveland and Toledo
Criminal Division
Paralegal Specialist, GS-950-7
Job Announcement 20-OHN-1010912148-DE
Posting open to all U.S. citizens.
Closes October 1, 2020
https://www.usajobs.gov/GetJob/ViewDetails/579937700
Job Announcement 20-OHN-1010912149-MS
Posting open to all current/former permanent competitive federal employees and special authorities
Closes October 8, 2020
https://www.usajobs.gov/GetJob/ViewDetails/579936300
Civil Division (Cleveland and Toledo)
Paralegal Specialist, GS-950-7
Job Announcement 20-OHN-10911049-DE
Posting open to all U.S. citizens.
Closes October 1, 2020
https://www.usajobs.gov/GetJob/ViewDetails/579935300
Job Announcement 20-OHN-10911050-MS
Posting open to all current/former permanent competitive federal employees and special authorities
Closes October 8, 2020
https://www.usajobs.gov/GetJob/ViewDetails/579935500
9/16/2020 - Temporary, Full Time Remote Paralegal Position Available
The U.S. Small Business Administration has an urgent need for Paralegals/Attorneys to review and close SBA Disaster Loans.  Real Estate experience is a plus. Individuals waiting on bar results may apply. Attorneys must present a current bar card but may be licensed in any state.  Follow the link below to apply.
Paralegal Specialist
GS-0950-09/11; Full time (Temp)

8/24/2020 - Office manager/Paralegal needed at Oberlin College
The Office Manager and Paralegal Senior oversees the daily operations of the Office of the Vice President, General Counsel and Secretary, provides executive-level paralegal support to the office attorneys, and manages campus-wide compliance efforts in consultation with the campus risk manager.
Under the direction of the Vice President, General Counsel and Secretary, the manager will provide administrative and operational oversight for the legal practice, senior administrative, and governance functions of the office in a manner that demonstrates professionalism, collegiality, high ethical standards, confidence, respect, and advancement of the College's core mission and objectives.
● Ensure the office is running smoothly in compliance with campus business practices including, but not limited to, ordering office supplies, maintaining office equipment, and preparing internal reports.
● Develop and maintain the office standard operating procedures and calendar.
● Design and update the office website.
● Manage the human resources and payroll functions for the office.
● Prepare annual office budget and manage office financial accounts.
● Update and maintain office electronic filing system.
● Coordinate the College's response to subpoenas and other third-party requests for documents.
● Coordinate the College's document production in response to litigation discovery requests and internal investigations; coordinate litigation holds; and provide routine updates to insurance carriers.
● Prepare memoranda and other correspondence.
● Draft and proofread correspondence and legal documents such template contracts.
● Conduct legal and benchmarking research.
● Coordinate, in partnership with the Risk Manager, campus-wide compliance and reporting obligations.
● Coordinate annual Commencement activities in collaboration with planning team.
● Supervise student employees and the Special Assistant to the Vice President, General Counsel and Secretary.
● Provide administrative and logistical support for the operations of the Board of Trustees.
● Perform special projects as assigned.


Required Qualifications:
● Bachelor's degree
● Paralegal certification or an advanced degree in public administration, nonprofit management, or related fields
● 3-5 years of relevant professional experience as a legal assistant, paralegal, or office manager. Preferably in a law firm or in an in-house corporate legal department
● Detail-oriented and highly organized project management skills
● Demonstrated ability to work effectively with minimal oversight in a fast paced, high volume, diverse, and intellectually inspiring environment while providing legally sound, creative, and practical solutions
● Demonstrated ability to organize information with an analytical mindset to create clear and professionally designed written deliverables
● Demonstrated ability to maintain exceptional ethical standards and consistently demonstrate sound professional judgment
● Demonstrated ability to practice discretion, maintain professional confidences, and protect privileged communications
● An interest in higher education law practice and the capacity to thrive professionally in a diverse and vibrant academic and artistic community of scholars and students
● Demonstrated ability to take direction, work as part of a team, and lead when appropriate by identifying opportunities for self-directed contributions that constructively advance the objectives of the Office of the Vice President, General Counsel and Secretary, and the College
● Capacity to approach new and complex legal and governance challenges with a growth mindset, flexibility, creativity, and with measured temperament
● General knowledge of Microsoft Office suite of applications and other software programs to develop presentations and work product in a variety of formats to meet client expectations; experience with Mac operating system preferred
Click here to create an account and apply.
8/21/2020 - Receptionist Needed at law firm in North Royalton
Job Summary 

Our company is seeking a motivated, pleasant and dependable candidate who possesses effective communication and organizational skills. This is an entry level position that offers the opportunity to be part of an established office and to increase your skills and efficiency in providing customer service and office assistance.  

Skill set should include Microsoft Word, word processing, basic data entry capabilities, business level telephone and in-person communication abilities, and the capacity to maintain and promote a professional and positive attitude.  

Starting pay ranges from $10.00 to $12.00 per hour, depending upon experience. 

Please submit your resume to the attention of Nikolina via: 

e-mail nikolinah@kirnerandboldt.com, or by fax 440-884-4302. 

No calls please. 

Responsibilities and Duties 

Responsibilities include:  answering phones, taking messages, transferring calls to the appropriate person, greeting clients, copying, faxing, filing, data entry, prepare correspondences, oversee receipt and mailing of packages and correspondence, maintain postage meter, and assist with various administrative tasks. 
Qualification and Skills 

High school or equivalent.  Certifications and previous Receptionist experience is not required but appreciated. 
8/17/2020 - FT Experience Domestic Relations Paralegal Needed in Rocky River
Laubach & Associates is seeking a full time domestic relations paralegal to support three attorneys. The candidate should have experience with CLIO and Outlook and be able to quickly pick up new software.
Benefits include 401K, health insurance and paid time off
Please click here to view full job posting
8/11/2020 - Paralegal position open
The role of the paralegal is to provide high quality legal support services to Parkwood and its clients.  Responsibilities will include preparation of investment subscription documents, corporate resolutions, and to assist the attorneys in the fulfillment of their responsibilities, including estate and trust administration.

Responsibilities

• Assist in the preparation of subscription documents for private investments.

• Prepare summary, process documentation and file a response for amendments to limited partnership agreements for internal review.

• Assist in the preparation for meetings, including the preparation of agendas, minutes, resolutions and supporting data, for the board of directors of the company, its related entities, collective investment vehicles and clients.

• Assist with the closings of client real estate transactions.

• Assist, where needed, in the operation of Delaware private trust company.

• Assist clients, where desired, with pre-death planning, including tangibles inventories and funeral planning, and probate avoidance, including re-titling property where necessary.

• Review probate court documents including opening and closing court papers, inventories and accounts, beneficiary and creditor notices.

• Administration of probate estates and funded trusts, including the collection and transfer of assets, the payment of debts and administration expenses and the distribution of assets to beneficiaries.

‍

Background and Work Experience

• Bachelor's Degree or Paralegal Certificate

• At least 3 years paralegal experience in corporate legal department or law firm with knowledge in a variety of areas, including corporate law, securities law, real estate law or estate and probate law

• Excellent verbal and written communication skills

• Must be detail-oriented

• Proficient in Word and Excel
Click here for more information and to apply.
8/10/2020 - PARALEGAL/Legal Assistant
Excellent opportunity for a hands-on learning experience! 
Civil Litigation Law Firm concentrating its practice in Business, Corporate, Real Estate, Commercial Collections, Employment, Probate and Personal Injury Law seeks to fill the position of Legal Assistant. Duties will be varied, including preparation of legal documents, initial letters, complaints, collection spreadsheets, and communications with municipal and common pleas courts. 
Part time and full time positions are available. Student applications are considered.
To be considered applications must include a cover letter, resume, references and compensation expectations.
Submit via fax; 216-573-6999, e-mail; dmorell@danmorell.com; or first class mail.                               
Dan Morell & Associates, LLC
6060 Rockside Woods Blvd. N, Suite 200
Independence, OH  44134                                 
7/27/2020 - Legal Administrative Assistant needed in Chagrin Falls
The Gertsburg Law Firm - a growing, dynamic and innovative business law firm located in Chagrin Falls, Ohio - is currently seeking a self-starting legal administrative assistant to join its team.  Candidates must have: 

·         a minimum of 2 years of experience in a law firm or legal department setting;

·         excellent verbal and written communication skills;

·         a professional demeanor;

·         strong knowledge of Microsoft Office, including Word, Excel, and Outlook; and

·         the ability to work independently, manage large workloads, and keep deadlines in a fast paced law firm.

 

Preference will be given to candidates who have worked in a litigation practice and have experience drafting, reviewing, and filing correspondence, pleadings and discovery responses.  The ideal candidate is dependable, hard-working, team-oriented and interested in being an active contributor to a growing law firm. 
 

If interested, please send a cover letter and a current resume to recruiting@gertsburglaw.com.

 
7/21/2020 - Paralegal job available in Cleveland
Small insurance defense firm is seeking a paralegal for its litigation and insurance practice groups. This is a permanent, full time position. Candidates should have at least 2 years experience and should be technologically savvy. Candidates with experience using Westlaw, eDiscovery Point, Case Notebook, and Mind Maps are preferred. Compensation commensurate with experience.  If interested, please email your resume and cover letter to: audrey.bentz@janiklaw.com