Paralegal Job Opportunities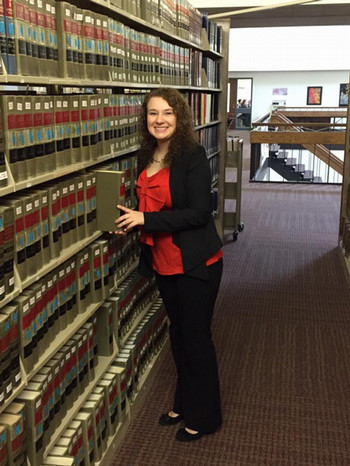 Sept. 23, 2022 - Domestic Law Paralegal Needed in Toledo
Well-respected boutique law firm is looking to add a stellar Domestic Law Paralegal to their growing team, and this is an opportunity you won't want to miss!  
The ideal candidate should have a litigation background with some years of experience, be able to handle assignments from various senior associates and partners, have good writing skills, be detail-oriented, and have good communication and organizational skills.
The candidate will be responsible for assisting attorneys in preparing a case from client intake to trial with everything in-between.
Strong research and writing skills, superior client service and interpersonal skills, excellent verbal and written communication skills.
Prepare pleadings, including complaints, motions, disclosures, written discovery, and other various documents.
Coordinate and calendar deadlines and hearings.
Assist with all aspects of case management with extreme attention to detail.
Active Notary, or ability to become a Notary preferred. 
Benefits:
Wonderful team atmosphere
Comprehensive, competitive salary and benefits package based on experience
Room for growth and mentorship
Please call, text or email Sarah Boatman today!
605-501-4866
Sept. 16, 2022 - Paralegal and Billing Clerk Position Open in Cleveland
Paralegal needed in busy, boutique litigation firm.
Mary Jo Hanson, LLC is dedicated to providing personalized, thorough and responsive legal representation. 
The firm is also in need of a billing clerk. 
The office is located in the Skylight Office Tower in downtown Cleveland.
If intersted please email MaryJo@MaryJoHanson.com
Sept. 8, 2022 - Legal Assistant Needed at the DOJ
Duties
At the full performance level, you will support Assistant United States Attorneys (AUSAs) by providing a variety of legal assistance and office support services. If selected, you will receive formal and/or on-the-job training as needed. Typical work assignments will include:
examining, preparing and processing a variety of technical legal documents, e.g., complaints, motions, orders, answers, pleadings, subpoenas, and libels;
proofreading and cite checking legal briefs, memoranda, and other legal documents;
providing assistance to attorneys in trial preparation by conducting non-complex research of litigation, statutes, regulations and court cases;
assembling exhibits, affidavits, and other legal documents;
assembling and organizing files and records material for disposition or transfer to records depository;
maintaining calendar of assigned active cases;
tracking filing, hearing, and trial dates, and scheduling conferences and interviews;
arranging travel by preparing itinerary and securing transportation and hotel reservations;
producing a variety of written documents and materials using a wide range of office software applications.
Responsibilities will increase and assignments will become more complex as your training and
Requirements
Conditions of Employment
You must be a U.S. Citizen or National
Initial appointment is conditioned upon a satisfactory pre-employment adjudication. This includes fingerprint, credit and tax checks, and drug testing. Continued employment is subject to a favorable adjudication of a background investigation
You must be registered for Selective Service, if applicable
If selected, you may be required to complete a one year probationary period.
You must meet all qualification requirements upon the closing date of this announcement.
Qualifications
You must have one year of specialized experience defined as experience reviewing documents with legal implications for accuracy and completeness (e.g., court documents, real estate documents, contracts, insurance or benefits claims, mortgage or loan applications, tax forms, or other types of legal documents); typing and formatting correspondence and forms; maintaining file systems; and obtaining needed information from files or general reference sources.

Combining Education and Experience: Successfully completed post-high school education may be used to meet the total one year of specialized experience requirement. Only education in excess of the first 60 semester hours (i.e., beyond the second year) is creditable toward meeting the specialized experience requirement. One full academic year of study (30 semester hours) beyond the second year is equivalent to 6 months of specialized experience.
To be qualified, you must type at least 40 words per minute based on a 5 minute sample with three or fewer errors. (A typing test may later be required.)

Education
All academic degrees and coursework must be completed at a college or university that has obtained accreditation or pre-accreditation status from an accrediting body recognized by the U.S. Department of Education.

The Department of Justice offers a comprehensive benefits package that includes, in part, paid vacation; sick leave; holidays; telework; life insurance; health benefits; and participation in the Federal Employees Retirement System.


Click here to view the official job posting and application link.
Aug. 31, 2022 - Part Time Legal Assistant Needed
Glowacki, Imbrigiotta & Doucette, LPA is a small insurance defense law firm located in Middleburg Heights seeking a part time (2-3 days/week) secretary/legal assistant.  Legal experience is helpful.  Responsibilities include typing, filing, data entry, assistance with pleadings, answering phones, miscellaneous tasks as required.
For more information please reach out to Sharon Sikon ss@gidlaw.com 440-243-2727. 
Aug. 22, 2022 – The Cleveland Foundation is Seeking a Legal Affairs Associate
The Associate, Legal Affairs shall provide legal support to (i) the General Counsel in executing her legal responsibilities Foundation-wide; (ii) the Manager of Legal Affairs in her duties as primary legal support to the General Counsel; and (iii) other Advancement team members as needed. Racial equity and inclusion are the primary focus when executing the responsibilities of this position. 
Click here to view the official job posting and apply.
Aug. 19, 2022 – Trust Array Has Multiple Paralegal Positions Available
Job Title: Temporary Business Transactions Paralegal
Job Description: Seeking an experienced transactional closing paralegal for a three-month assignment with a prominent Cleveland law firm. The ideal candidate will have experience participating in deal-closing activities, including preparing and maintaining closing checklists, drafting ancillary closing documents and preparation of signature packages as well as preparing closing binders. Must have knowledge of transactional practice area-specific procedures and terminology. This is a Cleveland need; can work remotely but will need to go to the Cleveland office as needed. This temporary assignment is for a large project/deal closing.     
Job Type: Temporary/Project-based
      Compensation: $35-$40/hour
Please email your resume in Word format to Bradley.shipp@trustarray.com for immediate    consideration. 
Job Title: Estates and Trust Paralegal
Job Description: Our client is looking to hire 1-2 experienced Trusts and Estates paralegals with experience in estate planning or estate and probate administration. Job is onsite in either Cleveland or Westlake area. Candidate must have at least three years of estate planning or probate administration experience. Ideal candidate will have excellent client-service skills and be able to work well within a team. Strong research and investigative drive while managing multiple deadlines is a must. Preferred candidates will have an associate or bachelor's degree.
 Job Type: Full-time Placement
 Compensation: $60,000-$90,000 annual salary plus benefits
Please email your resume in Word format to Bradley.shipp@trustarray.com for immediate    consideration.
Job Title: Senior Corporate Paralegal
Job Description: Seeking an experienced Senior Corporate Paralegal for an outstanding law firm. The ideal candidate will have a minimum of 5 years of corporate paralegal experience with a law firm and will join a team of transactional attorneys, paralegals, and other support staff. Responsibilities include assisting with all stages of corporate formations/organizations, and the preparation for and closing of various corporate transactions, including mergers and acquisitions and real estate transactions. Maintaining corporate records, obtaining necessary corporate documents, drafting, reviewing, and filing deeds for real estate transactions as well as handling all aspects of corporate governance filings for corporations/entities, including preparing tax filings. Must have experience with general corporate transactions, real estate, mergers and acquisitions, tax, etc., and experience with closing large-scale, complex transactions. A Paralegal Certificate or Associate Degree is required; Bachelor's Degree is preferred. 
Job Type: Full-time Placement
 Compensation: $60,000-$90,000 annual salary plus benefits
Please email your resume in Word format to Bradley.shipp@trustarray.com for immediate    consideration. 
Aug. 15, 2022 – Part Time Paralegal Needed at Pilawa & Brennan 
Pilawa & Brennan, Co. LPA, a small, boutique litigation firm, is seeking a part-time paralegal. The firm handles a wide variety of cases from simple personal injury cases to complex construction cases to catastrophic losses. We are seeking a paralegal who will assist with file organization, document preparation, copying, scanning, client communication and billing. We are willing to work with the individual to create a schedule that works around school (current students are welcome to apply). While we would prefer the individual have some familiarity with litigation, we would be willing to train someone. Attention to detail and accuracy is required. Salary is negotiable based on experience. Please send resumes to Kimberly Brennan, Esq. at kbrennan@pilawabrennan.com.  
Aug 12, 2022 - Superstar Office Assistant Needed
National law firm based in Cleveland (Old Brooklyn) seeking a SUPERSTAR paralegal student to join our team. This is a great opportunity for personal growth and professional development with a very fast- growing disability (SSD/SSI/LTD) practice. 
Responsibilities for this part time position (~20 hours per week) include but are not limited to sorting/inputting daily mail into case management software, processing outgoing mail and assisting our Operations team with other tasks. Additional projects may be assigned based on candidates interests and talents. 
Requirements: up-beat, friendly & professional disposition. Must be self-motivated and able to work without constant supervision. You must like donuts. 
Please disqualify yourself from applying if you are not willing to be a team player, are unable to take constructive criticism, or get easily frustrated.  Further, please do not apply for this position if you do not take pride and ownership in your work. 
Compensation will be $13/hour. 
The following instructions are very important, so please read them carefully and make sure you follow specific directions—any deviance from these requirements will result in disqualification of your application. Please submit resume, in .pdf format, for further consideration to Catherine Skalla (Director of Operations) at cskalla@linerlegal.com. The subject of your e-mail containing resume must read "Superstar Office Assistant Application". Please also identify your favorite flavor of donut in the first line of your e-mail. Please be conscious that candidates who use mail, phone, walk-in or any other method for applying or following-up with an application will be automatically disqualified.
Aug. 3, 2022 - Experienced Paralegal Needed for High Volume Plaintiff Firm
Candidates must have experience in electronic filing, preparing and responding to discovery, and organizing and maintaining a large caseload. Needles and Worldox experience is helpful. Qualified candidates will be expected to assist attorneys on files from inception through trial. The candidate must demonstrate initiative, independent thinking and the ability to multi-task.
Salary $40-50k, Medical, HSA, Dental, Vision, 401k, Firm 401k Contribution, Holidays and PTO.
Send resumes to partner Kenneth P. Abbarno  kabbarno@dicellolevitt.com
July 22, 2022 - Intellectual Property Paralegal Needed at Renner Otto
Position Description
Renner Otto, an intellectual property (IP) law firm located in Cleveland's Playhouse Square, is seeking an Intellectual Property Operations Specialist (role previously known as Legal Assistant) who will be responsible for assisting with processes relating to patent prosecution. IP Ops Specialists will be expected to perform all job duties with a commitment to providing outstanding value-added service to clients and maintaining an atmosphere of teamwork and continuous improvement.
Renner Otto is committed to "Advancing Innovation" because we believe that a great idea can change the world.  Our highly skilled and professionally recognized attorneys have focused on protecting those ideas since 1880. 
Essential Functions and Duties
The IP Ops Specialist position supports attorneys in the overall operations of the firm.  Responsibilities include the following:  
Performs daily maintenance and overall operation of patent prosecution for assigned attorneys
Drafts documents and letters using proper templates
Manages legal documentation and correspondence in strict confidence
Integrates new files and records in the client/matter database
Processes incoming mail/emails/faxes from clients, foreign associates, and intergovernmental agencies worldwide
Implements and improves upon administrative processes for more efficient workflow
Participates in team meetings with a focus on problem solving and contributing new ideas
 Required Skills
Communication - Ability to communicate clearly and accurately both verbally and in writing.
Computer/Technical - Expertise in MS Office products, docketing systems, firm management/e-billing software, etc. Technology savvy with a preference for working digitally
Organization/Planning - must be able to create schedules, manage multiple priorities and accurately track extensive details.
Legal knowledge - Knowledge of a variety of legal documentation. Knowledge of patents, trademarks, and intellectual property strongly preferred.
 Critical Competencies
Detail Oriented – Shows a high level of care for the quality of the work and the accuracy of detailed information.
Flexible – Able to manage multiple priorities and respond quickly/positively to shifting demands and opportunities; ability to work under tight deadlines and handle multiple, detailed tasks.
Learning Agile – Proactively learns new skills, willing/able to learn new technologies, open to feedback and willing to take direction
Team Oriented – Prefers working in a team environment. Establishes and maintains good working relationships. Willing to help others and share knowledge and expertise.
Professional – Communicates and behaves in a way that reflects positively on the firm and creates a great client experience.
Demonstrates discretion – Can be trusted to handle confidential information discreetly.
Problem Solving – Takes initiative to find ways to do things more simply and effectively
Critical Thinker – Has the ability to analyze a situation and determine priority level, identify problems requiring attention, and suggest solutions.
 Basic Qualifications
1-2 years prior experience (or equivalent formal education) in a legal administrator/paralegal position or other position requiring complex, high-volume work that requires the ability to maintain information with accuracy and reliability.
High School Diploma required.
Demonstrated proficiency in using software technology including Microsoft Word, Outlook, Excel, and IP docketing software.
 Preferred Qualifications
Bachelor's degree and/or Paralegal certification preferred, or
3+ years of experience in the field of intellectual property with a law firm and/or in-house counsel as an assistant or paralegal.
For more information, please contact cmohar@rennerotto.com.
July 14, 2022- Paralegal Needed in Beachwood
The Dickson Firm is a thriving law firm located in Beachwood, Ohio that represents Nursing Home Residents and their families when the resident has been neglected or abused. We are looking for a litigation paralegal to join our team. We try many of our cases in Court. We handle cases all over the state.
We are interested in hard-working, detail-oriented people who want to join a successful team.
Responsibilities include: answering written discovery requests; scheduling; drafting and editing correspondence; drafting and editing motions and briefs, the review and organization of medical records and other records; document review and case analysis, legal research and writing; jury trial support; jury trial preparation.
We offer a flexible schedule, a competitive salary and full health care benefits.
If you are interested, please send a cover letter explaining why you are interested in the job and your resume to BlakeDickson@TheDicksonFirm.com. 
July 8, 2022 - Office Manager/Administrative Assistant Needed in Cleveland, OH
The Office Manager is responsible for: Assisting the managing partner with various tasks and ensuring that the tasks are completed on time and in accordance with quality guidelines. Other job duties include managing email and written correspondence, creating and maintaining client files, scheduling attorney and client meetings, preparing and filing various legal documents and motions and handling clerical tasks.
Basic Banking and Accounting duties.
The ideal candidate for this position will be detail oriented, proficient word processing, time efficient and able to multitask and prioritize.
Assertive self-starter who can work well with minimum supervision, including days of managing the office independently when mediators are working outside the office
Extremely well organized
Ability to juggle and prioritize multiple tasks in a fast-paced work environment
Availability to travel to bring materials short distances via car
Team player with a positive, proactive and conscientious attitude
Strong communication (phone, email and in-person) skills
Strong typing skills (50 WPM minimum typing speed), for detailed, fast-paced note-taking on phone calls
General tech-savvy (e.g., Microsoft Office, website updating, problem-solving of WiFi or printer issues)
Zukerman, Lear & Murray Co., L.P.A. Office Manager Education Requirements:
Bachelor's Degree Preferred
Job Type: Full-time
Salary: $30,000.00 - $40,000.00 per year
Benefits:
Health insurance
Paid time off
Schedule:
8 hour shift
Monday to Friday
COVID-19 considerations: COVID-19 Vaccination is required for this position.
Experience:
Microsoft Office: 1 year (Preferred)
Customer Service: 1 year (Preferred)
Please email amb@zukerman-law.com for more information. 
July 1, 2022 - Litigation Paralegal Needed in Middleburgh Heights
Phillips & Mille seeks a highly motivated Litigation Paralegal in its Middleburg Heights office.
The candidate will be responsible for assisting with all aspects of litigation. The position entails performing legal research; helping to draft motions, pleadings, and discovery; filing the same with the courts; organizing files; answering incoming calls; scheduling depositions, managing the firm's litigation docket; preparing correspondence; and communicating directly with clients to schedule matters and keep them apprised of developments in their cases. The candidate must possess the ability to communicate professionally, be highly organized; have the ability to prioritize and handle multiple assignments; and have experience with legal software such as Amicus and Worldox as well as experience with Word, Adobe Acrobat and Excel. This is an excellent opportunity to join an established firm and grow within a thriving practice. 
Phillips & Mille Co., LPA is a full-service law firm with offices in Middleburg Heights and  Lakewood. The attorneys at Phillips & Mille Co., LPA are committed to providing personalized and quality legal services and maintaining relationships with our clients. 
Phillips & Mille Co., L.P.A. offers a competitive salary, health insurance and 401(k).
If interested, please submit your resume and cover letter, including salary requirements to:
Phillip J. Henry at phenry@pmlawyers.com
June 30, 2022 - Personal Injury Paralegal Needed in Middleburg Heights
Phillips & Mille seeks a highly motivated Personal Injury Paralegal in its Middleburg Heights office. The ideal candidate must have at least five years prior experience in personal injury.  The candidate will be responsible for managing all stages of personal injury claims, including client intake, requesting and organizing medical records and bills, preparing medical record summaries, preparing formal demand letters, maintaining and organizing file documents, preparing litigation filings and discovery, assisting with trial preparation, and negotiating subrogation lien payoffs.  The ideal candidate will also have experience with legal software such as Amicus and Worldox as well as experience with Word, Excel as well as excellent communication and organizational skills. This is an excellent opportunity to join an established firm and grow within a thriving practice. 
Phillips & Mille Co., LPA is a full-service law firm with offices in Middleburg Heights and  Lakewood. The attorneys at Phillips & Mille Co., LPA are committed to providing personalized and quality legal services and maintaining relationships with our clients. 
Phillips & Mille Co., L.P.A. offers a competitive salary, health insurance and 401(k).
If interested, please submit your resume and cover letter, including salary requirements to:
Phillip J. Henry at phenry@pmlawyers.com
June 28, 2022 - Ross, Brittain and Schonberg is Seeking a Workers' Comp Paralegal
Ross, Brittain & Schonberg represents management in all aspects of Labor Law, Employment Law, Workers' Compensation and OSHA matters. Our client base includes a range of large, publicly traded companies, as well as privately held industrial, retail, construction and service companies. Our attorneys and paralegals possess both knowledge and experience in the complex and interrelated areas of labor, employment and workers' compensation law that promotes an all-encompassing approach to the full management of workplace issues. We have the depth and experience of a large firm and the cost-effectiveness, attention and creativity of a smaller firm. 
 Duties/Responsibilities:
Administrative and Litigation Paralegal for a fast paced, high volume workers' compensation defense practice.
Must be able to multi-task and handle a large case load. Knowledge of civil and local rules a plus.
Level of skill in various litigation and administration proceedings.
Experience with reviewing and analyzing medical records a plus. 
Qualifications/Requirements:
Paralegal degree needed
Prior Experience in workers' compensation a plus
Zero years of experience necessary 
Benefits:
Competitive salary
401K
Profit Sharing
Bonuses
Paid Vacation 
Location of Employment (2 positions available):
Cleveland - 6480 Rockside Woods BLVD Independence, Ohio 44131
Columbus - 670 Meridian Way Westerville, Ohio 43082 
Travel Required for Job:
Interstate travel
Hours & Schedule:
40 hours work week 
Compensation Range:
TBD
For more information please email mnykulak@rbslaw.com
June 24, 2022 - Probate Paralegal Needed in Independence
A paralegal with 1-2 years of probate experience is needed for a small firm in Independence.  For more information or to submit your resume, please email djklonowski@aol.com. 
June 13, 2022 – Billing Administrator Needed 
Buckley King is seeking a motivated, detail-oriented individual to join its Accounting group in Cleveland and work with some of the nicest people in the legal field! The ideal candidate will manage the billing process, and work directly with attorneys, their assistants, and other timekeepers to prepare client billings, electronic billing submissions and follow-up, as well as client/firm reporting in accordance with established firm, department and client policies and procedures.
Responsibilities also include:
Prepare monthly and ad-hoc prebills for attorney review and approval with an emphasis on accuracy and timeliness
Review prebills to ensure matters are compliant with client outside counsel guidelines and/or electronic billing requirements
Confirm that rates and any fee arrangements are reflected properly on all matters
Prepare, submit, track and monitor e-bills and promptly identify and resolve any issues
Analyze and address rejections and reductions as they arise
Monitor and follow-up on A/R balances
Proactively communicate with attorneys regarding matter billing status and other ad-hoc inquiries
Research and respond to inquiries regarding billing issues or problems
Identify and escalate billing-related issues to Firm management
Ensure that all aspects of billing are completed in a timely and accurate manner
Maintain a superior level of client service and strive to be a resource for internal and external clients
Perform other duties and responsibilities as directed 
Qualifications
High school diploma or equivalent required
Associates degree or higher preferred
2-3 years' experience in a billing coordinator or similar role in a law firm or professional services firm
Knowledge and familiarity with e-Billing functions across a variety of client billing platforms
Strong organizational, analytical, critical thinking, and time management skills
Must maintain a high standard of client service
Excellent communication skills
Proactively approach tasks
Attention to detail
Ability to work independently
Ability to appropriately handle confidential and sensitive information 
Email cover letter and resume to recruiting@buckleyking.com
June 9, 2022 – Paralegal Needed 
Buckley King is seeking an experienced paralegal to join its Cleveland office. This individual will work closely with attorneys in many fields, but will have a heavy emphasis on litigation. The ideal candidate is an organized, ambitious self-starter who takes initiative to achieve team goals. 
RESPONSIBILITIES:
Perform paralegal duties, including drafting, review, and analysis of legal documents
Compile information concerning specific issues, and prepare written summaries, statistics, charts and/or graphs which clearly detail the findings
Prepare timelines and demonstratives
Interact professionally within the firm, and with external entities, including expert witnesses, corporations, or other law firms to gather information or data
Perform legal, factual, or legislative research
Organize, develop, or maintain data and documents
Other duties as assigned 
EDUCATION/TRAINING
Bachelor's Degree or certificate of completion of an accredited paralegal program preferred
Proficient in Lexis, Microsoft Office Suite, Adobe, OCR, document management systems, data room management, video-conferencing platforms, Ohio federal and state court e-filing and redaction requirements, eDiscovery protocols and systems, and deposition coding technology 
REQUIREMENTS
Minimum of five years paralegal experience in a law firm, in-house counsel, etc.
Understanding of legal process, court systems, rules of procedure, familiarity with legal terms and concepts of general and business litigation preferred
Significant knowledge and experience in discovery aspects of litigation in order to function independently and perform initial review, drafting, and analysis
Experience in electronic discovery in litigation
Demonstrated ability to utilize, create, or establish procedures
Critical thinking skills, decisive judgment, and ability to work with minimal supervision
Able to organize, prioritize, and complete tasks within time constraints
Teamwork, communication skills, and strong attention to detail are necessary values 
Email cover letter and resume to recruiting@buckleyking.com
June 6, 2022 - Daray Law, LLC has a Paralegal Position Available
Sole practitioner in need of a paralegal.
Responsiblities include:
Answering multi-line phone
Calendaring and scheduling all new inquiry appointments, client appointments and court hearings
Drafting of legal documents, correspondence, emails, etc.
Assisting the attorney in trial prep
Responding to and issuing discovery requests
If interested please reach out to jess318@hotmail.com 
June 6, 2022 - Part-time Legal Assistant/Paralegal Needed in Cuyahoga Falls
Heydorn & Crull is a small firm in Cuyahoga Falls specializing in bankruptcy, probate, wills, trusts and misdemeanor criminal prosecution. This firm is currently seeking a part-time legal assistant/paralegal.  If interested, please contact Chris Crull at 330-461-9932 or chriscruss10@gmail.com. 
May 31, 2022 - Legal Assistant Needed in Downtown Cleveland
Location:
Downtown Cleveland
Solo Practice – Criminal Defense 
Hours:
32 hours per week (4 days per week – flexible) 
Pay:
$16 an hour – negotiable based upon experience.
Paid Holidays
Paid Parking Downtown 
Basic Qualifications:
High School Graduate/GED
Experience in a legal/office setting preferred 
Miscellaneous Expectations:
Interpersonal skills: must be comfortable maintaining ongoing personable and professional contact with clients, various courts and attorneys.
As you will be working for a solo practice it is important that you be reliable, honest, respectful and responsible.
Preference will be given to those individuals who are quick learners, can work independently with initiative to problem solve, and are proficient and comfortable navigating new technology. 
Job Duties:
Basic administrative duties including answering and directing phone calls to the attorney as necessary.
Document maintenance: maintaining an accurate and detailed paper an electronic file for each case.
Drafting motions, notices, pleadings, memoranda, and correspondence through use of pre-drafted templates and those of a dictated nature.
Filing various legal documents with courts on the municipal, state and federal levels either by electronic filing, facsimile filing, or paper filing.
Basic legal research – May need to conduct research to be familiar with applicable civil rules for various local courts as it pertains to discovery and filing requirements. 
To submit your interest for this position, please send a cover letter and resume to Attorney Michael Peterson at michaelhenrypeterson30@gmail.com. Be sure to include your salary requirements and explain your relevant experience and/or skills which will make you an excellent candidate for this position.
May 27, 2022 - Legal Aid Society is Seeking a Family Law Paralegal
The Legal Aid Society of Cleveland is growing to serve more clients!  Legal Aid is seeking paralegals who will work closely with and support Legal Aid attorneys.  Paralegals conduct client interviews, maintain client contact, and engage in community outreach.  They assist attorneys in all aspects of advocacy and litigation, including legal research, drafting of pleadings, letters, and other documents.  Paralegals manage electronic and paper case files and conduct office management responsibilities.  They play an important role in the organization.  Legal Aid specifically anticipates hiring paralegals to fill positions focused on:
Housing

 

– representing tenants to retain affordable, safe housing.  This will include implementing Cleveland's new ground-breaking

 

Right to Counsel

 

legislation.
Family

 

– representing domestic violence survivors in Domestic Relations and Juvenile Court.  This includes representation in divorce, custody, and protection orders
Medical-Legal Partnerships

 

– working in collaboration with medical providers to address social determinants of health, including Legal Aid's new partnership with the Cleveland Clinic.
Economic Justice

 

– including representing low-wage workers in employment, unemployment and tax, bankruptcy, consumer, and foreclosure.
Education

 

and

 

Public Benefits

 

– ensuring access to education for children at risk, including those with special needs and those in the foster care system and access to public benefits.
About Legal Aid:  Legal Aid is a non-profit law firm whose mission is to secure justice and resolve fundamental problems for those who are low income and vulnerable by providing high quality legal services and working for systemic solutions.  Founded in 1905, Legal Aid is the fifth oldest legal aid organization in the United States.  Legal Aid's 115+ staff members (65+ attorneys) and 3,000 volunteer lawyers use the power of the law to improve safety and health, shelter and economic stability for low-income clients.  Legal Aid serves a diverse northeast Ohio population in Ashtabula, Cuyahoga, Geauga, Lake and Lorain Counties.
The Successful Candidates will:
Be committed to Legal Aid's mission
Have experience working with low-income individuals and communities
Hold an associates degree or equivalent; bachelor's degree strongly preferred
Have 1+ year of office experience, preferably in a legal environment
Have strong organizational and time management skills with strong attention to detail
Exhibit excellent verbal and written communication skills
Demonstrate proficiency with Microsoft Office Suite and case management software
Have a high level of professionalism
Spanish fluency is strongly preferred
Compensation & Benefits:  The starting Paralegal salary is $45,436+ DOE (Paralegal IIs salary starts at $51,438+ DOE)
In addition, Legal Aid offers an exceptional benefits package including healthcare insurance, life insurance, disability insurance, retirement savings plan with up to 13% employer contribution, paid time off, and much more.  Please visit Legal Aid's "careers" section at www.lasclev.org for more information.
To Apply:  Send a cover letter, resume and writing sample to: careers@lasclev.org, listing "Paralegal" in the subject line of the email.  Applications will be accepted on a rolling basis until positions are filled.  Only candidates selected for an interview will be contacted directly.
May 23, 2022 - Paralegal Needed in Rocky River
Laubacher & Company in Rocky River is seeking a full time paralegal to assist Attorney Eric Laubacher with his cases. This position is full time and on site. Laubacher & Co. offers full health insurance, including dental and vision. Salary varies depending on experience, ranging from $35,000 to $48,000. Resumes can be sent to jlaubacher@laubacherlaw.com.
May 12, 2022 - Trust Development Coordinator Needed in Middleburg Heights
Community Fund Ohio is a small nonprofit that administers trusts for Ohio residents with disabilities. Our main office is in Middleburg Heights, Ohio. We are looking for a candidate to join our Joinders and Deposit Department as a Trust Development Coordinator.
This position requires someone who is quick on their feet, resilient, compassionate, friendly, a multi-tasker, offers attention to detail, is a quick learner, able to work independently (and closely with a team), and organized.
It is required that the candidate have basic computer knowledge and at least two years' experience with Microsoft Office Suite, customer service, and data entry. 
Preference will be given to candidates who have prior work experience in a law office as a legal assistant or paralegal. Although it is preferred, we will consider candidates working at a title agency, in banking, as a mortgage loan specialist, or other document review/analytical profession. We will consider candidates who are new to this area, fast learners, and teachable concerning in-depth training.
The general duties include reviewing new trust forms to ensure they meet our standards, communicating with attorneys and staff to resolve issues, answering questions by phone, Zoom, or in person posed by individuals with disabilities, their loved ones, and their attorneys, regarding the establishment of new trusts, and coordinator deposits with our Trustee. The candidate must be able to maintain detailed status spreadsheets in Excel; communicate with our Trustee and other partners to ensure accurate trust administration; prepare detailed written correspondence; receive written or verbal communication from third parties and successfully identify how to apply that information; troubleshoot issues, data entry using proprietary software, work closely with the Executive Director and other staff, and any other responsibilities identified by the Executive Director
The necessary skills include: ability to sit at their desk for the scheduled work hours and lift up to 35 pounds, efficient and accurate data entry, professional verbal and written communication, strong experience with Microsoft Office including Word, Excel, and Outlook, clerical and copier/scanner experience, able to work independently and within a team, friendly and confident with positive telephone demeanor, able to self-manage workflow and multi-task during slow and busy periods, organized and detail-oriented with minimal errors, and is committed, reliable, and punctual.
Our office hours are 8:30 am to 4:30 pm on Monday through Friday. Staff members can choose from a 7am, 8am, or 8:30am start time. This is a 37.5-hour workweek (30-minute unpaid lunch). This position requires in-person attendance at our office.
This position offers an hourly rate of $19-22 based on prior work experience, an average of 13 annual paid holidays, as well as, PTO (personal time off). We also offer participation in our SIMPLE IRA plan with a 3% employer match after one year of continuous employment. We do not currently offer health insurance and there is not an option to work remotely.
Our staff are an integral part of our success, serving people with disabilities and their families on behalf of Community Fund Ohio. Our ideal candidate will process work requests quickly, accurately, and professionally.
This is an URGENT HIRE. Please send resumes to:
Vanicsa Ford, HR Manager
Community Fund Ohio
17900 Jefferson Park, Suite 102
Middleburg Heights, OH 44130 
Subject Line: Tri-C, Trust-Development Coordinator applicant 
Email: vanicsa@communityfundohio.org
May 6, 2022 - Paralegal Needed in Amherst
Small to Medium-sized law firm seeking to hire paralegal candidate for our Amherst, Ohio Office.
Our areas of practice include: Family Law (Divorce and Custody), Criminal and Traffic Defense, Wills, Estates and Trusts, Business Law and General Civil. 
We are hard-working, but like to have fun at work. We strive to foster a work culture of camaraderie, lifetime learning, professional development, and mutual support that we believe is unique and should be coveted within our industry. 
The ideal candidate will possess excellent written and verbal communication skills, have excellent organizational skills and attention to detail, and posses and understanding of legal language and principles, research methods, court pleadings and processes, and other related matters, and is able to work in a demanding, team-oriented environment. 
0 to 5 years of experience.
Starting Salary range: $24,960 - $31,200 based on experience. 
Duties - Drafts legal documents including routine pleadings and motions, affidavits, subpoenas, and discovery; files motions and pleadings according to judicial procedures.
Drafts memoranda, correspondence, presentation materials, spreadsheets and compilations of data as requested. 
Education and experience – Associate Degree of Paralegal Studies strongly preferred/related experience preferred. 
Resume and writing sample (optional) 
Inquire by email to: