Paralegal Job Opportunities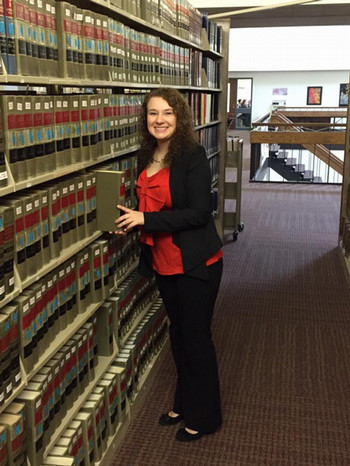 Sept. 26, 2023 - Part-Time Paralegal Needed in Independence
Pay: $20-25/hr
Workers' Compensation Paralegal

Duties:
- Conduct clerical duties, including proofreading legal documents and correspondence
- Answer phone calls and maintain phone etiquette with clients and other legal professionals
- Transcribe dictations and prepare legal documents
- File legal documents with the court or other relevant agencies
- Perform administrative tasks as needed

Requirements:

- MUST have Experience in Workers' Compensation (claimant/employee)
- Strong attention to detail and ability to proofread accurately
- Excellent phone etiquette and communication skills
- Proficiency in transcribing dictations and preparing legal documents
- Strong organizational skills and ability to manage multiple tasks simultaneously

Benefits:
- Competitive salary based on experience level
- Retirement plan with employer match program
- Paid time off for vacation, sick leave, and holidays

If you meet the requirements listed above, please submit your resume for consideration. We are an equal opportunity employer.

Job Type: Part-time

Pay: $20.00 - $25.00 per hour

Benefits:

Flexible schedule
Free parking
Paid sick time
Paid time off
Ability to commute/relocate:

Independence, OH 44131: Reliably commute or planning to relocate before starting work (Required)
Experience:

Microsoft Office (Preferred)
Work Location: In person
Click here for application link.
Sept. 26, 2023 - Paralegal Needed at the Cuyahoga County Prosecutor's Office
Pay: $50,883
Department: CFS Division Reports to: Unit Supervisor/Managing APAs

Hours: 8:30 AM – 4:30 PM
Monday - Friday

REQUIREMENTS:
Associate's degree in Paralegal studies and one (1) year of experience including secretarial/technical work, preferable in a law office, or an equivalent combination of education, training, and experience.

Proof of completed COVID-19 vaccination.

FUNCTION:
The purpose of this position is to perform varied and complex paraprofessional legal research, records management, and office administrative support functions on behalf of the County Prosecutor's Office.

RESPONSIBILITIES:
Types legal pleadings, motions, documents, and correspondence for assigned attorneys.
Performs specialized legal administrative duties including preparation and management of complex legal documents; assists in preparing for pre-trials and trials, including issuing subpoenas and obtained necessary records; prepares a variety of other materials for review by professional and managerial staff; coordinates and may perform related statistical and clerical work.
Performs routine legal research and compiles data from references; coordinates the gathering of information from various departments in the preparation of legal documents; prepares discovery for cases and organizes cases for trial; reviews and proofreads legal documents to ensure necessary provisions are included; prepares presentations for use in court, meetings and conferences.
Coordinates and monitors overall office activities and workflow ensuring timely completion of clerical and administrative support; performs administrative detail, such as coordinating and scheduling activities; tracks and updates files and calendars; acts as liaison with other departments; establishes and maintains confidential files and recordkeeping systems; organizes and maintains legal records and office files.
Drafts agendas for meetings and prepares posts and disseminates public notices, affidavits and transcripts to appropriate parties; serves as contact or resource person in answering questions and complaints; provides information related to the work of the office to the public, law firms, Courts, and various entities; maintains calendars, processes documents; maintains and updates legal manuals and resource materials; performs other general clerical services.
Performs all other duties assigned, delegated or required of the Paralegal as well as those prescribed by law.
Conducts business in accordance with federal statutes and guidelines, the Ohio Revised Code, and the Ohio Administrative Code.

EXPERIENCE AND SKILLS:
Requires the ability to perform basic level of data analysis including the ability to review, classify, categorize, prioritize and/or reference data, statutes and/or guidelines and/or group, rank, investigate and problem solve. Requires discretion in determining and referencing such to established standards to recognize interactive effects and relationships.
Ability to comprehend a variety of informational documents including emails, case law reports, court filings, motions, opinions, discovery requests, files and correspondence.
Ability to comprehend a variety of reference books and manuals including websites, legal dictionaries, court rules, and policies and procedure manuals.
Ability to prepare database entries, memos, charts, correspondence, presentations, logs and other job-related documents using prescribed format and conforming to all rules of punctuation, grammar, diction and style.
Ability to develop and maintain effective working relationships with a variety of individuals within and outside the Department.
Ability to use and interpret basic legal terminology and language.
Ability to communicate with the public, case workers, case parties, co-workers, supervisors, attorneys, court personnel, law enforcement personnel, and employees and managers of other departments.
Ability to add, subtract, multiply, divide, and understand and use percentages and decimals.
Ability to type, word process, and operate a variety of automated office machines including computers and peripheral equipment.
Must be able to conduct business in accordance with federal statutes and guidelines, the Ohio Revised Code, and the Ohio Administrative Code.
Must possess qualities of fairness, a strong work ethic, have the highest integrity; and must also maintain the confidentiality of law enforcement and investigatory records and other confidential information.

APPLICATION PROCEDURE:
Upload a letter of interest including your e-mail address, resume, and three professional references via the online application process at: http://prosecutor.applicantstack.com/x/openings

All materials must arrive no later than 8:30 AM on October 6, 2023

All submissions of applications, resumes, and/or supporting documentation received by the Cuyahoga County Prosecutor's Office are considered public record and may be released upon the public's request

ALL JOB OFFERS ARE MADE WITH THE UNDERSTANDING THAT PROSPECTIVE EMPLOYEES PASS A DRUG TEST AND A CRIMINAL BACKGROUND INVESTIGATION PRIOR TO BEING HIRED.
Click here for application link.
Sept. 19, 2023 - Part-time Paralegal Needed in Middleburgh Heights
Part time paralegal needed for Middleburg Heights solo practitioner law firm. Approximately 20-25 hours per week in the office. Responsibilities will include answering phones, scheduling, working with clients, and assisting attorney with court preparation. Please email resume to Brent@brentcicerolaw.com 
Sept.11, 2023 - Part-time Front Desk Position Available
Our goal is to find a motivated, pleasant, and dependable candidate who can assist us in providing our clients with superior customer service.   
If you are a current student, recent graduate, or interested candidate looking for part time work and flexible hours, we are offering an opportunity for employment to engage and improve your office skills with our established law firm.   
Skill set should include office level phone skills, ability to maintain calendar and scheduled activities, basic Word and data entry capabilities, and the capacity to maintain and promote a professional and positive attitude. 
Flexible Weekday hours - 10 to 20 hours weekly.  Starting pay ranges from $13.00 to $15.00 per hour, depending upon experience. 
Responsibilities:
Greet and assist onsite guests
Answer inbound telephone calls
Plan and schedule appointments and events
Basic Word Processing and data entry
Assistance with other office tasks 
Qualifications:
Ability to prioritize and multitask
Excellent communication skills
Strong attention to detail
Professional and Positive Attitude
We are an established local law practice motivated to provide superior customer service and an engaged work experience.
Please email nikolinah@kirnerandboldt.com for more information.
Sept. 5, 2023 - Growing Law Firm in Strongsville Seeks Legal Assistant
The Position:
This is a full-time, on-site legal assistant/paralegal position based in our Strongsville office.  The successful candidate will work closely with the firm's attorneys, paralegal, and clients in managing a variety of job responsibilities.
Responsibilities:
Handle matters in a confidential and professional manner.
Interact with clients and others in-person and via telephone and e-mail.
Assist with the daily operations of the law firm including managing office supplies, bank deposits, recording financial transactions into QuickBooks (including paying bills), billing for services provided by the law firm, processing incoming and outgoing mail for the law firm, and other administrative duties such as copying, data entry, filing, and scanning.
Prepare and finalize correspondence and other documents including pleadings, deeds, etc.
Open, maintain, and close client files in accordance with firm policies.
Assist as needed with the execution of documents at the firm's satellite office in Hudson.
Other duties as assigned.
Qualifications/Skills:
Paralegal certificate or two (2) or more years of experience in a law firm or legal office environment handling matters in at least one of the following areas: civil litigation, real estate, small business representation, estate planning, and/or probate administration.
Detail oriented with initiative.
Excellent customer service skills.
Strong written and verbal communication skills.
Ohio Notary certification a plus.
Knowledge of Microsoft Office Suite (Word, Excel, Outlook) and Adobe Acrobat.
Experience with time and billing software (such as PracticePanther) and accounting software (such as Quickbooks) a plus.
Reliable transportation is required.
Compensation:
The annual salary range of $45,000 to $60,000, depending on experience.
Annual raises and holiday bonuses depending on performance.
Mileage and expense reimbursement.
Paid time off.
Medical insurance reimbursement offered.
About Us:
Krueger and Valente Law, LLC is a diverse law practice with a client focused approach in a casual work environment.  Our practice is primarily focused on civil litigation, real estate matters, probate administration, estate planning, and small business representation. We do not handle personal injury, domestic relations, or criminal law matters.  Our principal office in Strongsville, Ohio is easily accessible and provides free on-site parking.
Apply Now:
For immediate consideration, please submit your cover letter, resume, and any additional materials you would like considered, to hiring@kandv-law.com. We are an equal opportunity employer.
Aug 31, 2023 - Administrative Assistant/Legal Secretary Needed in Independence
Looking for a job with great pay, flexibility, and opportunity? Baron Law LLC is hiring for a full-time administrative assistant that will be responsible for various roles. The position is an in- office / hybrid remote position, 40 hours per-week. The successful candidate will be responsible for office support, marketing, answering phones, client engagement, data entry, drafting, social media management, assisting with presentations, and other administrative roles. The unique feature of this position is that no day will be the same. Every day will require a variety of tasks and responsibilities
Benefits
- Full-time
- Flexible hours
- $40,000 - $50,000 salary depending on experience
- Retirement Matching
- Vacation Pay
- Health Insurance
- Positive work culture
- Growth potential
Responsibilities
The successful candidate will be responsible for a variety of office supporting roles including answering phones, data entry, drafting legal documents, managing spreadsheet and databases, and assisting in other office administrative roles. The candidate will also be responsible for coordinating, launching, and driving new and upcoming events. Additionally, he/she will maintain and implement the firm's other marketing initiatives, including Facebook, Instagram, Mail Chimp, contact lists, blogging, Google pages, website content, and more. The ideal person would be able to handle the following:
Answer phones, take messages, and general client correspondence.
Basic administrative support to file, organize, scan, copy client materials, etc.
Enter data into software and prepare legal drafts using Microsoft word.
Create daily social media posts including Facebook, LinkedIn, Google Profile, and more.
Basic management of the firm's website, including uploading daily announcements, blogs, content, professional bios and photos, and images.
Responsible for collaborating with the Owner on the advertising including print, blogs, radio, television, and internet postings.
Creates and updates marketing materials and graphics, including firm logo, brand, ad templates.
Responsible for assisting, creating, and assembling pitch materials and presentations including powerpoint presentations.
Requirements
Strong written and verbal communication skills.
Creative thinker, excellent listener, decision maker, problem solver, takes initiative, demonstrates personal integrity and strong work ethic.
Flexible, solution-driven mindset with the ability to adapt in any setting.
Must be highly organized with meticulous attention to detail and the ability to multitask.
Excellent customer service focus and interpersonal skills.
Must be able to lift 40lbs.
Qualifications
Must be familiar with Facebook, Instagram, and LinkedIn,
Must be computer proficient with Microsoft Office 365, PowerPoint, Publisher and Excel, and Adobe
Minimum 2 years in professional services, marketing, or administrative position.
Not required but a background in estate planning or elder law would be a plus.
Not required but a background in AdWord campaigns and/or other marketing platforms would be plus.
Pay: $40,000-$50,000 per year.
Job Types: Full-time, Part-time
Pay: $40,000.00 - $50,000.00 per year
Benefits:
401(k) matching
Flexible schedule
Flexible spending account
Schedule:
Experience:
Social media management: 2 years (Required)
Administrative: 2 years (Required)
Work Location: In person
Click here to apply.
Aug 28, 2023 - Legal Assistant Needed at Stark Enterprises in Cleveland
The Legal Assistant is responsible for supporting and administering key functions of the legal department. With supervision, this position provides administration, support and service for a wide variety of legal functions, and performs related duties as needed, including but not limited to the following:
Assist attorneys and paralegals with formatting, saving and editing transactional and corporate legal documents, including but not limited to, leases, real estate purchase agreements, corporate organizational documents and agreements.
Data entry, manipulation and creation of documents from rough drafts or verbal instructions.
Draft correspondence including memoranda, letters and emails.
Maintain security of data and other sensitive and confidential information in accordance with regulations that govern said data and information.
Manage internal document approval process, including routing leases and amendments.
Obtain signatures on a variety of legal documents from officers and other executives.
Organize and maintain documents, indexes, project and transaction files.
Create purchase order commitments and process invoices.
Mail, fax, or arrange for delivery of legal correspondence to internal and external parties, including outside counsel.
Maintain master department schedule.
Make photocopies and scans of correspondence, documents, and other printed matter.
Schedule meetings and assist with scheduling travel.
Assist lease administrators with tenant insurance certificate monitoring.
Maintains office supplies by checking stock and placing orders.
Ensures operation of department equipment by completing preventive maintenance requirements; calling for repairs.
Input of attorney billable time and reimbursable expenses.
Front desk coverage for receptionist during lunch breaks and PTO.
Performs other duties as necessary.
Education & Experience:
Associate Degree preferred.
5 years of similar experience, preferably in legal law firm or in-house legal department.
Familiarity with legal documents and terminology.
Proficiency with all Microsoft Office applications, including Outlook, Word and Excel.
Courteous and professional demeanor.
Self-starter/strong sense of discretion.
Proficient communicator and listener.
Ability to work independently, on multiple projects simultaneously and meet deadlines.
Detail oriented and focused on data integrity.
Strong work ethic and a positive attitude.
Ability to build strong internal and external relationships.
Knowledge of office equipment such as personal computers and multi-functional fax/copier machines.
Knowledgeable of corporate transactional and legal document layout and format.
Physical Demands
The physical demands described here are representative of those that must be met by an employee to successfully perform the essential functions of this job. While performing the duties of this job, the employee is regularly required to see, talk, and hear. The employee frequently is required to sit, stand, walk, type, use hands, and reach with hands and arms. This position requires the ability to occasionally lift up to 20 pounds.
Position Type and Expected Hours of Work
This is a full-time position. Days and hours of work are Monday through Friday, 8:30am to 5:30pm.
 Click here for the official listing and application link.
Aug 28, 2023 - Legal Assistant Positions Available at Reimer Law
Reimer Law Company, a business that has been around for 50+ years, is a full-service creditor's rights law firm with office in Ohio and Kentucky. We are looking for hardworking and dedicated individuals that are looking to continue to exceed our clients' expectations.
If you are a high energy person with a positive outlook, we want you to join our team!
Current openings in Ohio include a Foreclosure Legal Assistant and a Bankruptcy Legal Assistant.
Click here to view all openings.
Aug. 15, 2023 - Seeking Part-time Paralegal
Solo practitioner looking for a part-time paralegal to assist with guardian ad litem cases. Responsibilities may vary, but will include legal research and obtaining records from children's providers. Work will be done remotely and hours will vary, with no more than 10 hours a week. Please send resume to Jonathan Wilbur, Esq. at wilburguardian@gmail.com.
July 31, 2023 - Part-time experienced Paralegal needed for Eastside law firm
Jobseeker must be motivated, organized, and professional.
20-25 hours per week in office.
Please send resumes to tgoff@gross-gross.com. 
Experience in labor & employment law
Legal Research & writing strongly preferred
Experience with Lexis
Fluent in Microsoft Office
Experience with corporate contracts
July 27, 2023 - Litigation Paralegal Needed
McCarthy, Lebit, Crystal & Liffman Co., L.P.A. is seeking to hire an experienced paralegal to support our very busy litigation group. The ideal candidate for the litigation paralegal role will have at least 3-5 years of experience supporting a broad range of litigation practices as we expect this role to be more "generalist" in scope. This is a full-time position and includes benefits. 
Essential Duties 
Responsible for supporting the attorneys in our esteemed Litigation practice, covering a wide range of litigation practices at the firm, including general and/or complex commercial litigation, criminal defense, real estate, securities fraud, creditor and debtor claims, landlord tenant, white collar crime, personal injury, medical malpractice, and wrongful death.
Organize documents and coordinate document productions.

Conduct the Bates-stamping, redaction, duplication and indexing of documents.
Manage Summation database on electronic productions; categorize documents by subject matter, prepare a chronology of facts and create production charts.

Daily administration and servicing of clients, conducting legal and compliance research and document execution.
Responsible for basic legal research and document searches using traditional legal research technology.
Provide daily support for key clients as requests are made and serve as a point-of-contact for clients when primary attorney is unavailable.
Provide client service support by answering incoming calls and following up on requests.
Assist in drafting court pleadings
Prepare witness and matter materials for case preparation.
Prepare for and attend depositions and trials.

Organize exhibits, files, and all other supporting documents, coordinate trial set-up and logistics, assist attorneys in the courtroom by taking notes, handling exhibits, and marking documents referred to by counsel. 
Requirements 
Minimum 3-5 years' experience supporting a general litigation practice or other relevant practice groups doing equivalent work in a law firm or corporate law department.
Strong computer skills, including experience with Windows 7, Office 2010, and Juris, preferred, Summation and Lexis experience required.
Excellent written and verbal communication skills.
Organized self-starter with clear ability to demonstrate attention to detail.
Ability to work independently and meet deadlines, handling process or implementation complications as they arise with minimal direction or supervision.
Paralegal certificate preferred, though not required. 
About McCarthy Lebit 
Our culture is what separates us from the pack. It is performance based yet considerate of a healthy work-life balance. We share an unrelenting drive to exceed our clients' expectations and deliver them more peace of mind and time to focus on the things that matter most – their families, businesses, and personal well-being. Our rallying cry is Expect More, Get More. To do this, we rely heavily on collaboration, our collective experience, and diversity. 
We offer a comprehensive benefits package, a professional and friendly atmosphere, and competitive salaries. Our core benefits package includes: comprehensive health/dental insurance for families, a 401K savings plan (with a firm match), vacation, paid time off, family leave and a healthcare reimbursement plan.
Interested candidates should visit https://bit.ly/3rO2eJD to submit their application. 
July 18, 2023 - Real Estate Paralegal Opportunity
Ohio Real Title is a premier provider of title services to the financial, legal, and real estate communities. We are unique in the way we prioritize a work-life balance, show care to our employees, and operate by principles of trust and understanding. With a 20% growth rate over the last 5 years, we are looking for ambitious professionals to advance alongside the company. But don't worry; no matter how much the company grows, we never lose the feeling of family at ORT. We're not your typical title company.
The Paralegal position at Ohio Real Title focuses on supporting our legal team in the real estate closing process and requires critical thinking, precision, and a service mindset. The position includes a mix of research, legal drafting, and staff support. We are looking for an analytical, detailed individual who enjoys investigative legal work while supporting our close-knit legal team. 
Requirements:
Paralegal certification from an accredited program
Sample legal writing, such as legal memoranda or business correspondence
Experienced in using Microsoft Office 
Preferences:
Associate's or bachelor's degree in Paralegal Studies, Legal Studies, or in a related field
Ohio Notary commission
Experience in the title or escrow industry
Experience with legal databases, such as LexisNexis, Pacer, and Ohio Revised Code (ORC) 
Paralegal Job Tasks, Duties, and Responsibilities:
Comply with and enforce adherence to regulatory requirements.
Review and summarize legal documents such as trusts, powers of attorney, and business documents.
Draft legal documents, such as affidavits, briefs, pleadings, appeals, and contracts.
Research related to title matters, including research of online public records, court documents, Ohio Revised Code, and other internet sources.
Provide concise analysis of research data and prepare memoranda summarizing law and facts for requested legal topics.
Assist attorneys in the real estate closing process, such as by reviewing title documents and other title due diligence documents.
Support and assist attorneys in day-to-day company legal and compliance issues. 
This is not an exhaustive list of duties required for this position. A job description with further details can be provided upon interest. 
Paralegal Job Knowledge, Skills, and Abilities:
Ability to multi-task
Motivated and able to self-direct
Strong time management skills
High attention to detail
Strong interpersonal skills
Strong communication skills
Ability to work independently as well as in a team environment. 
Benefits:
Medical
Dental
Vision
Accident
Critical Illness
Hospital Indemnity
Voluntary Life
401(k) with guaranteed 3% employer contribution at no cost to employee
Paid Time Off 
Company-paid Benefits:
Short-term Disability
Long-term Disability
Basic Life
AD&D
We like to have fun, too!  Other perks include annual company events, company-wide contests, birthday and anniversary recognitions, annual reviews, and more! 
Ohio Real Title provides equal employment opportunities to all employees and applicants for employment and prohibits discrimination and harassment of any type without regard to race, color, religion, age, sex, national origin, disability status, genetics, protected veteran status, sexual orientation, gender identity or expression, or any other characteristic protected by federal, state, or local laws. 
June 28, 2023 – Paralegal Specialist Needed at the US Department of Justice
Positions available in Dayton, Cincinnati and Columbus
Pay: $48,335-77,341.
Duties:
If selected for this position, you will join a well-respected team as a Paralegal Specialist in the Civil Division of the United States Attorney's Office (USAO). Typical work assignments will include:
Reviewing and organizing complex factual material and other documentary data for investigations and trials.
Providing advice on the most efficient method for preparing legal documents.
Using tables and citation checking with efficiency.
Researching case law, statutes, regulations, court rules, policies, procedures, legal periodicals, and other legal authorities that are relevant to cases identified by attorney(s).
Preparing a variety of substantive legal documents to include trial subpoenas, interrogatory requests, and documentation relevant to acquiring evidence or testimony.
Developing and entering various case material into a computer database.
Preparing, developing, compiling, or maintaining jury instructions in preparation for trial.
Preparing exhibits for trial which typically involve a wide range of visual materials.
Providing litigation case management and organizing cases for court presentation.
Providing administrative support to assigned attorneys.
Responsibilities will increase and assignments will become more complex as your training and experience progress.
Requirements:
Conditions of Employment
You must be a U.S. Citizen or National
Initial appointment is conditioned upon a satisfactory pre-employment adjudication. This includes fingerprint, credit and tax checks, and drug testing. Continued employment is subject to a favorable adjudication of a background investigation
You must be registered for Selective Service, if applicable
If selected, you may be required to complete a one year probationary period.
You must meet all qualification requirements upon the closing date of this announcement.
Click here for additional details and to apply.
June 27, 2023 - Full-Time Paralegal Needed for Busy Litigation Practice in Beachwood
The Dickson Firm primarily represents nursing home residents and their families against nursing homes.
The successful candidate will be hard working, have an attention to detail, and get along well with others. 
This is a litigation position.  Responsibilities include; propounding written discovery requests, answering written discovery requests, requesting, organizing and reviewing medical records, drafting chronologies, requesting expert reports, filing, answering phone calls, talking with clients, issuing subpoenas etc.
The firm is hiring ASAP.  This is a great opportunity for a recent graduate.
Please send a cover letter and resume to blakedickson@thedicksonfirm.com. If you are a recent graduate, please include a copy of your transcripts.
June 20, 2023 - Intake Specialist Needed at the Legal Aid Society
Are you a people person? Detail-oriented? Savvy with technology? A quick study? Want to help a great organization provide legal assistance to low income individuals? 
The Legal Aid Society of Cleveland (Legal Aid) is seeking intake specialists who will play important roles in ensuring that low income individuals have access to high quality legal assistance. 
Intake Specialists are the first exposure our clients have to Legal Aid. They interview applicants while documenting their particular need(s) and gathering important information to help us assess our ability to provide services. The Intake Specialists also provide information, advice and brief service to clients, under the supervision of an attorney. Intake Specialists are our front line staff. 
About Legal Aid: Legal Aid is a non-profit law firm whose mission is to secure justice, equity, and access to opportunity for and with people who have low incomes through passionate legal representation and advocacy for systemic change. Founded in 1905, Legal Aid is the fifth oldest legal aid organization in the country. Legal Aid's 135+ total staff members (70+ attorneys), and 3,000 volunteer lawyers use the power of the law to improve safety and health, shelter, and economic stability for low-income clients. Legal Aid serves a diverse northeast Ohio population in Ashtabula, Cuyahoga, Geauga, Lake, and Lorain Counties. 
Qualifications/Requirements:
A strong commitment to public service and to advocacy for low-income persons;
Experience working with low-income individuals and communities;
Associates degree or equivalent; bachelor's degree strongly preferred
1+ year of office experience, preferably in a legal environment
Spanish language fluency strongly preferred.
Strong organizational and time management skills with strong attention to detail
Excellent verbal and written communication skills
Proficiency with Microsoft Office Suite and case management software
High level of professionalism
Commitment to Legal Aid's mission required
Compensation & Benefits: The salary range for Intake Specialist 1 is $41,000 to $61,000 DOE, with the top third of the pay range reserved for those with deep skill sets, long tenure, and consistent exceptional performance. Legal Aid offers an exceptional benefits package including healthcare, life and disability insurance, retirement savings plan with up to 13% employer contribution, and much more. Visit www.lasclev.org/careers/overview for more information. 
To Apply: Follow the link and complete the application: The Legal Aid Society of Cleveland
June 14, 2023 - Part-time receptionist/client services coordinator needed
Estate Planning and Elder Law Firm is seeking a legal receptionist with heavy emphasis on client relationships and communications to work 20-35 hours weekly.
We work with senior citizens, individuals with special needs, and families facing life changing events. The qualified candidate must be able to serve clients in a professional and compassionate manor, ensuring the highest level of client care. The position requires someone with the ability to multitask and provide support to other team members as well as strong organization and computer skills.
Position includes:
Greet clients and visitors in a friendly, professional manner
Process payments received
Answering all phone calls and properly implementing next steps
Maintain timely communication with clients by phone, email, and written correspondence
Schedule and confirm client appointments
Enter and maintain accurate data and documentation in practice management software
Create and present statistical reporting using practice management software
Prepare client files and other materials
Prepare and print various client documents and correspondence
Notarize documents and serve as witness as needed
Assist in preparing forms and collection of client documents
Order office supplies
Coordinate clients matters with staff and attorneys to ensure exceptional client experience
Support other team members with daily work and projects as needed
Running errands from time to time including trips to the post office, courthouse, etc.
Qualifications and skills:
Computer skills with proficient knowledge of Microsoft Office, virtual meeting platforms, able to quickly learn practice management software
Experience in an office setting as receptionist/administrative assistant
Experience with estate planning, or in an elder law firm is helpful but not required
Strong focus on client satisfaction while adhering to practice standards
Communication skills that are consistent, effective, and compassionate
A positive attitude working as part of a team
Comfortable in a multi-tasking environment
Excellent organizational skills
Work to meet client needs while adhering to business procedures and policies
Notary or willing to obtain notary
Salary: From $14 per hour
Schedule:
Monday to Friday – 20-35 hours weekly
Starting part time, may lead to full time
Please submit your resume with a cover letter and salary requirements to kateys@butcherelderlaw.com
June 13, 2023 - Litigation Paralegal needed
Willis, Willis & Rizzi Co., L.P.A. has an immediate opening for a litigation paralegal. The position is a full-time, in-person, 8-5 Monday through Friday, 40 hr./week salaried position. Duties include: preparation and filing of pleadings; monitoring dockets; some legal research; ordering and tracking status of various document requests; occasional errand-running. This position has client contact and phone-answering responsibilities, but is primarily working directly with the attorneys and other support staff. 
Salary: From $40,000/yr + based on experience
Benefits:
401(k)
401(k) matching
Health insurance
Health savings account
Paid time off
Bonus pay
Professional development assistance
Tuition reimbursement
Free parking        
Phone: 330-535-2000
Address: 670 West Market Street, Akron, OH 44303
Email: todd@willislegal.com
June 9, 2023 – Personal injury legal assistant needed in downtown Cleveland and Euclid
Full-time position.
Monday-Friday 8:30 a.m. - 5 p.m.
Health Insurance
PTO
401K with match
Overtime upon approval
Parking
Salary Range: $33,000-37,000
The Personal Injury Legal Assistant provides administrative assistance to the paralegal team in the Personal Injury Department. The Personal Injury Legal Assistant will help the paralegals on the team with any day-to-day administrative task that involve the pre-litigation files.
Position Responsibilities:
Request all initial medical records and bills (i.e.: EMS, ER, ER physician, & radiology)
Scan the prior days mail; place into paralegal folder; as needed move scans into the proper viewer of the case file
File mail at the paralegal/manager's request
Follow up on lien requests to Medicaid and Medicare as well as on medical payment requests
Once client completes treatment request all medical records and bills
Continue and repeat follow up procedure on all requests until everything is received
Call and confirm balances; document the value tab with paid, adjusted, and final balance information. Additionally document the address and payable information
Review liens and update the value tab as requested
Request reductions as directed by the Manager
Education, Experience, Qualifications, Licenses and Certifications Required:
Education – High School or Equivalent.
Experience – 1+ years related experience
Qualifications – Prior client service experience preferred but not mandatory
Technology Skills –Solid knowledge of Microsoft Word, & Excel 
Skills & Competencies Required:
Ability to work independently and efficiently
Self-Starter
Ability to learn quickly
Close attention to detail
Strong organizational skills
High degree of integrity and professionalism
Ability to communicate effectively and efficiently over the phone
Understanding the importance of being a team player
Ability to keep up & stay professional in a fast-paced environment
Strong client experience skills 
Opportunities for Development:
Continue to learn and desire to grow career within the firm's other departments
Many opportunities to excel, grow, and provide input 
Community Involvement Available:
Join the firms' efforts and events in support of community engagement 
Send Resume and References to Barb McCoy bmccoy@nrsinjurylaw.com 
June 9, 2023 – Personal Injury Paralegal Needed in Downtown Cleveland and Euclid
Full time position
Monday-Friday 8:30 a.m.-5 p.m.
Health Insurance
PTO
401K with match
Overtime upon approval
Parking
Salary Range: $44,000 - 55,000 
Position responsibilities:
Meet clients to complete sign up; host introduction call to review process and obtain information regarding the client's injuries, treatment etc. Answer initial questions
Contact insurance carriers; send out Letters of Representation (Tortfeasor, Under/Un-Insured, Health Insurance); enter information into case file
Gather all documentation to prove the claim (ie: police report, photos, 911 calls, videos, health department report, dog warden report, etc.)
Create calendar in Needles
Provide support, maintain calendar, schedule appointments for and notify attorney or department manager of any important issues/details regarding the case
Promptly follow up with insurers, adjusters and clients that have contacted us regarding claim
Prepare Demands: request medical records and bills; forward bills to medical payments adjuster to get funds in office; create medical summary face page and put records/bills in order to present to insurance carrier; enter all bills into the value tab
After Attorney Review and Demand goes to adjuster: send verification page to client to confirm treatment; confirm balances, review liens, request medical payments
During negotiations: confirm balances and all bills accounted for; send for reductions per attorney request and follow up; document appropriate activity in the value tab
Disbursement of Funds: facilitate client signing distribution memorandum, release(s), POA's, etc.. and mail out all documents (providers, lien holders, release, client check, etc.)
Other Information Relevant to the Position:
Litigation support: draft complaint; file and serve legal documents to the court; conduct legal research; draft discovery; various pleadings per the attorney's request
Schedule depositions and other case calendaring with opposing counsel; request expert reports; assist with trial preparation 
Education, Experience, Qualifications, Licenses, & Certifications Required: 
Qualifications – Preferably a solid understanding of Personal Injury
Licenses – N/A
Technology Skills – Microsoft Word, Excel, Needles, etc… 
Skills & Competencies Required:
Ability to work independently and efficiently
Self-Starter
Ability to learn quickly
Close attention to detail
Excellent written and verbal communication skills
Strong organizational skills
Ability to demonstrate empathy based on client challenges and struggles
Ability to review medical documentation for content and appropriateness under claim
Strong client experience skills 
Opportunities for Development:
Continue to learn and want to move forward
Opportunities to excel and grow further
Develop leadership skills 
Community Involvement Available:
Join the firms' efforts and events in support of community engagement 
Send Resume and References to Barb McCoy bmccoy@nrsinjurylaw.com  
June 1, 2023 - PART-TIME ADMINISTRATIVE ASSISTANT
Plakas Mannos believes that the best law firms have a diverse blend of experience, interest, and perspective and seeks to hire additional part-time legal administrative professionals to assist in general office administration and practice areas that include commercial litigation, medical malpractice, and personal injury litigation, business transactions, and/or domestic relations in our brand new offices in the heart of Canton and Akron. Tasks include taking client calls and assisting with document preparation, as well as general administrative and case assistance. Qualifications include proficiency in various software applications, excellent communication skills, and the ability to work well with others.
PRIMARY RESPONSIBILITIES
Type, prepare and modify documents including correspondence, reports, drafts, memos, and emails using Microsoft Office products
General clerical duties include photocopying, scanning, faxing, etc
Transcribe and proofread legal documents
KNOWLEDGE AND SKILL REQUIREMENTS
Experience as a legal and/or administrative assistant
Knowledge of Microsoft Office and telephone protocol
Ability to work with legal technology (transcription software, etc.)
Outstanding time-management skills
Excellent written and oral communication skills
Strong sense of discretion
Attention to detail and accuracy
Teamwork
BENEFITS
Competitive salary range based upon qualifications
Year-end bonus potential
Free lunch, snacks, and beverages provided on-site(suspended during COVID-19)
Health insurance, dental and optical also offered
Profit-Sharing (401K) – 1 year of employment
Disability – 5 years of employment
Job Type: Part-time
Benefits:
401(k)
Dental insurance
Health insurance
Paid time off
Vision insurance 
To apply, please send resume, including references, to Wendy at wkuster@lawlion.com.
June 1, 2023 - DOMESTIC RELATIONS AND CIVIL LITIGATION PARALEGAL POSITIONS
Plakas Mannos, a leading law firm in Canton and Akron for more than 60 years is growing and looking for a full-time civil litigation paralegal with experience in Civil Litigation for our brand-new downtown Canton and Akron offices. The ideal candidate's qualifications include proficiency in various software applications, excellent communication skills, and the ability to successfully multi-task and work well with others. Candidates with bachelor's degree or paralegal degree/certificates, and one year experience is preferred.
RESPONSIBILITIES
Attending court trials, hearings and mediations to present evidence through electronic trial presentation programs;
Preparing attorneys and court documents for hearings, depositions, mediation, arbitration and trials;
Requesting, reviewing, summarizing, indexing and/or preparing document productions and exhibits;
Calendaring deadlines;
E-filing and/or filing physical documents with state and federal courts
Word Processing, preparing and modifying documents including correspondence, reports, drafts, memos and emails using Microsoft Office products;
General clerical duties' including photocopying, scanning, faxing, and mailing.
 REQUIREMENTS
Experience as a paralegal; paralegal degree or paralegal certification
Familiarity with legal documents and terminology
Proficiency with Microsoft Office with special attention to proficiency in PowerPoint presentations and the ability to work with legal technology (transcription software, etc.)
Outstanding time-management and organizational skills
Excellent written and oral communication skills
Strong sense of discretion
Attention to detail and accuracy
Teamwork
BENEFITS
Competitive salary range based upon qualifications
Year-end bonus potential
Periodic entire Firm lunches hosting significant legal, business community and governmental personalities
Health Insurance, dental and optical also offered
Profit Sharing (401K)
To apply, please send resume, including references, to Wendy at wkuster@lawlion.com.
May 31, 2023 - Legal Assistant for the Lorain County Prosecutor's Office Needed
The Lorain County Prosecutor's Office is accepting resumes for a full-time legal assistant position in our Criminal Division. The Legal Assistant provides high-level clerical support to attorneys and staff in the Office of the Lorain County Prosecutor. 
Some Specific Responsibilities (Full Job Description Available Upon Request) 
General Essential Duties and Responsibilities:
Transcribes, types, proofreads, edits, and copies a variety of documents and materials as requested by attorneys and staff in the Office of the Lorain County Prosecutor
Reviews and edits legal documents to ensure quality and accuracy
Regularly updates case management databases as instructed by the Prosecutor
Contacts individuals, offices, and agencies as needed in order to obtain or disseminate information related to cases or client matters
Receives and responds to inquiries made by others
Gathers information to assist in prosecution of cases and/or client representation in administrative hearings and other client matters
Processes incoming and outgoing mail
Answers phones
Provides relief/backup for receptionist when needed
Fills in for other secretaries in event of absences, inside and outside of division
Closes and purges files as needed
Performs other general clerical and secretarial duties as requested, which may include such duties as scanning, recordkeeping, maintaining office supplies and coordinating equipment maintenance, and handling packages and correspondence
Calendars events, meetings and court proceedings and dockets deadlines for the Assistant Prosecuting Attorney and/or paralegal
Performs all other duties as assigned 
Required Skills, Knowledge, and Abilities:
Possesses skills with regard to typing, computer operation, and use of modern office equipment
Possesses knowledge of department goals and objectives; office practices and procedures; department policies and procedures; legal terminology; English grammar and spelling; and records management
Possesses the ability to carry out instructions in written, oral, or picture form; prepare accurate documentation; communicate effectively; maintain records according to established procedures; develop and maintain effective working relationships; deal with problems involving several variables within familiar context; gather, collate, and classify information
Detail-oriented and professional
Exceptional communication skills
Ability to function well in a high-paced and at time stressful environment
Extremely proficient with Microsoft Office Suite, Matrix and/or related software
Basic understanding of clerical procedures and systems such as recordkeeping and filing
Ability to work independently and reliably
Flexible and adaptable in various situations
Demonstrates regular and predictable attendance
Ability to organize and prioritize tasks including delegation of tasks when appropriate
Ability to cross-train and perform duties across multiple divisions 
Education and Experience:
Associate's degree preferred
Prior legal assistant or clerical experience strongly preferred
Ohio Notary certification preferred 
Physical Requirements:
Prolonged periods sitting at a desk and working on a computer
Ability to lift up to 15 pounds 
Pay
$17.30 to $21.00 an hour
Health Benefits Plan including Dental and Vision
OPERS Pension, Paid Time Off, and other competitive benefits 
Schedule
Work Location
Lorain County Prosecutor's Office 
Please submit cover letter and resume to Operations Chief Rich Resendez at Richard.Resendez@LCProsecutor.Org no later than the close of business June 9, 2023.
May 24, 2023 - Litigation Paralegal Needed 
Willis, Willis & Rizzi Co., L.P.A. has an immediate opening for a litigation paralegal. The position is a full-time, in-person, 8-5 Monday through Friday, 40 hr./week salaried position. Duties include: preparation and filing of pleadings; monitoring dockets; some legal research; ordering and tracking status of various document requests; occasional errand-running.   This position has client contact and phone-answering responsibilities, but is primarily working directly with the attorneys and other support staff. 
Salary: From $40,000/yr + based on experience
Benefits:
401(k)
401(k) matching
Health insurance
Health savings account
Paid time off
Bonus pay
Professional development assistance
Tuition reimbursement
Free parking     
Phone: 330-535-2000
Address: 670 West Market Street, Akron, OH 44303
Email: todd@willislegal.com