Paralegal Job Opportunities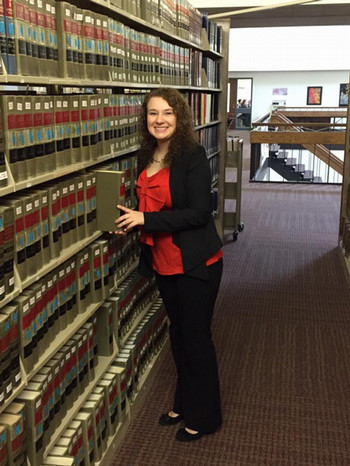 09/12/2019 - Downtown law firm seeking workers' compensation paralegal/secretary for                              immediate hire
Job duties include but not limited to the following:
Handling all workers' compensation files
Opening files, filing forms with BWC and self-insured employers
Filing of appeals, motions, and applications
Requesting medical records and rebuttals
Keeping clients informed of case status
Corresponding with doctors and hospitals regarding client treatment status
Assisting in the preparation of settlement demands
Filing cases for litigation
Keeping track of important date for litigation files
Preparing of disbursements to clients
Specifically seeking a current paralegal student with an interest in Worker's Compensation law.  Will train and work around the student's school schedule.  Please send resumes and inquiries to rec@brelolaw.com
09/12/2019 - Seeking Paralegal-Mergers and Acquisitions
Jones Day is a global law firm with more than 2,500 lawyers in 43 offices across five continents. Jones Day seeks to employ the most qualified people, capable of delivering superior client service through professional excellence and teamwork, for every position in the Firm. Jones Day offers competitive compensation and benefits in a stimulating work environment.
Summary of Essential Duties and Responsibilities (other duties may be assigned):
Primary responsibilities include providing general assistance to a project team in the Mergers & Acquisitions Practice. Duties include legal factual research with respect to client matters, including entity formation and foreign qualifications, mergers, entity good standing, litigation and lien searches, SEC filings, data management, relevant markets and industry standards and practices; participation in due diligence and other reviews of client records and files; assist with entity formations, qualifications, mergers, dissolutions, etc.; prepare and maintain corporate record books and databases of client records and due diligence materials; obtain services from outside contractors, including corporate services, research services, filing services, duplicating services, bindery services and printers, including processing billing and disbursement paperwork in connection with those services; under the supervision of an attorney, draft, edit, conform and otherwise assist in the preparation of contracts, closing documents and other legal documents and correspondence; and assist supervising lawyer with closings and post-closing matters.
Required Qualifications:
•   BA/BS degree
•   Paralegal certificate desired, but not required
•   Minimum three years' experience as a Corporate Paralegal, preferably in a large law firm
•   Strong organizational and time management skills, including the ability to organize self and others
•   Must possess strong analytical, research and communication skills, proficiency with computer-based word processing, spreadsheet and database applications and Internet research, and a willingness to  learn
•   Ability to work overtime as needed
Applicants must complete an online application to be considered for this position. The application can be found on the Careers page of the Jones Day website, www.jonesday.com.
08/26/2019 - Part Time Paralegal position open in Chagrin Falls
Small estate planning, elder law, and probate practice in Chagrin Falls seeks part-time administrative assistant/paralegal to prepare pleadings; draft documents and correspondence; maintain files; prepare and file pleadings in court; maintain calendar; and update social media.  
Looking for someone who is detail-oriented, with excellent grammar and writing skills who wants to learn and be mentored (students welcome). Must be proficient with Microsoft Office suite; experience with Mail Chimp, Clio, Foretrust, Puritas Springs software a plus. Must have reliable transportation.
Looking for a warm, friendly, and professional presence with clients and visitors.
Part-time (15-20 hours/week)
Flexible scheduling
$15.00/hour to start
Interested candidates should send a cover letter and resume to HR@paukenlegal.com. No phone calls, please.
08/21/2019 - Seeking Part Time Paralegal
A small law firm of two attorneys in Akron with both a civil and criminal litigation practice in State and Federal Court is seeking a part-time paralegal. Students or recent graduates are encouraged to apply but knowledge and experience with requesting and organizing medical records and bills is preferred. There is potential for the position to become full-time in the future.
Please send CV and references to:  andrea@whitakerlawlpa.com.
08/05/2019 - Paralegal Position at The Cuyahoga County Domestic Relations Court
The Cuyahoga County Domestic Relations Court is looking for a qualified paralegal to fill the open Help Center Specialist position.  The candidate needs to be knowledgeable about legal processes and procedures, dynamic, have excellent customer service skills and leadership potential.  
Click here to see official job posting and instructions for applying 
07/29/2019 - Entry Level Paralegal Position at Amin, Turocy & Watson, LLP
Amin, Turocy & Watson, LLP is a nationally ranked intellectual property firm that services numerous Fortune 100/500 high technology clients.  The firm seeks to add an entry level paralegal, and will train this individual from scratch in connection with paralegal work associated with patent, trademark and copyright procurement.  The firm provides a generous salary, medical/retirement benefits, merit-based yearly bonuses and has some of the nicest office in the state.  We recently moved from the penthouse of Key Tower (which the firm built out from raw space to architectural-award winning offices) to the exciting new Live, Work & Play development at Pinecrest in Beachwood.  Our new location has luxury apartments on site, dozens of retail and dining options, work-out facilities (including an in-building gym, Orange Theory, Citizens Yoga, and Pinecrest Pilates) and free covered garage parking. 
The ideal candidate will have keen interest in learning about intellectual property (IP) law (including foreign IP law), have strong organization & writing skills, be proficient with Microsoft Word, Microsoft Outlook, and have some familiarity with Microsoft Excel.  The position will involve facilitating attorneys with preparing and filing patent, trademark and copyright applications, interfacing with clients, managing attorney dockets, docketing, scheduling, preparing and filing documents with the U.S. Patent and Trademark Office, preparing other documents such as information disclosure statements, foreign filing of patent and trademark applications, and after several years of becoming proficient with the foregoing be exposed to intellectual property litigation related work.
It is a fast-paced, exciting environment that services many of the top technology companies at executive levels.  Accordingly, expectations from our clients is very high given that they have the luxury of choosing from most any firm in the country.  If you desire to be best in class as an IP paralegal, then our firm will be a good fit.
The firm will interview suitable graduates or candidates graduating  in 2019.
Please send your resume to jobs@thepatentattorneys.com
7/29/19 - Spanish speaking Paralegal/Legal Assistant needed at Herman Legal Group
Entry-Level Spanish-Speaking Paralegal/Legal Assistant who will based in Cleveland, Ohio to assist immigration lawyers collect documents from clients, assist with preparation of forms and court filings, and translate. Spanish, English and writing skills required required. We are a fast-paced office, located in Downtown, Cleveland. We help clients apply for green cards, work visas, asylum, citizenship, waivers, immigration appeals, fight deportation. Rewarding career helping families, individuals and businesses with a variety of immigration legal matters. Great opportunity to grow and assume signifiicant responsibilties at the law firm. We will train to be a paralegal --- most important skill are problem solving, attention to detail, and communication. We are a few blocks from the U.S. Citizenship & Immigration Service and the U.S. Immigration Court. Come and join our family.
For more information or to apply, email Richard Herman Richard@HermanImmigrationLawyer.com
7/26/2019 - Paralegal position at Bonezzi, Switzer, Polito & Hupp
Title:              Paralegal
FLSA:             Non-Exempt
Reports To:   Attorney(s)
JOB SUMMARY:
To provide legal support to assigned attorneys and preparation of legal and trial assignments by obtaining, organize and summarize files, documents, drafting discovery, monitor and review incoming discovery, conducting research. Communication with clients, co-counsel and vendors.
ESSENTIAL FUNCTIONS:
Review File & Serve Express with attention to pertinent information relating to individual cases and trial schedules. Download, print, and review discovery.  Report information to attorney and/or client.
Correspondence with clients, experts, plaintiffs' counsel and co-defense counsel.
Reviews incoming discovery.
Draft discovery and responses.
Maintain all asbestos databases.
Complete case reports for all clients.
Attend meetings and phone depositions when coverage is required.
Obtain background information on physicians including DRI/IDEX searches.
Drafting of pleadings.
Organize and maintain files.
Gather, review, index, and summarize documents, discovery and transcripts to identify additional entities to request records.
Prepare page and line depositions.
Work with third party vendors.
Obtain and/or follow-up on outstanding requests for medical/personal/disability/ payroll/workers compensation records, etc., at attorney's request.
Preparation of authorizations and subpoenas.
Preparation of documents and arranging independent medical examinations.
Preparation of Robinson v. Bates numbers for settlement negotiations.
Performs legal, non-legal, and medical research.
Summarize medical records.
Prepares electronic filings for District Court.
Prepares, organizes and supervises in the preparation of exhibits for use at trial.
Prepares trial notebooks.
QUALIFICATIONS:
Paralegal Certificate or Associates Degree
Knowledge of File and Serve is required
Please submit resume to: abambrick@bsphlaw.com
7/24/2019 - Clerical Assistant for the Federal Public Defender Northern District of Ohio
The Office of the Federal Public Defender for the Northern District of Ohio announces an immediate opening for a full time Clerical Assistant in its Capital Habeas Unit ("CHU") located in the main office in Cleveland, Ohio. This appointment is for a year and a day. In accordance with the Criminal Justice Act ("CJA"), the office of the Federal Public Defender provides representation to individuals in federal criminal cases who are financially unable to retain counsel. Individuals hired for this position will represent indigent prisoners who have been sentenced to death in state court in federal capital habeas corpus proceedings in the United States District Court for the Northern District of Ohio, The United States Court of Appeals for the Sixth Circuit, and the Supreme Court of the United States.
Click here to view the complete job posting and application instructions
07/24/2019 - Legal Administrative Assistant needed in Independence, OH
Auto Services Unlimited, Inc. and its associated companies seek an individual with excellent writing and communication skills as an entry-level legal assistant to support two in-house attorneys. Duties would range in difficulty from calendar management and document filing to drafting responses to attorney general complaints and legal correspondence. This position requires a high attention to detail, an ability to learn quickly, excellent writing and communication skills, and a strict adherence to confidentiality. Experience in the legal field is not required. The company is rapidly growing and there is opportunity to grow within it.
Duties include:
Drafting email and letter correspondence on behalf of the legal department
Managing attorney calendars
Basic research on various issues
Maintaining files and records
Create and maintain various reports
General administrative tasks
Job Requirements:
Proficient with Microsoft Office (Word, Excel, and Outlook)
Excellent writing and communication skills, including good grammar and proofreading
Strong interpersonal skills
Ability to do independent research and projects
Strong organizational skills
Attention to detail
Ability to prioritize and multitask
Strict adherence to confidentiality
Work hours:
Job Type:
Wage:
$12-15 per hour depending on experience
Experience:
No prior experience is necessary, however, legal or office experience will be considered favorably
Education:
Associates Degree required; Bachelor's Degree preferred
If interested in applying, please contact Michael Tucci at 716.270.3323.   
07/19/2019 - Negotiator, Contract and Leasing at Signet Jewelers
Two positions available at Signet Jewelers which would be ideal for a paralegal with drafting experience (real estate or commercial), or potentially a sharp recent graduate.  Positions to be filled as soon as possible
An essential part of Signet's business is to promote the sale of jewelry at retail at locations that give Sterling the best opportunity to fully maximize its sales potential.  As a core business element and strategy, the Negotiator, Contract and Leasing, undertakes to draft and favorably negotiate the terms of commercial real estate documents, including leases, amendments, SNDA's, terminations, notices, estoppels, and a variety of other documents. The ability to manage multiple projects simultaneously and to exercise independent judgment is essential for success in this position.  Hands-on training and mentorship will be provided. This is an excellent opportunity to learn transactional skills and gain in-house experience. A Paralegal Certificate/Diploma is strongly preferred.
Salary and benefits will be based on qualifications and experience.
Apply here
07/19/2019 - Distribution Assistant at Kelley & Ferraro, LLP
The Distribution Assistant will work directly with attorneys, clients, and accounting to develop the most efficient and effective ways to distribute asbestos trust and trial money to clients and their estates.  The successful candidate for this position will be proficient in various computer programs and be a self-starter willing to think outside of the box to solve problems.  The candidate will have effective communication skills and be willing to adapt quickly in a high volume, fast-paced work environment.
Duties Include:
Creating and running Access queries 
Working with internal databases and programs to maximize company productivity
Coordinating communications between interoffice departments
Effectively communicating with clients, probate attorneys and probate court staff to file motions, reports and applications.
Qualifications:
College graduate preferred
Proficient in Microsoft Access and Excel
Skilled in verbal and written communication.
Self-motivated and able to work collaboratively with others.
Excellent time management skills.
Ability and willingness to adapt to a variety of duties and priorities.
If interested in applying, please contact Coretta Crowell Waller, Human Resources Manager, at 216-575-0777. 
07/10/2019 - Paralegal Position Open in Pittsburgh, PA
Office of the
Federal Public Defender Western District of Pennsylvania 1001 Liberty Avenue, Suite 1500
Pittsburgh, Pennsylvania 15222
CAPITAL HABEAS UNIT - PARALEGAL


VACANCY #: 2019-05
ANNOUNCED: July 2, 2019
CLOSES: July 16, 2019 or when filled
The office of the Federal Defender for the Western District of Pennsylvania is accepting
applications for the position of Paralegal for its Capital Habeas Unit in Pittsburgh. A capital
habeas Paralegal is expected to provide assistance to attorneys and investigators in the
representation of state death-sentenced inmates in federal habeas corpus proceedings. The
paralegal is an integral member of the capital litigation team, and must be able to collaborate and
communicate effectively with attorneys, investigators, outside institutions, consultants, and
clients.

Job Description: Duties include extensive document gathering from a vast array of sources,
reviewing, analyzing and indexing documents, and maintaining document management database and
traditional paper files. The position requires extensive use of the following computer software:
Adobe Professional, CaseMap, MS Word, and IBM (Lotus) Notes. Applicants should possess advanced
skills using these programs or their equivalents.

Requirements and Qualifications: Applicants must be well organized, accurate, attentive to detail,
and able to set priorities and meet critical deadlines. Previous experience with capital cases or
other complex litigation is preferred. Must be able to travel and occasionally work
non-traditional hours.

Salary and Benefits: This is a full-time position with federal salary and benefits based on
qualifications and experience. The position is in the excepted service and does not have the
tenure rights of the competitive Civil Service, however the position does carry regular government
employment benefits including health and life insurance, retirement, and the Thrift Savings Plan.
The starting salary range is $52,858 - 107,712, and will be based on years of experience
consistent with federal guidelines and regulations. This position is subject to mandatory
Electronic Funds Transfer (direct deposit) participation for payment of net pay. The selected
candidate will be subject to a background check as a condition of employment. Applicants must be a
U.S. Citizen or a permanent resident applying for citizenship and eligible to work in the United
States.

Application Information: Qualified applicants should submit a letter of interest and detailed
resume in one Adobe pdf document by email to: paw_employment@fd.org, using the subject line
"2019-05".


This Office is an Equal Opportunity Employer. Women and minorities are encouraged to apply.
Hiring for this position is dependent upon availability of funding.
One or more positions may be filled from this posting.
s selected for an interview will be contacted. No telephone calls please.

07/05/2019 - Paralegal Specialist Position with the IRS Office of Chief Counsel
The Office of Chief Counsel, IRS, the largest tax law firm in the country, is looking for enthusiastic individuals to join our team and gain valuable experience in a legal environment. Our mission is to serve America's taxpayers fairly and with integrity by providing correct and impartial interpretation of the internal revenue laws and the highest quality legal advice and representation for the Internal Revenue Service. It's a great place to work with an excellent benefits package and family-friendly atmosphere. 
Salary $51,853 to $76,620 per year
This is a full time position with openings at multiple locations across the country.
Click here for futher details