(re) imaginings

Contest Deadline: Dec. 11 at 11:59 p.m.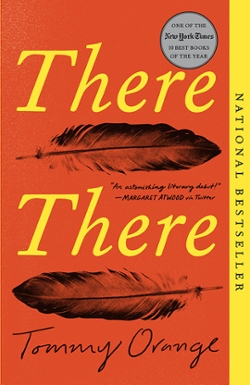 The (re)imaginings contest and celebratory event is one of several co-curricular activities surrounding the Fall 2020 college-wide common read, Tommy Orange's There There.
At the beginning of the Fall 2020 semester, the (re)imaginings team will launch a Call for Submissions asking students to "re-imagine" sections from Orange's text.
Students can (re)imagine any portion of the text in any medium. Examples of possible approaches include the creation of a poem, an essay, a musical score, a short film, a speech, a photograph, a play, a Story Corps project, a poster, etc.
So while one student with artistic inclinations might create a sketch or an oil painting of some aspect of the piece, another student might write a song that works as a soundtrack to the book. A culinary student could re-render a scene in the form of a recipe, while a Visual Communication and Design student could use the same scene to create a movie poster or interactive game. The possibilities are endless. The submission could be tied to a specific classroom assignment or course, but it certainly doesn't have to be.
Students can choose to enter one of five submission categories:
Creative Writing: poetry, short fiction, creative non-fiction
Visual: paintings, posters, sculptures, photographs, collage
Performance: short plays, spoken word poetry, songs, dance
Media: films, websites, social media campaigns, slide shows, board games, Story Corps
Academic: research posters, PowerPoint presentations, academic papers and projects
Once all submissions have been received, judging will take place and finalists will be notified. Selected entries will be honored and displayed at the college-wide (re)imaginings celebratory event in Spring 2021 semester.