Cuyahoga Community College's Common Reading Program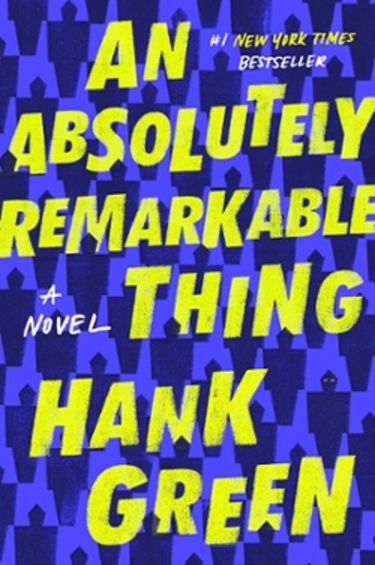 Presenting the Common Reading Text for Fall 2019: An Absolutely Remarkable Thing by Hank Green
The College-Wide Common Reading Committee is pleased to announce the 2019-2020 common reading book is An Absolutely Remarkable Thing: A Novel by Hank Green. Green's action-packed, witty story chronicles one young woman's journey to find herself and save the world.
The book jacket describes this as follows:
"Compulsively entertaining and powerfully relevant, An Absolutely Remarkable Thing grapples with big themes, including how the social internet is changing fame, rhetoric, and radicalization; how our culture deals with fear and uncertainty; and how vilification and admiration spring from the same dehumanization that follows a life in the public eye. . . [It] is a bold and insightful novel of now."
Campuses will be holding discussions and workshops for faculty and staff in Summer 2019 in preparation for teaching the book in the fall. Exam copies will soon be available, and the Tri-C library will have print and digital copies available. If you plan to use the text in class or would like to know more, please contact your campus Common Reading leadership listed below for more information:
East: John Rasel - john.rasel@tri-c.edu & Casandra Sweeney - casandra.sweeney@tri-c.edu
Metro: Rebecca Carte - rebecca.carte@tri-c.edu
West: Rachel Kazmier - rachel.kazmier@tri-c.edu & Sarah Szweda - sarah.szweda@tri-c.edu  
Westshore: Sara Fuller - sara.fuller@tri-c.edu
Reviews of Hank Green's An Absolutely Remarkable Thing
Visit Hank Green's website.
Check out a review in the New York Times.
What is Tri-C's Common Reading Program?
Tri-C's Common Reading Program builds community and fosters intellectual engagement by drawing faculty and students together in discussion of a common fiction or non-fiction text. The program also creates venues for interdisciplinary learning as students explore the common text through different lenses in various classes and events across the college community.
Unlike many colleges that only schedule programming for the text at the onset of the school year or in FYE courses, Tri-C provides exciting opportunities to engage with the text throughout the academic year. Please see the EVENTS tab for further information.
Click here for information about how the College-wide Common Reading Committee chooses the text, faculty and student resources, and event updates. We look forward to working with you and your students in the coming year!
Videos