Cuyahoga Community College's Common Reading Program
Presenting the Common Reading Text for Fall 2020: There There by Tommy Orange, Pulitzer Prize Finalist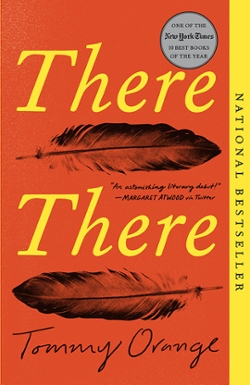 The College-Wide Common Reading committee is pleased to announce the 2020-2021 Common Reading book is There There by Tommy Orange, a Pulitzer Prize finalist.
The book jacket describes the novel:
"Tommy Orange's wondrous and shattering novel follows twelve characters from Native communities; all traveling to the Big Oakland Powwow, all connected to one another in ways that they may not yet realize. Among them in Jaquie Red Feather, newly sober and trying to make it back to the family she left behind. Dene Oxendene, pulling his life together after his uncle's death and working at the powwow to honor his memory. Fourteen-year-old Orvil, coming to perform traditional dance for the very first time. Together, this chorus of voices tells of the plight of the urban Native American—grappling with a complex and painful history, with an inheritance of beauty and spirituality, with communion and sacrifice and heroism. Hailed as an instant classic, There There is at once poignant and unflinching, utterly contemporary and truly unforgettable."
If you plan to use the text in class or would like to know more, please contact your campus Common Reading leadership listed below for more information:
Eastern: Jason Mullin – jason.mullin@tri-c.edu and Lorrie DiGiampietro – lorrie.digiampietro@tri-c.edu
Metropolitan: Rebecca Carte - rebecca.carte@tri-c.edu
Western: Joe Fell – joseph.fell2@tri-c.edu and Stephanie Greer – stephanie.greer@tri-c.edu
Westshore: Bridget Kriner - bridget.kriner@tri-c.edu
What is Tri-C's Common Reading Program?

Tri-C's Common Reading Program builds community and fosters intellectual engagement by drawing faculty and students together in discussion of a common fiction or non-fiction text. The program also creates venues for interdisciplinary learning as students explore the common text through different lenses in various classes and events across the College community.
Unlike many colleges that only schedule programming for the text at the onset of the school year or in FYE courses, Tri-C provides exciting opportunities to engage with the text throughout the academic year. Please see the EVENTS tab for further information.
Click here for information about how the College-wide Common Reading Committee chooses the text, faculty and student resources, and event updates. We look forward to working with you and your students in the coming year!