What's Happening
There is much to celebrate!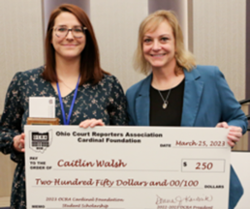 The Captioning and Court Reporting Department at Tri-C loves to celebrate our student success!
We would like to congratulate Sheena Franco for passing her Certified Verbatim Reporter Certification.
We are also celebrating Caitlin Walsh who has been awarded the 2023 OCRA Cardinal Foundation Student Scholarship.
Stay tuned for future reasons to celebrate!
MSN Names Court Reporting As One of the Top Jobs that Doesn't Require a Degree
Ever wonder if a degree is necessary to land a secure, high paying job? MSN has named court reporting as one of nine different careers that pay well without a degree.
Click here for more information.
Women in Transition Program Helps Laura Stasik Find a Path to a Secure Future
Laura Stasik, who turned 59 in April, has always had jobs — secretary, data entry, restaurant work — but she's never had what she would call a career. 
Click here to read the full article.
Is Court Reporting a Solid Career Choice?
Wondering if an education in court reporting is a safe choice to hang your future on?  Check out this article on the top 10 college majors with the lowest unemployment rates.
Kelly Moranz joins the Board of Directors at the Speech to Text Institute
As the need for captioners and court reporters explodes and new technology emerges, the Captioning and Court Reporting program at Tri-C is, once again, ahead of the curve.  Program Director, Kelly Moranz, joins the Board of Directors at the Speech to Text Institute.
Click here to read about how this exciting technology will enhance the court reporting industry while maintaining the premise that a quality, accurate verbatim record is of utmost importance whether produced by a steno, voice or digital reporter. 
Voice Writers Needed Nationwide
Curious about the demand for voice writers? Industry professionals weigh in on the current job climate for voice writers. View the article here.
Demand is growing in the captioning and court reporting profession
Read the Smart Business article.
Tri-C and Dr. Jen Krueger win the JCR awards
Read the articles here:
JCR Awards Tri-C
JCR Awards Dr. Jen Krueger
Find out how students give back
Read the article on JCR.com