Tri-C Places First Nationally at 2023 NCLC
Keith Rush named top individual winner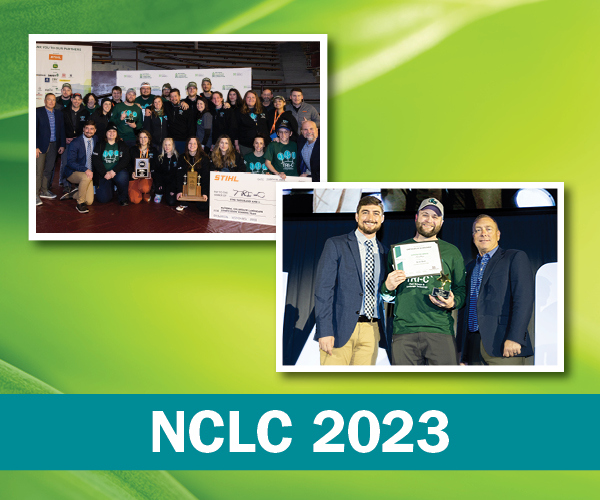 Cuyahoga Community College (Tri-C®) lead the field at the 2023 National Collegiate Landscape Competition (NCLC), building on its best-ever performance a year ago.
Tri-C's Plant Science and Landscape Technology program took first place overall to unseat Brigham Young University of Provo, Utah, which had won every year since 2017. In addition, student Keith Rush scored top individual honors among the competition's 529 students.
Rush, of University Heights, is the fourth Tri-C student to take top honors since 2014. He is currently pursuing a short-term certificate in tree care in the Plant Science and Landscape Technology program.
Tri-C won five event championships during the competition, held March 15-18 at Mississippi State University in Starkville: Haley Spiteri for computer-aided landscape design; Destiny Griffiths for interior plant identification; Andrew Yormick for small engine repair; Ahna Kerr for turf and weed identification; and Rush for irrigation design. The College placed in the top 5 in 14 other events.
Susie Stoepfel, of Akron, was another outstanding performer for Tri-C, placing fifth overall and first among females. She had four top-6 finishes.
"Our students did better than we could imagine, to win first place and turn in the highest score ever for a Tri-C team," said Jim Funai, assistant professor in Tri-C's program since 2009. "Our goal is to build professionals ready to launch into successful careers, and we just had another very successful year of doing so."
Last year, the College placed second overall at NCLC. Student Peyton Musgrave was the top overall individual, and Funai was named the National Association of Landscape Professionals Foundation Outstanding Educator of the Year. This year Tri-C became just the third community college in the history of the competition to win it all, joining Milwaukee Area Technical College (1981) and Chattahoochee Technical College (2010, 2008 and 1995).
Funai has guided the College's Plant Science and Landscape Technology program to become the best two-year program in the nation, routinely placing alongside or above programs from large four-year universities in national competitions such as NCLC.
Learn more about NCLC and view final results at landscapeprofessionals.org.
March 22, 2023
MEDIA CONTACT: Anthony Moujaes, 216-987-3068 or anthony.moujaes@tri-c.edu